Offering ultrasonic cleaning at an affordable price, the HumminGuru promises to clean your records efficiently. We put it to the test.
There's ultimately only one thing which really matters about a record cleaning machine, and that's whether it cleans your records properly. Let's cut to the chase: HumminGuru's ultrasonic cleaning machine does a very good job. What's more impressive is how it does everything, from the fact that it's one of the most affordable ultrasonic cleaners available, through to its clever design and stylish appearance.
What makes the HumminGuru special? Originally launched as a Kickstarter campaign in 2020, the HumminGuru has finally reached production. Most record cleaning options in this kind of price range rely on vacuum suction or physical contact to get dirt and dust out of the grooves, whether using a brush, cloth or soft pad to draw out contamination. Ultrasonic cleaning immerses the record in bath of cleaning fluid, which is then agitated using ultra-high-frequency waves in order to dislodge impurities from the vinyl. Aside from the obvious benefits of cleaning your records – clearer sound, reduced stylus wear, and so on – the ultrasonic approach aims to remove as much debris as possible while minimising damage to the vinyl which can be caused by the friction of cleaning with a cloth or brush.
The design of the HumminGuru is striking and makes a good first impression. It's a stylish, smooth plastic unit with a grey finish. There are lots of neat touches, such as the fact that power cable can be stored inside the lid, making the whole thing a neat, tidy, self-contained box. The size is perfect to fit on a record shelf and, to an extent, blend in with your vinyl collection when not in use.
So far so good, but the performance matters more than the looks. Thankfully, the process itself is just as slick and efficient as the physical appearance. Ultrasonic cleaning uses distilled or deionised water (widely available from supermarkets for use in car batteries or steam irons), which is measured in the water tank and then poured into the unit before replacing the tank. Insert the record into the water bath and you can choose from a few different options, with automatic modes of different lengths or the options to clean or dry separately.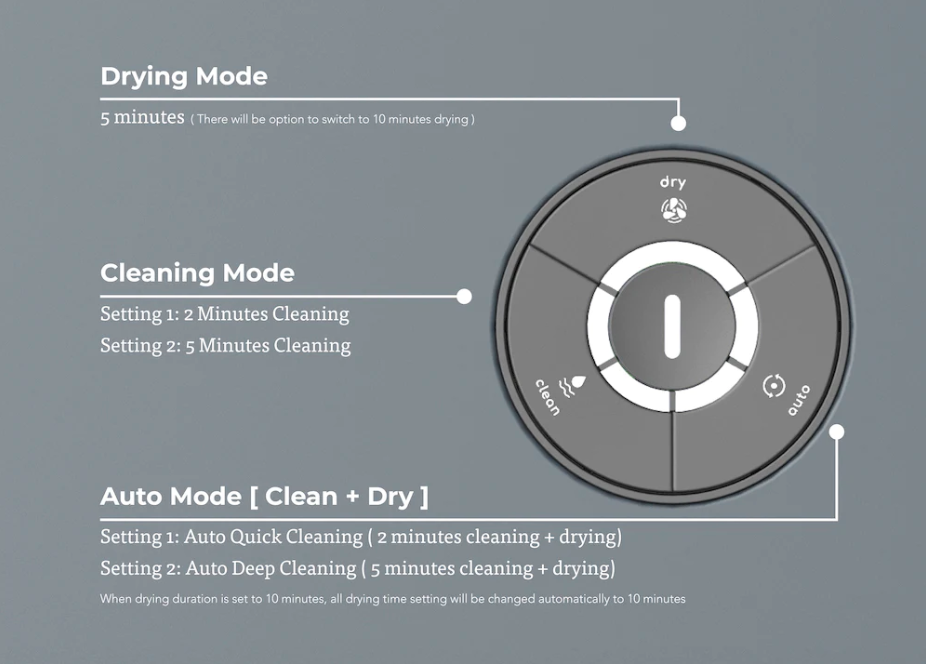 The HumminGuru rotates the record while agitating the liquid with a 40 kHz signal, drawing dirt and dust out of the grooves. The results are impressive, with lightly dusty records coming out spotless and dirtier records with thumb prints and ingrained dust much improved via a single cycle. If you've read this far and you're considering purchasing the HumminGuru then you probably already take care of your records better than the average vinyl aficionado. Hopefully it's rare that you'd need to clean a heavily soiled record, but if you're buying second-hand vinyl or need to clean a disc which has been abused, a dual-stage process of cleaning might work best, perhaps with a brush or cloth to help loosen stubborn dirt before using the HumminGuru. It's worth noting that lots of users have already reported better results with the addition of a surfactant to the water, helping to break the surface tension of the liquid. This does, in theory, void the warranty of the unit, but personal choice will decide whether that's a worthwhile trade-off.
The whole setup is so simple and easy to use that there aren't many other things to worry about. The package includes spare rotation wheels, a maintenance tool which doubles up as a water level gauge. The air filter and water basin filter can also be removed for cleaning and replaced if necessary. The HumminGuru cleans 12-inch records out of the box, but 7-inch and 10-inch adapters are included, with less liquid needed for 7-inch vinyl.
The HumminGuru might not have the power of a £2,000+ ultrasonic cleaner like a Degritter, but it offers a very appealing alternative to vacuum-based units or physical contact approaches like cloths and cleaning pads. It's stylish, easy to use and does a very good job of cleaning records with minimal fuss. For most collectors and DJs, the HumminGuru will do a very good job.
Greg Scarth
More info/buy
You may also like…