The best new albums this week
ALBUM OF THE WEEK
To the tune of bare-bones footwork 808s and down-the-phone giggles, Jessy Lanza's DJ-Kicks begins without hesitation. In a bold premiering of new music – reflective of her newfound willingness to include her own tracks in a series of pioneeringly mobile DJ sets – 3 originals lead this mix's charge, like a warring legion refusing to hold back.
Firstly, the ambient opener 'Guess What', formerly unreleased, reveals the singer and producer's love for smooth, healing, snappy chords, and a close affiliation with Teklife affiliate DJs Rashad and Spinn. A seamless blend follows, and we're into the thick of 'Seven 55', a track replete with Lanza's cute, melismatic vocal runs and Loraine James' glitchings. That's in turn followed by 'Wet 3x', a whispery techno collab with Taraval that sounds like we're entering a dense jungle thicket, hankering after what's yet to come.
For an artist so in tune with the way dancefloor behaviour ebbs and flows, these three tracks are epitomising of what Lanza calls 'dot-connecting' music, i.e. tracks that inspire genuine healing as opposed to 'wellness': "ones that people respond to everywhere regardless of where in the world I'm DJing". They're minimal, unaggressive and curious, and their understated verve begs the question as to what will ensue. Even so, it's still evident that this DJ-Kicks mix – Lanza's first ever to be released physically – also reflects Lanza's own personal state of mind, and isn't just a bulging red drawstring sack of people-pleasers. Her desire to transcend the stagnant musical options of her childhood Canadian hometown, Hamilton, rings true; it's a tour-de-force through experimental synth, house, acid and juke, not a trip through provincial indie rock (there's not a Blue Rodeo or Tragically Hip song in sight).
With this vinyl version condensed to just 16 tracks (down from the digital version's count of 26), buyers can expect to hear only Jessy's favourites of the bunch. In our recent interview, she pointed out DJ Nehpets' abrasive juke classic 'Na Na Na' as one a go-to. This song formed the musical primordium of many New Jersey residents in the '90s, and likely chewed no end of local coastal bouncers' ears off. We find it just as fitting for Lanza's dream of a more exciting personal future come true in adulthood, now that she's spent time living quickly and loosely between similar coastal cities from which so much seminal dance music originates, from New York to San Francisco. Notably, it mixes out neatly from her own track 'Heaving', again featuring Taraval, which has a distinct kind of whooshing hard dance feel that propels the Nehpets track into warp-drive. This contextualisation sees Jessy meticulously craft the mix to convey her own life story; in isolation, the Nehpets track could be just a juke squealer, but prefaced by Lanza's own productions, it becomes an amped-up Autobot in disguise, ready to come of age.
Elsewhere, for those willing to do some background research, it's quite clear that Lanza is an aggressive digger, seeking to champion the music of as yet little-known artists. These include a clandestine jank bit by Tokyo producer Oyubi ('140yaku'), disco edit deftness by Jim C. Need ('Maleka'), a stuttering UK bass sundry from folk-funk dweller Markus Mann ('I'm Losing'), and a masterful electro build from Wisconsin-based producer Golden Donna ('Foaming'). Lanza hears no difference between big and small, and only cares for that sound; thin, sparse, loud, rough around the edges, almost flukey. It's like she's going for teenage angst and just-matured hand-eye coordination, condensed into dance music form. For those itching for the above – a universalising, unrpretentious mix not mired in faux-depth or over-the-top grandeur, as many DJs like to failingly shoot for – then look no further.
JIJ
Elbow – Flying Dream 1 (Universal)
Elbow are the latest in an increasingly long line of artists to have an album rollout/tour cycle completely obliterated by the pandemic.
'Giants Of All Sizes' dropped at the backend of 2019, with the following year intended for promoting the project. Due to obvious worldwide reasons, this never came to fruition, which is an utter shame when considering how exceptional the record was. Gravitating towards the more experimental, complex composition of their earlier material aided frontman Guy Garvey to unpack ruminations of grief, the loss of his father and more challenging topical issues such as the Grenfell Tower disaster. While many heralded the return to form, it perhaps pushed the casual listener just a footnote beyond their comfort zone.
Now in a marked turnaround of two years that really doesn't seem that long for a band whose world was put on hold, 'Flying Dream 1' is a lush, delicately arranged seance of introspection and self-healing.
Recorded entirely in the unique, slightly cavernous Brighton Theatre Royal, the tangible surroundings make for some of the warmest, driest and nuanced contributions to the Elbow canon yet.
The opening title track showcases the trademark slow burn build from singular instrumental motifs to cascading beauty, like watching the separate painting points on a canvas begin to form the fully realised image. 'Six Words' lilts with thundering presence but contained within a bell jar, never allowing emotion too hefty or serene to thrust the atmosphere in either direction. These pieces hang in the balance and yearn for interpretation and acceptance.
The quick-witted poetics of Garvey weave through the expertly crafted arrangements, seemingly asking nothing of the listener in return, beyond patience. There's that old cliché that every repeat listen turns over a new stone, unravels another mystery, but that cliché is where 'Flying Dream 1' floats, buoyed and undemanding yet pleading for understanding.
ZB
Leron Carson 'Under The Conditions' (Sound Signature)
This long-overdue long-player from unsung Chicago producer Leron Carson arrives like an exquisitely candid time capsule compiled in a simpler time – a time before the gloss of commercialisation had done its worst to tarnish house music's heartfelt intention. After making his debut on a split EP alongside Theo Parrish in 2001, Carson released a handful of titles – always via Sound Signature – until his untimely passing in 2016. 'Under The Conditions' is comprised of tracks composed by Carson, many of which he recorded in the '80s. Those who've previously encountered his work will know approximately what to expect here: raw, sincere, and deeply authentic machine music with discernible funk and underlying soul.
The album begins with the stripped analogue grit of the title track. Undulating bass simmers under jagged drums, opening with an analogue growl before re-submerging to the depths as fizzing claps lift the hypnotic groove. The ultra low-fidelity '72nd & Ogelsby' laughs in the face of polished production as Martin Luther King projects his "let freedom reign" speech over jacking drums, while '88th & Luella' adds a shade of disco-funk courtesy of its warm, rolling bassline. 'Runaway Train Trax' shows up like an errant locomotive intent on dance-floor chaos, before 'Baby Said To Me' exhibits all that is wonderful about bona fide Chicago house. 'Bismark Nites' sees captivating synth bass combine with gritty hats and big boy snares as atmospheric synths add mystery to the groove, while 'Say It' is a stripped prototype to cut up Chi-town house that sounds as though it's plucked from the Dance Mania archives. Finally, 'Determination Practice' has all the trappings of a long-lost anthem, with wholehearted synth melodies and harmonic pads floating over a full-bodied rhythm. Make no mistake, this is house music as it was intended to be heard.
PC
Patrick Conway – Cellular Housekeeping (ESP Institute)
You might have caught up with Patrick Conway's various endeavours without even realising it. While keeping something of a shroud around their identity, a breadcrumb trail links up aliases like Low End Activist, Paranorman and the Trinity Carbon collaborative project with Appleblim. That latter venture recently minted a debut album on ESP Institute, and now Conway is doubling down for a second round with Lovefingers' label. While previous two-trackers might have kept a relatively tight focus on the breadth of the Conway sound, this album echoes the Trinity Carbon one in taking an omnivorous approach to tempo and intensity.
There's an abundance of atmospheric tension setting the tone here, not least on early highlight 'Evacuation Zone', which pivots between dishevelled but tightly clipped break runs and icy vacuums where the track once stood. The stop-start energy continues on 'A Long Way To Walk For Bad News' while 'Castor & Pollux' chokes on thick clouds of bit-crushed pad. Beatless piece 'Cellular Housekeeping' deals in grainy, roughly hewn textures far too kinetic to be considered ambient.
While all those tracks exude a sense of weariness and degradation, elsewhere Conway is on snarling, sinewy form. 'Swings In Reactivity' clatters and slops its crunchy drums and overdriven 303 all over the place, while 'Eyes Of Providence' ratchets down a slamming 4/4 thump and strafes fine slithers of noise out over the top of it. Even in these more forthright moments though, the focus isn't on function, but rather how to wield some of dance music tropes to express something deeper and darker than surface level physicality. It's not a light-hearted listen, but it's not one-dimensionally dark either. Conway has successfully created an album to be chewed on, thought about and explored over time, potentially revealing new insights with repeated listens.
OW
Gem K – Swan Lover's Knot Dagger (Super Utu):
This soft gothic, minimal wave project is the "femme fatale alter-ego" of Maria Korkelia, a Finnish artist working in nearly every discipline, from textiles to music. Part of a mysterious Finnish art collective and gallery based in Paris simply known as 'The Community', this album is one of the collective's finest forays into music, continuing their tradition of weaving inspirations from ancient Finnish folklore into their artworks.
Out from her her last piece – a gender-neutral clothing collection based around gardening and urban exploration – comes Gem-K, a dark and misty character woven from literary inspirations like the Finnish epic Kalevala. But contrasting to the gargantuan feel of Lonnrot's 19th Century creation epic, 'Swan Lover's Knot Dagger' is by contrast a dark, sparse and beat-centric album reminiscent of Goldfrapp, Lolina, or the Standish siblings; fans of those artists, rather than epic-binging classicists, will be more like to enjoy this EP.
Through the opening dub echoes and juddering, not-quite-legato strings on the opener 'Swan Song', we're slowly exposed to a Lily Chou-Chou style alter ego from Korkelia's vocals. They're sung in a lethargic, effortless fashion, and give off a weird parallel mood of distance and up-close neediness – "baby, let me in your arms tonight, if only for this one last time." Droning trap beats – with nods to witch house and FM acid house – soon follow, establishing a consistently doomy vibe, while contributing guitar sounds from confidant and fellow musician 2Funny dance across the hazing canyons that are 'Dogmatist' and 'Autumn'. Overall, this album is a pleasant and well-timed downtempo break from Korkelia's much more dance-oriented Emkay project, but continues her ever-present preference for moods of loving minimality and purring gloom.
JIJ
Neuronphase – LON (Porridge Bullet)
It's a chance to hear Haas embracing the idea of songwriting as he invites a range of vocalists to sing on tracks. Rosacaea is the perfect fraught death diva cutting through the thrumming arps of 'Narcissist', and the noisy melodics that rise up around her muddy vocals are viscerally powerful and moving. Levente shouts out with a Lux Interior-esque wail which implies an unhinged energy standing up to Haas' nervy synth pulse and brutally stiff drum march. There's no prize for hearing the reference points dripping all over this music – it's resolutely engineered to evoke a bygone era – but with the power of the vocal performances and the increased confidence in Haas compositional choices, the songs speak for themselves, regardless of history. In the end, that's the only thing that matters.
The Porridge Bullet label continues to stand tall as one of the lightning rods for the Estonian underground scene. Like the best labels it operates according to its own internal logic – no flashy names or savvy co-signs, no regimented sound, just interesting music from a self-reliant community of artistic types. Neuronphase may well be a new name if you didn't catch the previous LP, but the roots of Anti Aaver's dusty-caked house project lie with three other Estonian DJs in the early 90s. Even with that much history, Neuronphase has a contemporary feel, and on his new album manages the tricky art of bringing something inspired to the realm of proper house music.
Of course, the premise of grubby 4/4 with plenty of rumbling low end and an MPC-esque crunch is not exactly new. It was there in the Detroit contingent, amongst artists from Seven Davis Jr to Max Graef and DJ Slyngshot, in the hands of DJ Nature and so many others, but Aaver knows how to express true beauty within that established soundworld. 'Gotta Play' in particular is a soaring, sentimental trip where the rugged drums are but a carrier for the billowing clouds of pads. Crucially, the framework of house music isn't constrictive, and doesn't sound like the benchmark by which Aaver measures his work. There's space for beatless expression which still seems to use house music instrumentation (piano keys, acidic bass), and sometimes the nasty percussion gets pushed forwards to make something almost industrial in its make up (on the downright dirty 'Get It'). Every track is a hit, and gives you that renewed faith in house music with personality – a genre so relentlessly mined, it's a wonder people like Neuronphase can still make it sound vital.
OW
Vadmadarak – Hej Jancsika (Kept Alive):
Vadmadarak ('Wildfowls') is a trance project by a close-knit Hungarian trio of self-styled 'wild birds' – Jekler Z. Gábor, Jónás Péter, and Kovács Gábor – whose expert wibbly-wobbly trancey-folkey fusion efforts have taken nearly a full quarter-century to be rediscovered. This 8-track album comes after a three-part 'Maxi' trilogy of originals on 12", released in 1996. In true Death or Charanjit Singh fashion, their pioneerism was swept under the rug in Hungary, barely pushing a handful of sales via italodance label Discomagic.
Kept Alive – doing god's work – has seen to yet another 500 copies of Vadmadarak's music. With express orders from the label to treat this comp LP "with discretion", we are smitten with the sheer wealth of creativity this ambient trance project has to offer. Without a YouTube link to hear their main hit 'Hej Jancsika' ('Hey Johnny'), we're now happy to confirm its sound for you; a happy hardcore bit replete with spring boings and bowed Hungarian folk melodies. 'Arra Jarunk' and 'Szekvarosi Oreg Toronoy' are Enigma-rivalling flute and beat tunes, and arguably better than that band's well known hits. Acid licks rebound across the stereo field as we revel in the choral glory of the ethereal folk 'Mikor Csikbol', which draws on an oral folk song native to the Csik region, as well as an ayahuascan house take on a Hungarian folk instrument, the jew's harp, on 'Doromb Fantasy'. This is a fun, amped-up and giggling folk and trance album, for all to enjoy, whether you're intrigued by Hungarian folk tradition or not.
JIJ
Klein – Harmattan (Pentatone):
On her seventh album 'Harmattan', London producer, composer, vocalist and self-styled 'discomposer' Klein has upped the structural stakes, producing a strange fusion of modern classical, improv jazz, and dark ambient. Unreally framed in the contexts of her better-known, deconstructionist electronic albums like 'Tommy' and 'Lifetime' – and confusingly dubbed a 'grime' and 'R&B' project – this album is more staunchly, abstractly 'classical'. We imagine it could easily be notated and re-performed, immortalising Klein's composing abilities. It's only natural it comes out on the classical label Pentatone.
Or, at least, that's true of the first four tracks – 'For Solo Piano' and 'Roc' open the album with chromatic, near-atonal free jazz plonks and brass swells and sways. The only indication of something more comes as fireworks sound effects heard halfway through the latter track, like a recent memory of this past November 5th. 'Unknown Opps' introduces more synthetic elements, its title alluding to rivalling gangs, before sinister chords ensue on 'The Haunting Of Grace', which expands into full-throttle terror, reminiscent of Klein's fellow World Music affiliate Mica Levi's soundtracks. What begins as a neo-noir curiosity soon becomes a haunting, near-dark ambient album. 'Skyfall' is by far one of the most horrifying pieces of music we've heard all year, with Klein and Charlotte Church's combined voices sounding like distant banshee's wails resounding across misty, nighttime estuaries. Forget London, forget R&B – until the ambiguously victorious, almost Vangelic, ending tracks 'Hope Dealers' and 'Champions', this project sounds like a gothic soundscape rerub of The Woman In Black, or any misty M.R. James story.
JIJ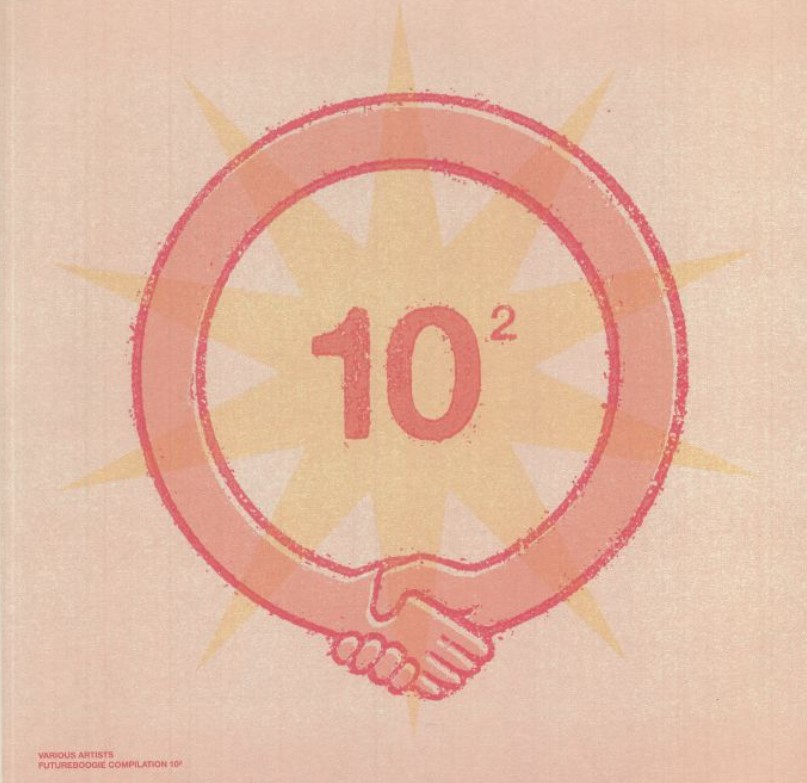 Various Artists – Futureboogie10 2 (Futureboogie Recordings)
Very few record labels bow out on their own terms. Most simply cease releasing music, slip away quietly or – in the worst-case scenario – are wound up by administrators, leaving a trail of out-of-pocket artists in their wake.
Fortunately, Futureboogie Recordings is not one of those imprints. Dave Harvey, the label's founder, took a decision earlier this year to call time on Futureboogie, which started life 20 years ago as a website, DJ agency and club night (which was initially called Seen) in his adopted home city of Bristol. The decision to retire the Futureboogie brand makes sense (he co-owns a successful business organising and promoting music festivals), especially as he'll soon be launching a new label with friend and collaborator Ellie Stokes.Fittingly, she was also involved in planning and curating Futureboogie's last aural will and testament: a pleasingly expansive compilation of unreleased music.
Musically, the triple-vinyl set does feature a few nods towards the colourful, disco-tinged sound that the label explored in its early years – see the sample-house hedonism of DJ Nature's 'Goin' On' and the saucer-eyed disco-acid squelch of N-Gynn's 'Dutch E'– but most of the material reflects the increasingly trippy, eccentric and esoteric nature of Futureboogie's output over the last few years.
In practice, that means a mixture of acid-fired dancefloor psychedelia, intoxicating acid jams, off-kilter electro, delay-laden proto-house revivalism, tactile retro-futurism, mind-altering chuggers and clanking, new wave-influenced oddities. It's an alluring blend that's bookended by two impressive cuts: the slow-motion Balearic chug of Francesca's 'Desire' and the breakbeat-driven, rave-ready insanity of Hard Ton's 'Don't Believe The Hype'.
Sandwiched in between you'll find all manner of highlights, including impactful contributions from a new generation of Bristol scene heroes (Chez De Milo, Natural Sugars and Manami), on-point productions by Lauer, Rodion and Warehouse Preservation Society, and a wonderfully spacey and driving Fantastic Man tweak of Toby Tobias' 'Trippy Steve'. As swansongs go, Futureboogie 10 2 (that's ten squared, kids) is pretty darn good.
MA
96 Back – Love Letters, Nine Through Six (Local Action)
Evan Majumdar-Swift is growing up in public. Artists that start releasing at a precociously young age have a lot to grapple with as they continue working themselves and their music out. In the case of the Sheffield-born, Manchester-based lad known as 96 Back, he's amassed a strikingly mature string of releases for CPU, Happy Skull and Hypercolour. Those releases wore their influences on the sleeve – lashings of Aphexian synth wobbles and the ever-present lure of electro, but there was also a verve in the construction and composition which rightly got everyone excited, not least Local Action who have carried a trilogy of releases from Majumdar-Swift.
This album rounds off that trilogy with a first indication of 96 Back growing into something more than just artful electro (not to sound dismissive of his earlier work). We're at a point where pop is colliding with leftfield electronic music in a multitude of ways – artists are more open to styles and approaches which might once have been considered commercial, not least emotive vocals. Majumdar-Swift offers his own interpretation of this at select moments on Love Letters, Nine Through Six, but it's best not to overstate the pop dimension of the album. It's a detectable thread, but certainly no challenger to the dexterous synth work which remains front and centre of 96 Back's sound. What's changed is the emphasis on energy, leaving much more room for introspection and contemplation as though pursuing something sweeter than strict club fare.
On 'Don't Die' you can hear a whole diary's worth of feeling cavorting through the synths, while guest vocalist Joe Paisan becomes another snappily programmed, generously processed texture in the heartfelt whole. If this album still feels like a learning process, that's fine, because what is anyone doing but learning as they go along? Fortunately, the sound of 96 Back figuring everything out is strong enough to stand on its own as a highly accomplished piece of art – just listen to 'Melt You' featuring Iceboy Violet and hear the possibilities opening out exponentially for this most talented of breakthrough artists.
OW
Plant43 – Sublunar Tides (Plant43 Recordings)
In the long and winding history of electro, Plant43 might be considered of a newer generation, but to anyone with their ear patched into the UK underground, he's been pushing the sound for a long time. London-based producer Emile Facey was exploring the depth and breadth of electro long before the genres renaissance some four years ago, and his appearance on labels like the cult Ai Records and role in the Bleep43 collective speak to his underground credentials.
Ai Records in particular point to the area Facey's music resides in – an electronica-informed slant on machine funk that favours luscious synthesis and sci-fi vistas, shot through with melancholic romanticism in a time-honoured tradition of dreamers dance music. By now, Facey's back catalogue is a litany of hi-tech soul that graces all the major labels you'd care to think of – Frustrated Funk, Shipwrec, CPU, Semantica, and increasingly his own self-styled label. It's here he returns for his sixth album, Sublunar Tides.
The sound shouldn't come as a shock to anyone who has been following Facey for any amount of time. It's immaculately rendered, powered by the crispest 808 beats and adorned with the finest silken melodies. But therein lies the charm – flying in the face of contrived contrariness, Facey has perfected his art and can deliver it with maximum satisfaction guaranteed. There's still space for friction and contrast in this sophisticated blend, such as with the growling bassline which slams out underneath typically fluttering delight 'Arc Furnace', while 'Perfect Ruin' and 'Tides Align' offer a diversion into beatless synth expression, but you don't put on an album like Sublunar Tides to be shocked. It's a record to sink into comfortably, to bask in the finely balanced interplay of sequenced ingredients and the heartstring-tugging stories they impart.
OW
Hailing from that most fabled of punk-rave enclaves, the Golden Pudel, LFT has a well-established identity as an electro deviant. Rubbing shoulders with Helena Hauff and Elena Colombi, the chap known as Johannes Haas has found a comfortable thread to explore where minimal wave, industrial and dare-we-say electro clash collide in an immediate, seductive whole. After offering a debut album to Osáre! Editions last year, Haas quickly follows up with a sophomore effort for Mannequin, a label well entrenched in contemporary ruminations on the legacy of lo-fi mecha-punk music.
It's a chance to hear Haas embracing the idea of songwriting as he invites a range of vocalists to sing on tracks. Rosacaea is the perfect fraught death diva cutting through the thrumming arps of 'Narcissist', and the noisy melodics that rise up around her muddy vocals are viscerally powerful and moving. Levente shouts out with a Lux Interior-esque wail which implies an unhinged energy standing up to Haas' nervy synth pulse and brutally stiff drum march. There's no prize for hearing the reference points dripping all over this music – it's resolutely engineered to evoke a bygone era – but with the power of the vocal performances and the increased confidence in Haas compositional choices, the songs speak for themselves, regardless of history. In the end, that's the only thing that matters.
OW
Lord Of The Isles 'Acceptance' (Kimochi)
Improbably high-grade label Kimochi mark the joyous occasion of reaching their 50th release with the help of wildly talented cosmic expounder, Lord Of The Isles. The Chicago based imprint has made a mightily impressive habit of delivering only the most peerless of releases, presenting their ultra-collectable music via limited edition runs featuring attractive hand-sprayed sleeves. Reaching such a milestone is beyond doubt worthy of celebration, and Scottish producer Neil McDonald proves an excellent choice to supply the soundtrack to festivities. Predictably, the music is delightful across the board. Opening with a wave of emotion with the thick pads and bubbling bass of 'Betula', the album veers through ambient introspection and into dancefloor abandon with consummate ease.
The luscious synths of '369' make way for the spectacular body-moving dynamism of 'Nufinx' and the Aphex Twin-esque 'Hf9-a' before landing in the peculiar topography of 'RDISC'. ' The gentle caress and icy awareness of 'Acceptance' lands like a moment of celestial clarity, while the delicious acid groove of 'Novwo' bends idiosyncratic synth work with heavenly harmonics and rolling percussion. Finally, '66CV' sees the album out into the ether with mesmerising analogue swells and trance-inducing rhythms combining to provide a fleeting moment of serenity.
PC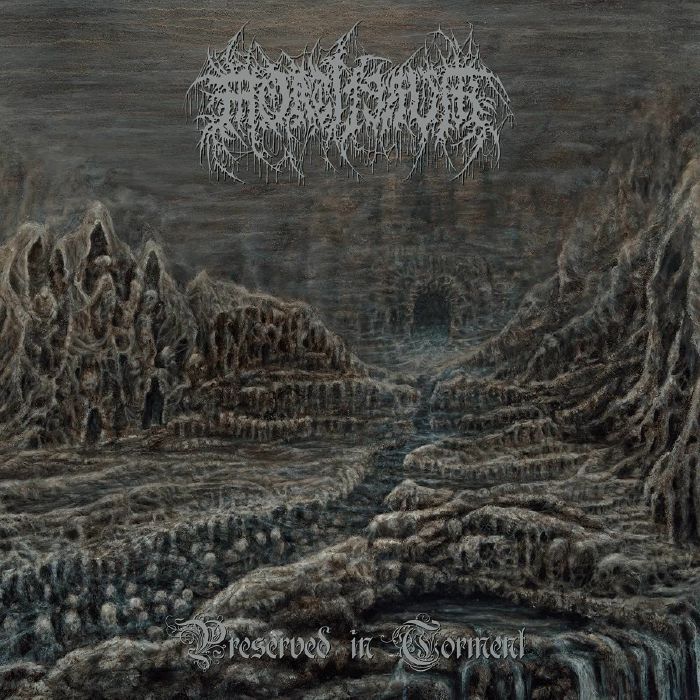 Mortiferum – Preserved In Torment (Profound Lore Canada)
Olympia, Washington based doom-death brutalists Mortiferum accosted the extreme metal scene with their ferocious debut demo, 'Altar Of Decay'.
Making such an impression that a deal was quickly penned with Profound Lore, a label amassing quite the roster of challenging metal acts willing to take exception to the form, their first full-length, 'Disgorged from Psychotic Depths', proved a monstrous success.
'Preserved In Torment' doesn't necessarily pick up where its predecessor left off, rather it rains down hateful dirges of audible violence upon the uninitiated and familiar alike.
'Exhumed From Mortal Spheres' slams into oblivion with not a modicum of warning, combing thick, churning reverb-drenched doom riffs with complex, sporadic technical death metal, owing equal credence to both the genre's American and Finnish routes.
At six tracks, and pushing towards an hour, Mortiferum force the parameters of their structure and composition into cavernous depths aided in no small part by the abyssal production handled by Andrew Oswald.
By the time 'Mephitis Of Disease' comes to its decrepit end, there's an inescapable sense of doom and cosmic fragility, like listening to the soundscapes of a portal to the damned. It's frightening and bewildering, but also uniquely invigorating to make it through the ordeal somewhat unscathed. The ultimate test is to plummet the depths again and again.
ZB
Parris – Soaked In Indigo Moonlight (Can You Feel The Sun)
Even with his very first releases it was clear Parris was offering something different. With Burr on Idle Hands, Skeletal on Ancient Monarchy and Your Kiss Is Sour on Hemlock, Dwayne Parris-Robinson took a knife to the contemporary wave of bass mutations and carved out a suspended, daringly minimal style which used negative space as a force for pressure like few others around him. He's not stalled in one lane though, and more recent offerings have seen his sound palette thicken up without losing an inherent verve which sets him up perfectly for the leap into album territory.
Curiosity feels like a driving force on Soaked In Indigo Moonlight, as Parris revels in testing out all kinds of vibes. The most immediately head–turning hit is the frankly astounding 'Skater's World', a sharply-angled pop play with a giddy vocal drop from Toronto singer Eden Samara that comes on like early 80s electro pitched at Gen Z, which is a great thing of course. But there's so many other angles Parris explores on this fulsome album, from the devilishly artful drum workout 'Poison Pudding' with Call Super to slower chiptune delight 'Laufen In Birkencrocs'. The delicacy Parris displayed on his earlier releases can still be felt, even if the music is less stubbornly minimal – there's always breathing room around each element, and a sheen on each sound which makes the music bloom in your ears. More than anything, it feels free, and exudes an atmosphere which should lift you up without resorting to any conventional 'feel-good' trope, even in its catchiest moments.
OW
Lina Filipovich – Magnificat (Time Released Sound)
Perhaps no artist has captured the mood of 19th Century Catholic liturgy in electronic music form more than Lina Filipovich. Born in Belarus and now living in Paris, her new album 'Magnificat' is unlike any interpretation of religious music you've likely heard before.
Mangled choral chants; alienized bell strikes; ominous devotional ambiences; Filipovich constructs a mirrored, looping take on the feeling of ascending to orthodox heaven here. With each deluxe vinyl copy (limited to only 60) featuring a slightly different duotone-printed image of a different Michaelangelo sculpture, the album feels just as fitting for the High Renaissance period as it does for now. Each piece cuts up and electronically re-splices samples from Sergei Rachmaninoff's 'All Night Vigil'; it's easy to imagine a presbyter proclaiming each tape-looping chant a divine miracle.
Fans of James Ferraro's neo Renaissance electronic albums ('Requiem For Recycled Earth' springs to mind) are sure to like this. Many of the tracks sound like old Vatican eccojams, caught in the strange space between classical music and vaporwave. 'Resurrection' stands out as one of the album's altarpieces, demonstrating Filipovich's tendency to loop, click, and whirl sounds into existence. Its more challenging moments, like 'Glory Be To God On High' or 'Bogoroditse Devo', recall the devilish passageways found below chapels or in old French catacombs, as UFO landing sound effects mix easily with organ drones and Shepard tones. By the end, we're caught in divine rapture, as a squelching synth pins the track 'Oh Joyful Light' into an eight minute soundscape of soul-stolen hollowness.
This album is happily released on the exquisites label Time Released Sound, who specialise in exclusive merch bits. The deluxe edition includes a gold ink book of ancient religious sheet music, as well as a strung Catholic prayer card, with credits and track titles printed on it using a rare Olympia cursive typewriter. It's certainly an artistic time capsule if we've ever seen one.
JIJ
Following an earlier cassette and digital release, Leaving Records have reflected on the magic of Xyla's debut album Ways and given it a full vinyl pressing. It's an album that might have slipped passed your receptors, and it certainly has a subtlety about it, but equally its lithe, melodious spirit should attach itself easily to any heart it crosses. As much as the music has a beauteous appeal, there's ample space for surprises and adventurous progressions too. San Francisco-based Xyla is early on in her career, but she expresses herself with assured poise and follows her own creative logic rather than adhering to any particular code.
Opening track 'Shoot' is a fine example of Xyla's wandering inspiration, rising in a bed of dubby ambience and taking a generous amount of time to reveal a snappy, chiming electro abstraction. There doesn't seem any division in her world between ambient and beat-driven passages – both sensibilities are given equal footing and coexist naturally. 'Cold' bathes in plush pad tones, but equally dices up R&B vocals, bouncy acid and the slightest of drum patterns. Sometimes you can detect the nimble patter of footwork in the 808-flavoured beats, elsewhere you're tuning in on a sax or flute refrain. A mellow demeanour in the Leaving vein binds the record together so as to stop it meandering too far from an emotional centre, but it's the agility Xyla displays throughout every track which makes Ways such a joy to dive into, and highly deserving of a wider release for those who missed it the first time round.
OW
Cartridge 1987 – Passage (Nowadays)
For the uninitiated, Cartridge 1987 is the solo project from Drich of Grand Soleil. If the name hasn't given it away, the narrative and sonic inspiration are entirely indebted to everything 80's, with a core adoration for retro video games and science fiction cinema.
Where the aptly titled debut, 'Cartridge', specifically manipulated and replicated authentic 8-bit soundscapes to a staggering, utterly nostalgic degree, 'Passage' is the leap to the silver screen as it were. It's the soundtrack to a classic never made, echoing the neon vibrancy of Cliff Martinez as well as the crawling dreamy dread of John Carpenter.
From the night-time drive pulse of the title track, each subsequent cut teeters on the dividing line between synthwave banger and ambient score, with 'Anor Londo' serving as a glossy example, constantly rearranging industrial-tinged buzz saw keys within the echo-sphere of the Tron soundtrack (both the original and Daft Punk versions).
Balanced with lighter moments of shimmering, retrofitted beach-pop like 'CT87 FM' or the lush euphoria of 'Cartridge's Theme', 'Passage' is a brooding yet hopeful re-imagining of potential, might have been nostalgia.
ZB
This week's reviewers: Zach Buggy, Jude Iago James, Oli Warwick, Matt Anniss, Patrizio Cavaliere,