Sissi Rada Q&A – "It was a long and difficult road"
Lose yourself in the harp-infused electronica of Sissi Rada
Sissi Rada's unqiue sound has already caught the ear of Brian Eno and Mouse on Mars, both of whom lent their considerabkle production skills to her new album Nanadiamond. We meet the Greek harpist in person and find out what makes her tick…
Tell us a bit about your first musical memories – what you grew up hearing, how you got into playing music (and the harp), and how you got switched onto electronic music.
I was lucky to grow up in a musical setting. Nobody from my family was professional, but they all had a thing for a genre. My mum was listening to The Beatles, Harry Belafonte and opera. My dad took me almost every week with him to ballet performances since I was three and he was singing me traditional songs totally out of tune to put me to sleep. My aunt was the rebellious influence. She taught me how to dance in the dark to Klaus Nomi, Nina Hagen, Kate Bush and Led Zeppelin.
Then, when I started thinking for myself, I must have been 16, I bought my first speakers. I then started listening to music every night before I went to sleep. To electronic music I never switched. It was always part of my childhood. I remember listening to massive attack, portishead, deep dish from my brother's room. And then there was this legendary radio station in Athens named "Best 92.6" that played house music. The scene was flourishing in Athens in the '00s and my generation got a good glimpse of it. Somewhere in between I saw the harp, I liked it, and asked my parents to stop the piano and start the harp. It was a long and difficult road to find a way to combine all those influences together. And some people find my music a very weird combination. But it makes sense to me.
From Mary Lattimore to Naliah Hunter, harpists have made a comeback this year, especially so when their talents are paired with electronic music. Why do you think the harp resonates so strongly the moment?
I guess there was always some harp, somehow, somewhere. But after the discovery of Joanna Newsom, I suppose it became easier to spot one.
What are some of the core concepts / themes behind Nanodiamond?
Tribal rhythm, utter sheer Wertheric romance, a sonar painting of the big bang.
From what we hear, the album draws on themes of scenic bliss, from the Aegean sea to imagined landscapes, like "jewel-encrusted grottos of sound". Could you tell us a little more about the sonic 'scenes' you imagined as you were producing it?
I was born on the coast of Athens, next to the sea. The most beautiful thing I can think of, is the sea. So if you hear it in the songs, that's nice.
You wear your influences on your sleeve, from Kate Bush to Georgia. Could you name a few tracks that particularly inspired you at the time of the album's making, and why?
I listen to a lot of music, music of a different kind. This music I listen to, is not an inspiration, it's more of an education. Thank god I don't wear what I listen to. But to name some tracks I was listening to at the time, it was a vinyl I had with traditional music from little Asia, a lot of Ron Trent, Tchaikovsky and Georgian church chants (…almost Georgia). Oh and so much George Michael now that we are talking about georgic things… I discovered some songs that I wish I would have composed. Such an amazing artist. I remember listening to him during that time in an almost religious way.
Being a trained harpist, what is the duality of performing in classical orchestras vs. producing electronic music – and being part of the underground scene – like? Do the two lanes jar against each other, or are they complementary?
Yes sure they are complementary. However it isn't always easy to keep them both in my life. Sometimes I have to hide from one scene that I am active in the other. That's why I use a pseudonym. We like to put labels in music to feel comfortable, but labels are almost every time just an empty word without a meaning.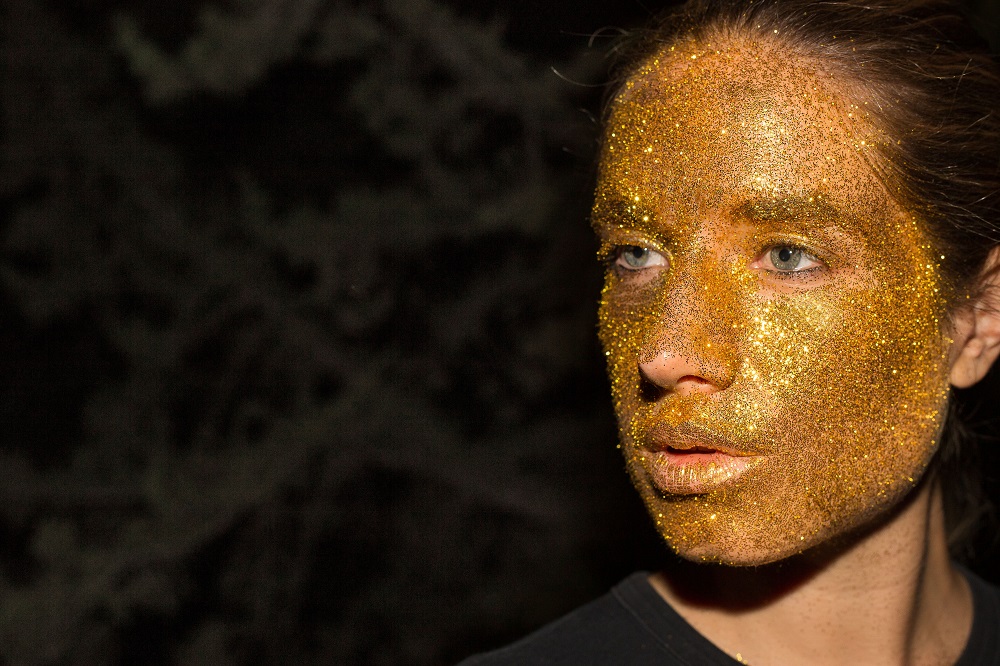 How did the Brian Eno link come about? What was it like working with him?
I was on tour with musicAeterna orchestra in Paris back in 2018. One night some musicians of the orchestra where chosen from our conductor Teodor Currentzis to play on a late night concert an improvised performance with Brian Eno. This is by the way the first orchestra that I play, that appreciates it when musicians are active in other scenes. I met the craziest, most controversial musicians there. With Brian Eno, I was lucky enough that he found me nice. He is a warmhearted person with a genuine love for art, politics and the environment. I asked him if I could interview him for the magazine Apartamento, where I used to write. He said yes. During the photoshoot in his studio in London, he asked me totally by chance if I play the keyboards. I don't think he knew that I was producing myself. I said yes and he recorded my improvisation. The midi keyboard was loaded with sounds that he himself had made. When I realized what has happened, I told him that I sometimes do electronic music and that I was working on a record under another name. He said that he would edit the track and send it back to me to put it on the record. That's how simple and original it all was.
Likewise with Mouse on Mars… Were you aware of their music?
Andi Toma was my mentor at the Amplify Residency program in Berlin in 2019. There is actually a nice story that links these two producers of the album. Andi told me that when he did his first Mouse on Mars record, he sent it with a letter to Brian Eno. Brian Eno listened to it, and wrote him back to congratulate him. After all those years, I asked Brian if he remembered the incident and he said he did.
When great musicians happen to be great personalities, you are so lucky to be near them. They offer love like children do. They make you want to be your best self. Andi helped me a lot in future projects, even when my residency was over. He taught me how to be open to musical ideas and dare to play unconventionally. It was always a lesson to see him work in his studio. Especially the record sessions with the legendary Lee Scratch Perry. Andi was kind enough to invite me to play. All musicians improvised in the kitchen to capture its characteristic sound. The whole atmosphere had something of a cult ceremony. At some point I remember Lee was feeding me lotus while I was playing the harp.
What do the numbers and letters in the name of the new single – 81948 (2000 OM69) – represent?
2019 was the 50th anniversary of the moon landing. At the Starmus Festival V conference in Zurich, the asteroid 81948 (2000 OM69) was renamed ceremoniously after Brian Eno (luckily not vise versa). Brian was also awarded the Stephen Hawking medal at this conference.
Will you be performing Nanodiamond? If so, where can we catch you playing in the coming year?
Yes I will do XJazz Festival in Berlin in 2022.
Nanadiamond. is out now – buy your copy here