Arp Frique interview – "How can you make a painting with a group if you all get a brush?"
The Amsterdam-based Afro-fusion dancefloor slayer on his musical benign dictatorship
Arp Frique has been dazzling discerning music lovers with his vivid blend of universally-inspired fusion grooves since his Rush Hour debut 'Nos Magia' landed in 2017. With two effervescent long-players already under his belt, the Amsterdam-based artist last month heralded the imminent arrival of his third album The Seed with the release of the exquisite lead single 'Nyame Ye'. With its life-affirming vocal and contagious Afro rhythms, the record did a majestic job whetting the collective appetites of fans eager to once more immerse themselves in Arp Frique's kaleidoscopic sonic universe.
Thanks to the live feel of much of his output, you'd be forgiven for thinking Arp Frique is a fully formed band. In fact – guest vocalists and players enlisted for live shows notwithstanding – the project is the solo vision of musician and producer, Niels Nieuborg. The multi-instrumentalist plays all of the parts on his Arp Frique recordings, and it's the sheer radiance of his creative vision that dictates the need to actualise almost all aspects of the music himself. "It's like painting," he says. "How can you make a painting with a group if you all get a brush? Doesn't work for me, I have something in my head or heart that comes out when it wants to, and I can visualize it way before it is finished. That is incredibly hard when you are working with several painters on one canvas at the same time." He mentions numerous artists who've helped galvanise his desire for studio self-sufficiency, with the primary inspiration coming from a man who has music surging through his very being. "Stevie Wonder is one of my main influences of all time," says Niels. "He worked with so many people and also pulled the strings himself a lot. I was drawn to that one-man DIY method of Stevie, Prince, Lenny Kravitz and others: record the whole song from A to Z yourself."
Despite this admirable reluctance to delegate, when the time comes for live performance Niels is able to call upon a trusted band of players to help bring the Arp Frique project to the stage. Regularly turning out as a five or six-piece unit, the band adopt a delightfully freeform flow to their performances – something that stems from a bold preparatory approach. "We hardly ever rehearse, only for new songs," says Niels. "I like it that way. I don't want things to be played to death before the stage, it needs to be spontaneous and fresh. Comes with some risks obviously – and I pay the price for that – but it seems to work out great 99% of the time."
Though the 'Nos Magia' single is arguably responsible for propelling the Arp Frique brand into the underground subconscious, the song was the very last piece recorded for debut album Welcome To The Colourful World Of Arp Frique.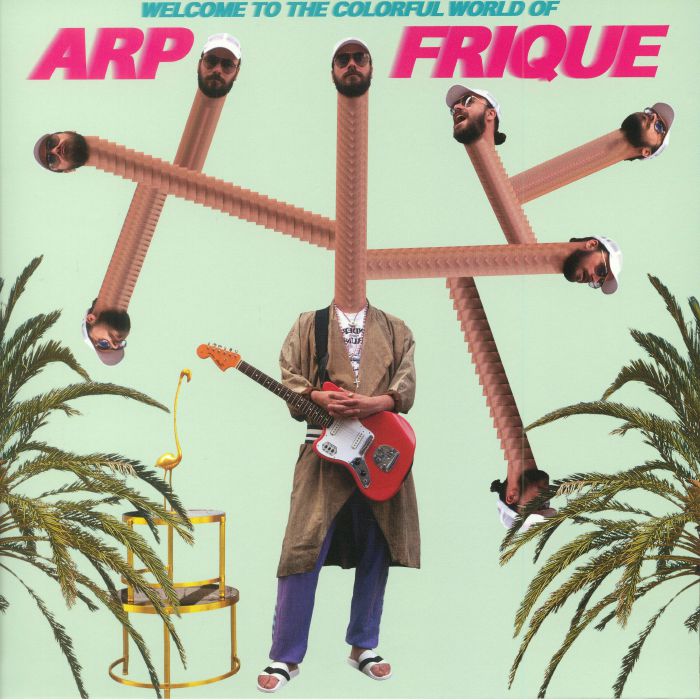 Prior to its release, Niels had low expectations for the track, and it wasn't until the featured vocalist entered the fray that the track came to life. "I wanted to add something Cape Verdean to put in my Rotterdam roots," says Niels. "[There is a] large Cape Verdean community there, and I had this funky but messy song laying around. Americo Brito came by and it happened, the rest is history."
The success of the lead single may have caught Niels by surprise, but it turns out Niels' arrival on centre stage in itself wasn't something he initially had designs on. The metamorphosis from studio technician to frontman occurred thanks to a life-changing event at home – alongside some friendly encouragement from one of Amsterdam's best-known subterranean architects. "I had no intention to go for the spotlight but I somehow fell into it," says Niels. "I had been working on a new album for the mother of my daughter, Giovanca, and she became pregnant. Her attention went from music to the pregnancy, and I had all these rough versions of songs that she didn't find all that interesting. I played some of these rough demos to [Rush Hour co-founder] Antal and KC the Funkaholic [Paradiso] and they convinced me to go solo. I thought they were delusional! Well, not really, but I could not believe they were that hyped about it. I am grateful I listened to them, two of the OG's of the Amsterdam music scene. It took me to where I am now."
The bulk of Arp Frique's material has arrived via the rightfully venerated Rush Hour Music, with his albums surfacing under the Colourful World flag – a sub-label Niels describes as "a playground for all things Arp Frique in collaboration with homey, Antal." The pair's relationship extends far back to when Niels operated as a restaurateur, running sites in both Amsterdam and Rotterdam. It was the former which served as the starting point of their long-standing connection. "We did some parties there [and] after that we kept in touch regarding music – mostly productions I did for other people as part of the duo Nelson & Djosa."
Nieuborg's route into music began in relatively unassuming territory, growing up listening to "pretty much everything from all genres pop," with a particular teenage enthusiasm for Madonna and Gloria Estefan. It took the rasping vocals and searing lead guitars of iconic Seattle grunge heroes Nirvana to truly awaken his latent musical yearning. "What really triggered me was 'Smells Like Teen Spirit'," he says. "The first time I heard that on the radio was an absolute mind expander. That pushed me to start learning to play the guitar, and from there on all the greats, from P-funk to Stevie, from Clapton to Hendrix." As a youngster, Niels didn't detect any special affinity with music from within his family, but a later familial revelation would provide further impetus to his sonic calling. "As time passed, I discovered my dad was a singer before his draft into the army, and I think that was a big 'seed' for me," he says.
His studio exploits were momentarily put on ice in his early 20s when academia consumed his attention. It was only after a request for recording assistance arrived that he resumed his stereo quest. "I actually stopped doing music for a while. I couldn't anymore, it hurt too much not to be professional about it because I was studying medicine and that occupied most of my time. [Then] at one point, a buddy of mine asked me to help him record some vocals for a project he was working on. That was the start of it all."
Though the Arp Frique sound is characterised by a joyous fusion of globally-inspired rhythms and melodies, his audio evolution has been gradual and seemingly unending. First came UK and American classics, igniting a fervour for funk and soul records. "Disco came much later when I got more into synths instead of just guitar music," says Niels, before sharing that a pair of heavyweights from the Dutch capital would go on to provide further inspiration and education. "When I moved to Amsterdam about 10 years ago, I got into contact with the big city club scene – especially Dekmantel and Rush Hour. That really opened my eyes. And it also reminded me of those awesome Cape Verdean records I had been hearing for decades but never knew what to do with."

In recent years, there has been a tangible shift in the shared appetite of the astute end of the dance music cosmos, with a willingness and hunger to embrace music from all corners of the world. Irresistible (and in many cases previously unobtainable) sounds from Africa, South America, the Caribbean, Asia and beyond routinely find their way into the playlists of selectors and collectives who would traditionally have gravitated towards strictly electronic house and techno related sounds. While Niels suggests this upsurge may have already peaked, he feels that the dance landscape is forever shifted towards a global-facing outlook. "I think a few years ago the hype was bigger. But it is not dying, it is just finding a steady position in the total spectrum which is awesome… One of the best things to happen to the music scene in recent years in my opinion."
Myriad factors have propelled the phenomenon, and Niels lists his own set of determining causes. "It happened for many reasons," he says. "Globalisation, migration, the web, crate diggers always looking for more, reissue labels, promoters, DJs. It all happened around the last two decades, the big boom, and it is lovely. And it will never end because once the scene got the taste of it, it kept searching for more and there will always be more."


The Seed is due for release this Autumn, with Niels describing the 12 track album as his most spiritual work to date. "It is very much about my relationship with the Creator, the One, the Source, and about my daughter," he shares. "That, mixed with these turbulent times, are the inspiration for the record. Music-wise, it is where I left off with 'Nos Magia' – with a lot more room for synths and electronic drums. I added more of my own musical journey to the whole thing, so you will hear a lot more East African influences in there, more Kassav, more Stevie, more Jimi, more of the deeper side of dance music."
Niels started work on the album in 2018, allowing it ample time to take shape organically. While he says he typically finishes the music for each track in around a day, completing the vocal recordings can take months of planning, with Niels opting to record performances together in the studio with the singers rather than operating remotely. Providing vocals on 'The Seed' are Americo Brito, Orlando Julius, The Scorpios, and Mariseya – with the latter delivering a breathtaking lead performance on the album's first single, 'Nyame Ye'. "Mariseya came to the studio, we wrote the lyrics and she nailed it. It was instant magic, we never do retakes or anything. Just record in one session and that's it." With its rousing rhythms and contagious melodies, the gloriously upbeat track comes on like an instant classic, and the limited edition 7" release flew from the shelves. Niels took the track's success in his stride and didn't appear surprised when it struck a chord with the record-buying public. "I knew this song was a banger with just my scratchy guide vocals on it," he says, proudly.

Complimenting the record, Arp Frique has produced a film, also titled 'The Seed', with the music from the album serving as the soundtrack. Niels says the movie will be available "online soon and for free for everybody." Never one to dwell on past (or, indeed, imminent) achievements, the Arp Frique project rolls on. Niels reveals he's been working on a mini-album due for release next year, with a change in stylistic trajectory to follow soon after that. "I am going to switch things up a bit in terms of style," he says. "I can't say if that will happen 100%, or how it will sound, but I have ideas. Time for another surprise! Again for the dancefloor, but different."
Judging by the distinct luminosity of Arp Frique's yield to date, there's every reason to predict these tantalising future morsels will be well worth keeping suitably UV protected eyes peeled for.
Patrizio Cavaliere