Label Focus – The Disco Express
We meet the East Londoners who turned loft parties into a leading disco label
Some labels are churner-outers, and The Disco Express are as good an example as any. The East London outfit has been going strong since September of last year, releasing a plethora of V/A and solo EPs by their in-orbit contemporaries, including Soundsmith, Pete Maxey and 1-800 Disco.
Beginning as a loft party, we can only speculate that TDE's stress tolerance must have been stretched to ultra-elastic proportions, weatherbeaten by the glut of experience they've accrued. It might be why they're able to handle such a machine-like new music output; – they're scheduled to push three new vinyl EPs in this yearly quarter alone.
We caught up with label boss Bustin' Loose (pictured above) for our bi-monthly Label Focus chat, welcoming them to the fold in a discussion of the upcoming trio of releases: 'The Iridescence', 'Globally Sourced' and 'Best Of 2021'…
WHAT'S THE NAME OF YOUR LABEL, AND WHO RUNS IT?
The Disco Express, is run in London by myself Tom Lilly (Bustin' Loose) alongside Pete Maxey and our Berlin cohorts Craig White (1-800-Disco) and Hedley Smith (Soundsmith).
WHEN & WHY DID THE LABEL START?
The label officially begun in September 2020. Having thrown a sequence of monthly loft parties from March 2017 (with Dave Lee ZR, Crazy P, Eli Escobar, Tiger & Woods, Kon – too many to name), the pandemic was the catalyst to start the label. Venues closed, we dived head first into music production and haven't looked back since.
GIVE US A BRIEF SUMMARY OF WHAT YOU'VE RELEASED SINCE THEN….
One year in, we're now up to fifteen releases on the label. We're fanatics of nu-disco, disco, house, funk 'n' soul and electronic music. Alongside our resident DJs and artists we've released original music from the likes of Monsieur Van Pratt, C.Da Afro, Venessa Jackson, Tuesday Brunch, Donny Rotten and Tigerbalm.
We also have a super successful XPRESS Edits series featuring reworks by Parisian Soul, Javi Frias, Hector Zeroni, Davide Del Vecchio, Boogietraxx and Joshua Mooney.
WHAT QUALITIES ARE YOU LOOKING FOR IN THE MUSIC YOU RELEASE?
It has to hit me instinctively as something I must play in a club or to an audience. Music with soul and feeling; sounds that resonate with you and urge you to dance.
WHAT KIND OF VISUAL IDENTITY DOES THE LABEL HAVE (ARTWORK, VIDEOS ETC) ?
The Disco Express is a fusion of NYC 70's club culture and nu era disco in London. Our event posters reflected that throwback and over time they evolved into far slicker designs featuring a newer neon logo and our signature train mascot. For each original release we keep the same composition and tune the colour scheme to the music.
With our videos, we like to keep it simple. Album art with animated graphics, subtle glitches and popping smoke from the train. The XPRESS Edits series artwork is a homage of white labels.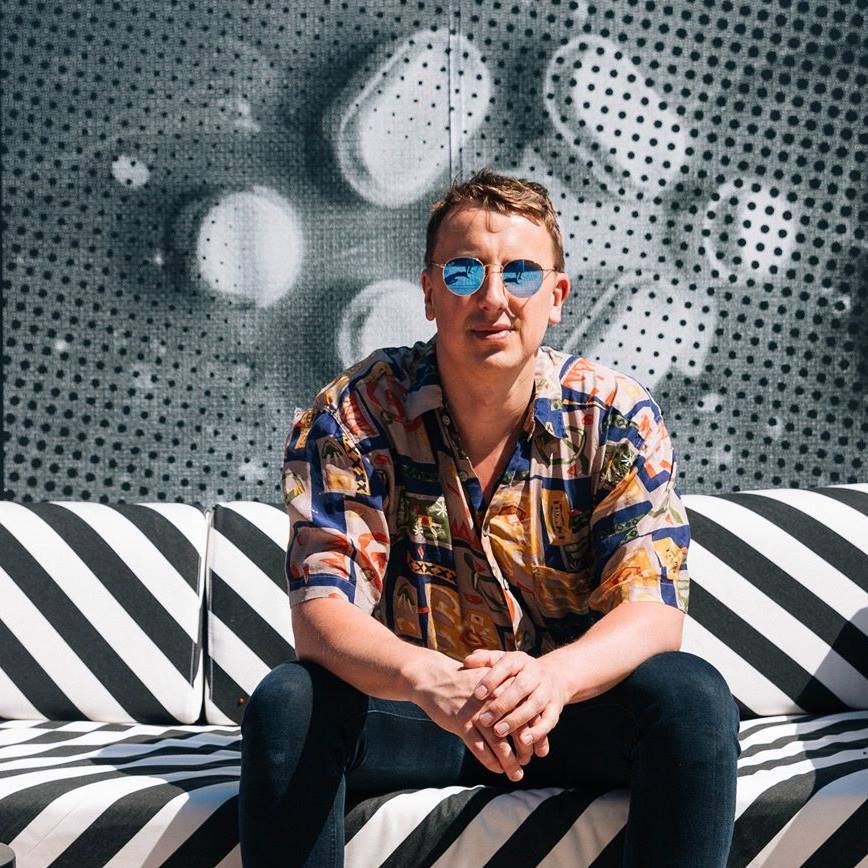 WHAT'S BEEN YOUR BIGGEST SELLING RELEASE TO DATE? TELL US A BIT ABOUT IT AND WHY YOU THINK IT WAS SO POPULAR.
Our first vinyl Bustin' Loose – Disco Connection racked up 300+ sales which isn't too bad for our very first run – especially in the midst of a pandemic.
It features two super rare afro disco reworks and two Philly disco edits on the flip. It's full of energy and big room disco flavours.
With regards to digital releases Funk Force EP by Monsieur Van Pratt and C.Da Afro absolutely nailed it. A proper disco-funk bomb.
NAME ONE RELEASE THAT YOU THINK DESERVED TO GET MORE ATTENTION THAN IT DID
Tuesday Brunch + Donny Rotten's London To Sydney EP is a killer showcase in sample house. Four absolute heaters consisting of soulful grooves, weighty beats and intricate production
IF YOU COULD SIGN ANY ARTIST, ALIVE OR DEAD, WHO WOULD YOU CHOOSE AND WHY?
Isaac Hayes is a huge inspiration for me. A genius conductor, composer, singer and influential force of nature.
WHICH OTHER LABELS DO YOU ADMIRE AND WHY?
Toy Tonics, Athens Of The North, Razor-N-Tape and Whiskey Disco. I love all of these labels and have had the pleasure in releasing my own music on two of them. What they've done from humble beginnings is nothing short of incredible. They all boast a signature sound and are established names in the underground house, disco and electronic scene. Years of consistency and hard work, churning out heaters. These are the type of labels defining the nu-disco sound at the moment and certainly a group I'd want to have The Disco Express up there with one day.
WHAT CAN WE LOOK TO FROM YOUR LABEL NEXT?
Three stellar new Summer vinyl: Bustin' Loose – Iridescence, Soundsmith – Globally Sourced and our much anticipated Best of 2021 compilation. I'm very proud to be working with some great people on these. Our goal is to champion the nu-disco sound in London; being the platform for talented newcomers and up-and-coming artists. Less than a year in, there's still plenty to do, but we're well and truly on our way!