The best new singles this week
Those must have singles in full
SINGLE OF THE WEEK
John FM – American Spirit (XL)
Supremely talented Detroit producer John FM exudes an unshakable sense of authenticity through his productions, mixes and on the rare occasions he takes part in interviews. Encouraged by the advice and success of friend and – at that time – newly-blossoming artist, Jay Daniel, John FM's release inventory got off to the very best of starts back in 2015, coming as it did via the impossibly credible FXHE fold. While his debut 'Alone' EP dazzled as it drifted through gritty alien soul and paranoid late-night textures, the 'Where My Roots Lie' follow-up in the same year was arguably even more remarkable, with its anthemic chords soaring over sinister funk bass and hyperactive drums. His next offering came what felt like an eternity later in 2017 on Trilogy Tapes, once again displaying a powerfully affecting gravity on the subterranean flex of 'Ricochet'. Following this, the wait between respective releases extended even further before his eventual and very welcome wax return – as a featured artist alongside Omar S on the 'Music For Hot Babes Only' EP.
Thankfully, he's now well and truly back in the thick of production action with his 'American Spirit' EP which this time arrives on illustrious UK imprint, XL. 'February' sees FM's sincere vocal flex power over thick chords and an exquisitely raw, deeply hypnotic rhythm track. The hauntingly idiosyncratic 'Holster' tells the macabre tale of a shooting through disparate perspectives, its cloudy panorama eventually infiltrated by a jarring sax solo. The immersive and near-tangible fog of 'Interim' offers a brief interlude, before the ominous bass dirt and jazz-flecked chords of 'Lockjaw' provide the unnerving bed for FM's provocative deadly sins allegory. The searingly personal 'Forever' sees the boldly creative artist venture into beautifully melancholic off-kilter r&b territory, before Acemo supplies his uniquely hyped infusion on the 'Live Forever' rework. Having an output calendar so patiently spaced could be seen as an indication of how much careful consideration goes into the artist's compositional process, and the music contained herein goes a long way to support that theory.
PC
The Amorphous Androgynous – The World Is Full Of Plankton: (FSOL Digital)
Record Store Day is a strange beast. Aside from all the twee oddities they peddle – from an Africa-shaped Toto 7-inch, to a one-off Flaming Lips single filled with the band's own DNA – perhaps we should be grateful, as we cannot deny their ability to put out the odd tasteful bit.
On this RSD reissue, we're treated to a trio of tracks from one of The Future Sound Of London's most enduring side projects – The Amorphous Androgynous – on limited 10". They're all choice cuts from the psychedelic tricksters' third album 'Alice In Ultraland', originally released in 2005, and signal its upcoming 2021 reissue. One of their more marmite albums, 'Ultraland' was decried by dance heads (particularly 'Ephidrina' and 'Isness' fans) in almost indirect proportion to its veneration by prog completists, with the album ending up as a more half-stepped, vocal, and climactic direction for Brian Dougans and Garry Cobain.
But let's forget sweeping objective claims about quality. Whatever the case, the tridential reframing of these electro-prog ballads in single format is undeniably fun, and perhaps a tentative indication that we're finally into a phase of '00s, not '90s, nostalgia. As old heads will doubtlessly recall, the title track plunges us into sublime Floydian expanse, whilst our good chum Gazzer reflects on his own cosmic insignificance, and the consequences of challenging it ("silly little fish me / I drank the sea again").
The instrumental B tracks are the real gooey centre. 'All Is Harvest' gets a proper refocus, timeless as ever, being a ballad of high-flown strings and swaying chord progressions. It forms a scalene cross section of ease and rapture, and afterwards hears flutes dance into the trance-drone intro of 'The Emptiness Of Nothingness'. With its pop-out soul vocals and dubbed-out citterns, this song sounds not unlike montage music for a non-narrative Baraka sequel, or a Kubrickesque monolith-trip, or perhaps simply a geometric fever dream. Cop this 10" at your own risk; it isn't for the shallow of heart.
JIJ
Air 'People In The City' (WM France)
Nicolas Godin and Jean-Benoît Dunckel's Air project effectively exploded into the zeitgeist when their debut album, 'Moon Safari' landed back in 1998, spawning numerous successful singles, with the lead of which 'Sexy Boy' proving to be a ubiquitous global hit. Their slick fusion sound encompassed all manner of space pop, avant-garde and easy listening influences, with discernible – albeit heavily censored – shades of maverick compatriot Serge Gainsbourg occasionally permeating their work. 'People In The City' was originally released in 2001, both as a single and entry on the '10 000 Hz Legend' album. Here, the single version is re-issued in honour of Record Store Day 2021 thanks to WM Back Catalogue, including a nicely collectable obi-strip feature.
The track's delicate vocal gracefully unfolds over sparse aesthetic – its gently strummed acoustic guitar dominating before waves of psychedelic textures and growling synths create a mind-altering crescendo of impeccably placed sonics. Also included are a set of remixes from fellow French producers Modjo and Jack Lahana alongside the dreamy ballad 'The Way You Look Tonight', all of which appeared on the original release. Though the 2001 pressing is by no means rare or especially esoteric, the music still sounds wonderfully accomplished and is certainly worthy of presentation to new and unfamiliar audiences.
PC
Dragongirl – Tripomatic Fantasies: (Sheep Chase)
Forget fairytales. Danish producer and performance artist Nikoline Erichsen is a real dragon – and not just a Kommodo. Donning the hybrid moniker that is Dragongirl – and blending mecha-wyvern sound design with laser-sharp visuals and in-your-snout performances – she's once again crafted a lethal toxic cocktail of ethereal club flagramations, 'Tripomatic Fantasies'.
In an on-trend blur of hyperreal visuals and mythically-themed cinematic soundscapes, this EP has enough thin-winged reptililian lift to make us soar. The follow-up to 2019's 'Once More, With Feeling', it's a restless hydra of an EP, and we're not sure which track sticks its scaly neck out as the favourite. The first two tracks, 'theme music' and 'in love and undeath', are vaguely foreboding synth amalgamations, whilst 'beefs, bad bloods and burning vendettas' is the agamid club-goer's choice; smashing deconstructed kicks, clawing synth lacerations and gnashing arpeggios in a jaw-snap of fury.
Grime is checked on 'I hear it in my ghost', which sounds not unlike a heroic swordfight between serpentine otherkin, and which emerges in a three-minute fireball before disapparing. The contrast between this track's far-flung fantasy and of the last track – 'dj broke my heart on the dancefloor' – is stark. The latter can only be described as something like a crazed Euro-dance breakdown melody, plopped into the sonic context of a Knucker's electrified, babbling lair. Rather like Erichsen's staging of a one-person-at-a-time DJ event in 2019, this EP is a simultaneously daunting and meditative experience, like trespassing on some great wendigo's cave-bound treasure.
JIJ
Pacer – The Terror of Other People (self-released)
There's something achingly familiar about Pacer's debut EP. Maybe it's the fact LA-based Eric Poretsky and Jakob Shaw have come up with five songs you could easily describe with words like 'sweet', 'lovely' or even 'delicate' — timeless tracks that owe plenty to folk and Americana, while also veering into acoustic indie rock territories you might encounter on the walk home from a Ben Folds concert.
Perhaps it's because the whole thing was apparently recorded on a Tascam Portastudio four track. Natural and humanist might be pushing it, but there's something unarguably vulnerable about everything that's here. It's easy to feel yourself getting to know the duo personally, even if that's just an atmosphere created by the calm, whispered, intimate instrumentation at play. Pieces like 'Marmalade' lure us in with a laidback warmth in every plucked chord, lackadaisical pace gradually taking bringing us in deeper, so what began as slightly innocuous winds up a hushed epic of staggering proportions. A seven-minute odyssey that waits to truly make itself known, and then refuses to let you move on. Nowhere near the largely synthesised (albeit lo-fi) electronica of their demos, we can't wait to see where the project goes next.
MH
The Fifth Stigma – Deprived Of Glory (Infidel Bodies)
The latest contribution to 2021's medieval techno zeitgeist comes courtesy of the Neapolitan label Infidel Bodies; after a mammoth few years, they now welcome Paris-based producer The Fifth Stigma to their very own Hobelar barracks.
In their newest EP-album 'Deprived Of Glory', the Fifth aims to sonically chart the rise and fall of an ancient Middle Ages civilisation, and the eternal flame that is techno. They've master-smithed a rock-hard hybrid of Gregorian chant, industrial pummel, electro-Catholic liturgical soundscapes, and torturous hard trance.
With remixes from fellow future-monastic borgs Templer, Rommek, Yuji Kondo and Hyperlacrimae, the music on 'Deprived Of Glory' never lets up beyond a somnaumblist's tempo, expertly bestriding the polar flames of metallic immediacy and dreamlike reverie. There's cognitive dissonance to it; the unrelenting gabber kicks on 'Fallen Kingdom' contrast funnily to its chanting vocals, like a Pear of Anguish gagging away at some poor peasant, while monks obliviously sing in baritones in the room next door, dyeing their inks and innocently rehearsing their penmanship.
If that wasn't enough, the cassette edition of 'Deprived Of Glory' comes with other Dark Ages relics and tidbits. Namely: a limited-edition scroll, a snatch-like 'gadget', and a mini-crossbow – just in case you weren't prepared for the great Warehouse Rave of Hastings, 2066!
JIJ
Cloud One – You Make Me Feel So Good (Hattrick)
This latest number from bona fide musical legend Patrick Adams' Cloud One project was a most welcome surprise when news of its imminent arrival began to filter through on the disco grapevine earlier in the year. Though his name has appeared alongside the likes of Louie Vega on various contemporary reworks, this is certainly the first original material released under the synth-heavy Cloud One moniker for a good many years. Adams has been responsible for innumerable club classics and esoteric curios throughout his career, so to hear new music from him is always likely to be a terrific treat.
Though 1990 saw a rare dalliance into new jack swing on 'Waiting For The Sunshine To Come', new (or quite possibly newly uncovered) effort 'You Make Me Feel So Good' effortlessly reverts to the vintage Cloud One sound. Reminiscent of cuts like 'Atmosphere Strut' or 'Jump, Jump, Jump', the energetic disco bed is embellished with an unashamedly space-age lead synth line that dances over warm bass, funk guitar and ethereal strings. The life-affirming lead vocal completes the decidedly upbeat sonic tapestry, and the track comes in two versions, each sharing more or less the same set of musical parts. The mix and arrangements are subtly different, but the overall feel is the same, with parts 1 and 2 both welcome additions to the unexpectedly growing Cloud One catalogue.
PC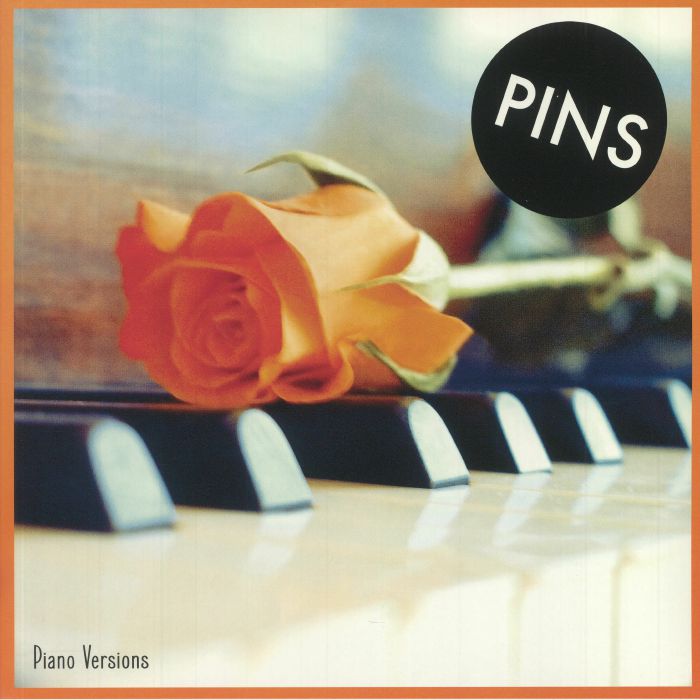 PINS – Piano Versions (Haus of PINS)
To mark the one year anniversary of their third studio album Hot Slick, PINS have collaborated with London based classical composer and pianist Sergey Kolosv. Rearranging four tracks off the mindblowing album – 'Set Me Off', 'After Hours', 'Ponytail' and 'Ghosting' are redefined and arranged to still capture the ferocity of the band's energetic messages. Piano Versions is released on limited edition Orange Splatter vinyl for Record Store Day 2021, and limited to only one copy per customer. Definitely one to add to a growing collection.
Each track features tinkling piano chimes and seductive sounds which complement the sultry vocals the ladies deliver. On 'After Hours', the pianos replace the heavier rifts usually covered by the bass and electric guitars and the drums, giving the track an almost ethereal sound. It's almost strange to hear the ladies in this light, however it works so well against the tinkling of the piano. Although it still holds their signature gritty vibe with their bold lyrics, it takes the record to new reimagined heights. With the piano tinkling peacefully throughout the record, it's not hard to keep with the easy listening vibe they have created, however fans will note the lack of string instruments to accompany them as they continue on this peaceful journey the ladies have weaved together. Especially since they could have replaced the synths used on the album tracks, it will leave many wondering what it would have sounded like with a full orchestra at their disposal. In comparison to the originals, it's still rather heavy even if they do have a more edgier vibe to them. An all round brilliant effort from all involved.
AY
Saycet – Father (Météores Music)
We were never going to wait for the full album, arriving later this year, before signposting Parisian talent Saycet, AKA Pierre Lefeuvre. The long form will be his fourth outing under the guise, and all early signs point to this being his finest and most artistically individual work to date. This EP is the horse that bolted early, although that analogy is really quite misleading considering what this multi-instrumentalist composer actually sounds and feels like. While occupying a sonic space at odds with what many think of when they hear terms like 'ambient', nevertheless these tracks are distinctly un-rushed strokes of genius.
A creator informed and inspired by visual ideas as much as sonic, French audiences will be more than familiar with Saycet's efforts to score TV and cinema releases. None are on this brief collection, but the principles and approach here is comparable. Hugely emotional overtures that ebb and flow through peaks of intensity and troughs of quiet, voices playfully cut and re-spun into strange melodies while still immediately identifiable as vocals, bringing a welcome dose of humanism into arrangements that, while rich in timbre, are resolutely electronic in DNA, especially the dancier remixes on offer.
MH
Blind Boys of Alabama feat Bela Fleck – I Wish I Knew How It Would Feel To Be Free (Single Lock US)
Group member Ricky McKinnie said in a 2011 interview with the magazine Mother Jones: "Our disability doesn't have to be a handicap. It's not about what you can't do. It's about what you do. And what we do is sing good gospel music." And boy, was he right all along. Since they came together in 1939, the Blind Boys of Alabama have had an illustrious career regardless of the many lineup changes. And every time they deliver music that is noteworthy.
Backed up on the A-side by the multi award winning artist Bela Fleck, the band has the banjo accompanying them and even a banjo solo to add. Although the song – made famous by Nina Simone – is almost like a hymn, it's still remains soulful and incredibly upbeat throughout to keep listeners happy. On the B side however, 'See By Faith', which is previously unreleased track by Bob Dylan, is related back as a typical American gospel song that be found in church being sung with gusto. It stays true to the bands core audience and uses their talents to create new gospel worthy tracks for all to enjoy.
AY
This week's reviewers: Patrizio Cavaliere, Jude Iago James, Oli Warwick, Ava Yusuf, Martin Hewitt