Aimed at newcomers to DJing, Numark's Party Mix II is a cheap and simple controller that offers everything you need to get started.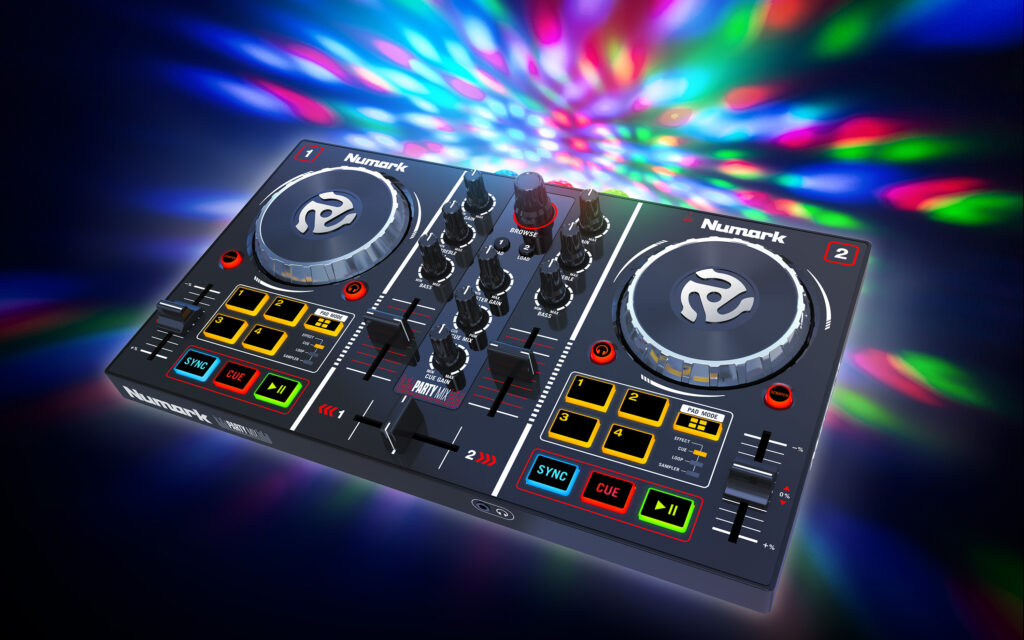 It can sometimes be hard to figure out the subtle differences between DJ controllers. Most basic controllers offer similar features, meaning it can be tricky to figure out why you'd choose one over another. Luckily, that's not a problem with Numark's Party Mix, which has a clearly defined purpose: it's a cheap and simple controller aimed at newcomers to DJing, offering everything you need to get started.
Lightly updated since the release of the original version in 2017, the Party Mix MKII is clearly intended as an introduction to DJing from the moment you open the box. Inside, you'll find the controller itself, manuals, instructions for downloading the included Serato DJ Lite software, plus cables. You'll need to provide your own headphones, a computer or laptop on which you can run the software, plus some kind of powered speakers. The Party Mix draws its power over the USB connection, so there's no need for a separate power supply.
The Party Mix layout is essentially a simplified version of features and setup you'd find on any professional DJ controller. The left- and right-hand sides of the top panel are identical decks, with a small touch-sensitive jog wheel/platter to control the track, plus four performance pads, buttons for sync, cue and play/pause, and a small pitch fader. In the middle, you'll find the mixer section, with two volume faders, a crossfader, two-band EQ and filters. Above the mixer, browse and load controls allow you to choose tracks from Serato.
Serato itself is easy to install. The full version is one of the leading choices for pro DJs, but the Lite version included here is a simplified program which offers everything you need to get started DJing, allowing you to load your own tracks and sort them into virtual crates to mix with. As well as being able to adjust the pitch for mixing and blending, the Party Mix allows you to get creative with some interesting performance options. The four performance pads underneath each jog wheel can be set to four different modes: Cue, Loop, Sampler and Effects. Each mode gives you control over different aspects of Serato, including triggering Hot Cues (jumping to a pre-defined point in the track), automatic loops of different lengths, playing back samples or activating Serato's built-in effects. It's simple enough for complete beginners to get to grips with, but powerful enough to create genuinely good mixes.
A neat bonus feature of the Party Mix is the inclusion of three 'Party Balls' on the rear panel, which look like small crystals and contain LEDs for a basic light show. You probably aren't expecting club-standard lighting effects here, but it's a cool effect in a dark room. The Party Balls work with Serato's own lighting features to create patterns in time with your music, but you can also set them to other modes including constantly on or completely off if they're not to your taste.
All in all, the Party Mix hits the sweet spot between affordability and usability. At this price point you don't expect the highest level of pro build quality and extensive features, but for under £100 it's an impressively capable unit. Build quality is solid and functional, and there are enough features to make it usable for basic bedroom DJing or house parties. In terms of alternatives, the strongest rival is probably the Pioneer DDJ-200, which works with a bigger range of DJ software but does cost £50 more, which is a substantial premium at this price point. Alternatively, Numark's own Party Mix Live is effectively a Party Mix with built-in speakers. For those looking to get started DJing on a strict budget, we'd put the Party Mix at the top of the shortlist.
Greg Scarth