The best new singles this week
Another fresh batch of releases to fill that 45-shaped hole in your life
SINGLE OF THE WEEK
Soulphiction – What What EP (18437 Records)
It's mightily saddening to contemplate the European house music scene without Michel Baumann. As Soulphiction, Jackmate and Manmade Science he cultivated a stunningly soulful sound from his base in Stuttgart, seemingly centred on his trusty MPC and an affinity for funk that simply can't be faked. Reams of albums and EPs leave a legacy that will be a rich archive for newcomers to dig back through, and now this release drops mere weeks after his passing to remind us how on-point he remained since his earliest drops on Perlon and Playhouse back at the turn of the millennium.
'Ballin'' is a fierce cut that speaks to Baumann's nous for the dancefloor, skipping dexterously from hook to hook with some particularly on-point Rhodes at the peak and a wobbly pad drop that adds a little psychedelic magic to the sauce. It's a simple formula, right? A beat, a bass and some chords. But there's so much importance in the subtle accent of the groove, the dusty thump of the drums, the hand-played feel of the keys – all the qualities that clearly came naturally to Baumann in his quest for house nirvana.
'What What?!' is no sloucher either, not least thanks to the nasty Moog-esque bassline splatting out from the first bar. It's as sticky and funky a low-end as you could wish for, with hard-swinging drums to match. 'MIDI Funk' is the sprightly finisher, with a more open-top demeanour while essentially working with the same kinds of tools. A little more rattle in the percussion, a few more sparkling synth flourishes, but really this whole record is just gold standard house music done three ways, by someone who couldn't help but nail it every time. It's bittersweet hearing tracks this good in the wake of Baumann's death, but it's also the finest note to end on. Simple, understated perfection.
OW
Psychedelic Digestion Therapy – S/T [Strangelove]:
"Listen. Can I borrow your palm tree?" These are the best kinds of questions – ones that must be asked with haste, evoking in the responder a puzzled excitement and curiosity.
It's all the better that Psychedelic Digestion Therapy have stocked their new EP full of such questions. It's a 6-track project of nothing more than krauty, cosmic equipoises: little is known about members George McFly and Lisa Poodle, save for the fact that their focus is on the "immortality of sound" and the importance of "digestion", whatever that means. As such, the musicians involved in PDT have successfully "digested" their voices – resulting in a tinny, airy, phoned-in set of spoken word pieces over some of the tunes, sure to tittilate and chin-scratch.
Aside from questions, PDT is riddled with statements and observations, too. Opener 'Sabbia Calda' has its narrator insist on the "sounds of birds tweeeting and the water lapping against my feet", while an equanimous synth line trundles along, dead-set on ambient euphoria. 'Palmtree Calling' continues in trademark loungey fashion, this time with a phone conversation between two "digested" voices, one of whom demands the aforementioned palm tree. This tune is fittingly chuggy, and is nothing short of a squelchy bop.
'Kartoffel Garden', a cosmic dub tune with a legitimately digital didgeridoo – a digi-ridioo, one might say – reveals an extra production sophistication which gives away that this EP isn't just some relic of the late '80s. But it's no less welcome, and it's our favourite track. '日帰り旅行' ('Day Trip') is a bodyish bouncer replete with FM wonk and and wibbly synth, and is the EP's predominant slice of silliness. And from there, all goes sino-soidal – 'Amour Fantasie' is as Eastern in mood as a swift right hook to the eardrum, while 'Egipcia', in all its moody wonder, could not have been made in any era other than today's. When it comes to cosmic throwback music, it's best to put a cutting-edge mark on it.
JIJ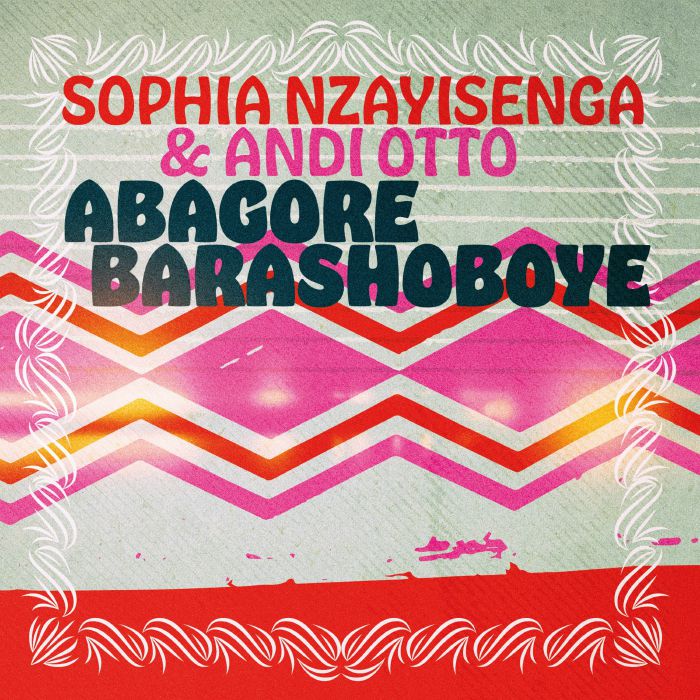 Sophia Nzayisenga / Andi Otto – Abagore Barashoboye [YNFND]
'Abagore Barashoboye' is a collaboration between folktronica musician Andi Otto and Sophia Nzayisenga, the first female master of the Inanga: a traditional stringed music instrument from Rwanda, popular among the country's young musicians. Nzayisenga's father, Thomas Kirusu – one of the most renowned Inanga players – taught Sophia at a very young age, and at the tender age of nine, Nzayisenga started performing at different concerts, despite the expectations against her based on her gender.
In recent decades, feminism has picked up steam in Rwanda. African feminists see Rwanda as role model and success story for high female representation in politics, education and workplaces; it was the first country in the world to have more than half of its government run by women. "Many people used to tell my father to stop me from what I was doing with the argument that I won't get married because I was doing a man's job", Nzayisenga recalls.
This new three-track EP is quintessential listening for anyone wanting to keep tabs on the movement, and its intersection with music. The title track undulates and blows, plodding at a slow 115-ish BPM while Nzayisenga sings nasally, passionately. On this tune, halftime dub slowly becomes double-time house, reminiscent of Maalem Mahmoud Guinia's 'Marhaba', while an effected Inanga wibbles away in the background, radiating extra psychic plasma.
Later, alt-dub reconciles with hip-hop on 'Inganji', with Nzayisenga miraculously rapping and fingering her instrument at the same time. Her flow is improvised and relentless, and could rival even the most renowned of Western rappers. Contrastingly, 'Ishema' is a solo piece; aside from Otto's add-prod, there is little to behold here but the sheer, resounding joy of the Inanga. Otto does layer the instrument with an FM bass, which brings out the emotional impact; but let's not forget the main focus, which is Nsayisenga's talent – as boundless as Rwandan femininity.
JIJ
Iglew – Light Armour (Wisdom Teeth)
Let's hear it for those stealth artists who slip in and out of view with an impeccable track record. Iglew held much promise during the weightless grime boom years thanks to his Urban Myth release on Gobstopper in 2015. That 12" was a perfect distillation of a particular musical phenomenon, packing emotion and presence into the specific palette of the sound, making the square wave synths sing and building tension with more than just a tough beat. Then, nothing more was heard from Iglew, leaving a clutch of keyed-in listeners wondering where this great new talent had disappeared to.
Six years on, and the weightless thing has moved on to some extent, and Iglew re-emerges with a wholly different proposition. It's telling this release is dropping on Wisdom Teeth, a label which took shape in the post-dubstep era and has since evolved to become a home for delicate, melodically astute electronics. Iglew sounds like a different artist here, mining a vivid, high-definition style with the kind of glassy synthesis that sits comfortably alongside Wisdom Teeth founders Facta and K-LONE. The chords and playful leads that fold over 'Caffeine Dream' speak to the same imagined landscapes of pleasure Wisdom Teeth increasingly head towards.
There are occasional rave-ready tropes to offset the pleasantries though. The bass can still warp and distort when it matters, and there's space for a dance-minded riser to tease the energy of the track, but those plush keys, not least in the latter stages of "Caffeine Dream', speak to accomplished musicianship. They sit incredibly well amidst the modulating ping of the lead hooks and canny arrangement edits.
If you've been waiting patiently for six years for the return of Iglew, you shouldn't be disappointed. 'Gold' in particular seems to connect back to that prior EP with its fluid, grime-ish leads and sparse construction. Overall, the mellow and emotionally forthright tone of that first EP holds true here, not least on lead track 'Light Armour'. This is brightly coloured, shimmering music with an open heart and impeccable production, slotting in perfectly with the Wisdom Teeth style while sporting its own distinctive identity.
OW
Once again, French label Promesses prove a point: when it comes the weird cross-section between dancehall, reggaeton, experimental and cloud rap, they're the best in the game. As evidenced by Tera Octe's self-titled return last week, the music that exists on this intersection is becoming more and more intense.
Such is the way with XOLOT, a new Mexican-French duo composed of Vica Pacheco and Apulati Bien, both sound and visual artists based in Brussels. Springboarding from their solo projects, their new EP is a frightening yet life-affirming array of 'neo-bolero', drawing on the Cuban musical style and expanding on it to create a noise-trap influenced, deconstructed monster.
Proto-industrial alarm calls sound, and strange beings chirrup, on 'Caliente continente' ('Hot continent'), which shifts around in tempo to show off Pacheco's vocal chops at different speeds. No space isn't occupied by some level of techno-jungly weirdness. 'Prestame' makes us bop on the spot, but causes us to second-guess our boppage when we realise what we're bopping to: certain sounds squelch and twist, like the guttural sounds of a carnivorous plant excreting some poison in a humid biochamber. Elsewhere, grime and electro is ticked off on '¿Cómo te explico?', sounding like a nod to the work of Container, while 'Huesos' tops off the bloopy cream of the crop, sounding like the triumphant return from a Chicanafuturist triffid attack.
JIJ
Steve Bug/CLE – Flying Keys (Rejected Holland)
The last time Steve Bug and Cle collaborated on a Rejected record it was during the carefree summer of 2019 with 'Strange As It Ever Was'. And they were very much mistaken. Sixteen strange and very peculiar months later, one pandemic, two lockdowns and a whole heap of collaborations on Steve's Poker Flat Records later, the two old friends collide on Joris Voorn and Edwin Oosterwal's imprint once again. The one consistency we have right now is music and thankfully it's sounding superb in more ways than one. Especially when tracks are just as crisp, feel-heavy cuts like these ones.
'Flying Keys' taps into some of the holiest of house ingredients; shivering keys, hook ready momentum, fly-by-night breaks and a sub bass that hums from here to Berlin. Simple in its make-up, but overwhelming in its vibe, Steve and Cle tap directly into the house music source. It's backed by an outstanding release, 'Silver Star Stallone'. The rasping acid yin to the glorious euphoric yang of 'Flying Keys', it's a moody heads-down acid groover laced with more insistency than wanting to end a night out big and staying til the very end. Once you're locked in, it's evident that you can't go anywhere.
AY
Dez / Andrés – Sweetest Pain / Sweetest Moaning (Papaya Detroit)
Papaya is a new label out of Detroit which launches with two releases in tandem. The first comes from Hazmat Live, who had previously appeared on Third Ear and People Of Earth, and his Dance With Me 7" is a boogie-soaked burner plugged right into the early-80s sweet spot. Meanwhile, Dez / Andrés saddles up on the second release with a drop that screams instant hit, thanks in no small part to the sample he flips.
Of course Dez isn't the first person to take a razorblade to Dexter Wansel's evergreen disco heartbreaker 'The Sweetest Pain', but he's exactly the kind of operator with the right mixture of sensitivity and flair to bring something meaningful to the track. As it turns out, he steps out on a kickin' ghettotech tempo and goes in heavy with the melancholy to create an uptempo soul stirrer with the broad appeal that seems hardwired into Dez's midas touch.
The success of the A side is no accident either. On the B side, he flips another track (unfortunately beyond my ID capabilities) with a sultry, late-night vibe and more of those crisp, jagged electro rhythms to get you jitting at 130. Quite how Dez manages to make such angular heaters completely chill and smooth is a mystery, but my advice would be to question it not, let the feeling soak in and get on the floor.
OW
Strand meets Optic Nerve – Strand meets Optic Nerve (Puzzlebox)
Keith Tucker recently announced he was going to leave the Aux 88 project he's been a fundamental part of since the dawn of Detroit electro. It doesn't, however, signal the Motor City staple dipping out of the scene by any stretch, as he turns his attention squarely on his Optic Nerve solo venture, and the Puzzlebox label he's steered since 1996. If you need proof Tucker is more inspired than ever, look no further than this 12". On this occasion, he's sparring with Strand, a long-standing trio that reach back to the '93 themselves. Brian Bonds, Brian Boyer and Kech Harrington first cropped up as T.H.D, scattering intermittent releases on Frictional, Delsin and elsewhere since.
This 12" comprises three tracks resulting from some kind of unspecified studio exchange, and it plays to all the strengths of all concerned. It is of course steeped in electro, leading in with a slick voice over intro (presumably from Tucker) and a perfect trip through punchy yet utterly dreamy backroom machine funk. On the flip, 'mix 1' of 'Factor It N' holds down the tension with some sparse synthscapes before letting rip with a show-stopping hook. Tucker's own 'K-1 Mix' of the track pushes a steadier, moodier strain of electro, of course executed with the innate groove and thump the man has helped define
OW
Fenyan vs, Kosmo Kint – Da Real (Toy Tonics)
The Martinique-born producer, and dancer as it happens, Fényan links up with vocalist Kosmo Kint on Da Real EP for three gorgeous deep house tracks. Now based in France, Fényan has been releasing music on the Berlin label Toy Tonics, through which they were able to meet the New York-born singer, Kosmo Kint. From 'Da Real', to 'Break Your Rules', and 'Take Off', every track on this EP achieves a delicate balancing act between musical styles and moods. Tropical drum riffs and sun-bleached synths, à la Roy Ayers, make this 12" both extremely danceable and well suited to a hazy sunbathing session.
.
Throughout, the soulful voice of Kint is heard; at times crooning uplifting hooks, at others going full Prince-mode with a spoken word breakdown about the 'boy from Brooklyn'. Da Real EP bridges a wide variety of musical gaps between the analogue and digital world, and as a collaborative endeavour it sees Fényan & Kint in near artistic synchrony. Though this EP is a mostly relaxed affair, it is a remarkably thoughtful project, both in light of Fényan's layered and interesting soundscapes and Kint's velvety vocal delivery.
JC
Renslink – Curiosity Is A Type Of Youth [Impossible City]
The best artists never shout too loudly about their work. Instead, they make the right moves at the right time, and when they've sat on their tunes for perhaps years at a time.
Leeds fixture Renslink is one such artist. After some long waits, he rightly deserves the upwards mobility he's been graced with on this EP, debuting for Teki Latex's new Impossible City Records. A 5-tracker of electronic climactics, we're already familiar with some of the music here, which have graced the producer's SoundCloud profile for a few years, and have now landed in the hands of Objekt, Low Jack and ZULI.
We're consistently shocked at what Ren can do with sound design. '!8', for example, is the spiritual successor to last year's '!6', released on Permahigh. It sounds like an electrical storm in Ren's idea of post-apocalypse, with clever chorus and stereo tricks causing crispy synths to pop out unreally, shocking our ears like exposed wires. Elsewhere, terrifying and pulsey techno is his main game, cementing the artist's quest to make music evocative of a biosynthetic jungle. 'Thoughts Leak From Me' is pure energy-drain; we surf on cosmic neurons, while a voice mentions it "was gonna say something". Renslink's love for beatlessness takes final shape on 'Curiosity Is A Type Of Youth', making 'epic' ambient music crunchy, prismatic, sibilant.
JIJ
This week's reviewers: Jude Iago James, Oli Warwick, Ava Yusuf, Josh Clark.