The best new singles this week
The singles that really matter this week – simples….
SINGLE OF THE WEEK
Japanese Telecom – Japanese Telecom EP (Clone Aqualung Series)
Japanese Telecom was a short-lived project from Gerald Donald, who, alongside James Stinson, is perhaps best-known as one half of seminal Detroit act, Drexciya. The duo garnered mythical status among their many admirers, a supernatural mystique propelled not only by their distinctively hard-edged electro sound, but also due to the shield of anonymity behind which the flames of their legend were able to intensify. Purportedly members of an underwater 'Drexciyan' tribe, the duo's Afro-futurist concept fused neatly with their Underground Resistance label mates, and their music is revered as some of the most ground-breaking electro ever released. Donald recorded two albums under the Japanese Telecom moniker, with the projecting providing an outlet for the technology-obsessed producer to explore his affection for the modernist elements of Japanese culture, in the process channelling an – at times – more whimsical musicality than he was previously associated with.
The eponymous debut collection was recorded in the mid-nineties and first released in 1999 via Intuit-Solar, and here the works are lovingly resurrected by Holland's Clone gang as part of their Aqualung Series. The abstract ambient layers of opening track 'Rising Sun' introduce the collection in typically enigmatic style before the surprisingly jolly motifs and bouncy bass of 'Japanese Animation' evoke the garish colour spectrum of an early Nintendo game. Interlude 'Asian Amazons' teases with its contagious allure before all too quickly making way for the animated effervescence of 'Character Maps', which combines idiosyncratic melodies with a terrifically sinister dissonance. The console theme resurfaces in the second interlude – the aptly-titled 'Game Player' – before we head to the flip to witness 'Niponese Robots' do battle over jagged beats and quirky synth lines. 'Kubi' sees us journey into uncompromising techno territory, with abrasive anti-melodies furiously pelting over big boy drums, and last of all 'Bullet Train' drives through Shinkansen hyper-speed, as fizzing noise hits thrust us forward as the unending Tokyo megalopolis flashes by.
PC
Paranoid London – Annihilate The World & Start All Over (Paranoid London)
Paranoid London are the definition of 'no fuss'. They've dedicated an entire career to breakneck, soft-clipped acid jams; their two albums so far have been invariably self-titled; and evidently, when they encounter a problem, they deal with it smartly, responding to limitation with inspiration, not despondency.
'Annihilate The World And Start All Over' is – as has been the go-to tagline lately – the creative product of lockdown. PL also made it entirely without their 303. "It's very, very old," they said. "One day it wouldn't turn on and nobody has been able to fix it. It went all over the world with us & took a proper battering, so no complaints."
It can be nerveracking to think what a duo so formerly hell-bent on making acid – and almost nothing else – could possibly fit in between those heat-hazed beats without their 303 fallback. But on the self-titled A1, we're besotten with relief. It instead contains a higher-pH, alkaline bass, perhaps salvaged from an analogue retro-synth. A grumbly entity reassures us: "the best thing to do is annihilate the world and start all over again." Sure, we could do with some kind of post-pandemic shakeup (but – *ahem* – we're ambivalent as whether we, personally, want to be annihiliated ourselves, but we do appreciate the rather fantastic thought!).
'External In' has a waily siren synth rest against a scraping, buzzsaw beat. Bass is not the focus in this track. Rather like a maverick oxpecker relinquishing its reliance on hippos to scavenge for fruitflies, PL can lay down their trademark k-holiness in the higher register, rather than relying on the low-end ecosystem.'The State Of That' detects grubs buried in a nearby pool, into which PL plunge and re-emerge, extracting a Biceppy catch of watery pads between electro beats. The Paris Brightledge closer 'Linked In' might as well be a seamless continuation of track 3; with the vocal recorded years ago and only just laid to master, we are promised with "plans afoot for some new stuff" between PL and the vocalist. We can only pine…
JIJ
Virgil Abloh / Serpentwithfeet – Delicate Limbs remixes (Sony)
Virgil Abloh's name is steadily permeating an increasingly universal radius of cultural and sub-cultural domains. The trained architect turned clothing designer made an indelible mark on the fashion world thanks to the bold aesthetics of his Milan-based Off White brand, with his stock rising further when he was named artistic director of luxury apparel powerhouse, Louis Vuitton. His journey into music is more than a mere dalliance, with a production output that includes a recent remix of Michael Kiwanuka's 'Solid Ground', as well as collaborations with Loco Dice and Boys Noize.
He's also been a hyper-active performer on the international DJ circuit for many years, where his audacious approach to design extends into his tune selections – blending vintage house and techno with contemporary R&B, hip-hop, pop, and a fair bit in between. Abloh's indomitable force notwithstanding, the headline for record collectors here will likely relate to the music of underground icon Omar S being presented on a major label like Columbia/Sony – albeit veiled by the Dark Grey banner. Interestingly, this isn't the first time Virgil Abloh and Alex Omar Smith have joined forces, with the pair recently teaming up to produce a set of fetching t-shirts for FXHE last year. Returning to the music, Abloh's collaboration with Brooklyn-based Serpentwithfeet 'Delicate Limbs' was released as a 7" last week, and here Special Request and Brooklyn duo Bedouin complete a triad of invitees called in to rework the soul-flecked experimental jam. On the uncharacteristically floaty Omar S remix, lush chords undulate over a stripped drum pattern as string stabs and vocal bursts add tension to the meandering groove. Bedouin's remix takes the form of a proggy-but-palatable melodic house cut, with gentle percussion joining soothing synth lines to gently caress the centre stage vocal. Last up, Paul Woolford dons his Special Request disguise to present a rough and ready jungle-ish revision, with hard as nails drums pounding under euphoric pads, periodically pausing for hands-in-the-air breakdowns to ensure maximum dancefloor dynamism.
PC
Rick Wade – Late Night Basix (volume 2) (Spectral Sounds)
It's impossible not to admire Rick Wade's astounding production output. Not only is he outrageously prolific in his work rate, but the quality threshold of his material is set awe-inspiringly high throughout the prodigious back catalogue. Actively releasing pretty much non-stop since 1994, his debut 12" was 'Late Night Basix', and it's the second LNB instalment that gets the welcome re-issue treatment from Ghostly International's Spectral Sounds offshoot here. 'Big Daddy' Rick Wade was raised in Buchanan, Michigan, just a short drive from Chicago, but it's the sound of Detroit house with which the rightly revered artist is most associated. Working alongside the late, great Mike Huckaby at legendary Detroit vinyl store Record Time, Wade's sound was steadily shaped by his deep immersion in that most potent milieu. 'Late Night Basix Vol 2' was originally released in 1998 on the Harmonie Park label Wade set up off the back of his successful WCBN radio show, Journey To The Land Of House.
Opening track 'Detroit Hustle' is the embodiment of warmth, with supremely rich chords gliding under soaring strings as the shuffled groove solidifies the cut. The infectious vocal of 'I Feel Good' rises over an equally memorable slap-bass hook, and again cosy chords combine with levitating strings to complete the rounded composition. On the reverse, 'Deep N Dirty' is something approaching a blueprint for a minimal house prototype, with its stripped drums providing the framework as the profoundly dubby bass bolsters the sparse instrumentation. Closing number 'Forgotten Track' shares the EP's signature sound stamp, with spirited keyboard licks and nimble xylophone strikes enlivening the dusty soundscape. Endowed with an organic feel and palpable authenticity, the record sounds no-less vital than it did upon its initial release, and this timely re-issue is sure to find its way into the boxes of a new generation of appreciative selectors.
PC
Nuha Ruby Ra – How To Move (Brace Yourself)
While under the illusion that your music discovery habits are sufficiently varied, you could very well just be coasting, exposing your ears to the same moods which deftly disguise themselves behind different textures and styles.
Nuha Ruby Ra's new EP 'How To Move' will undoubtedly get you out of that kind of rut. Uncharacteristic for any sort of music released in 2021, this astro-nautical, electronic, lunarpunk monster of an EP transcends any semblance of predictability, meandering like a gritty realist rainbow road in the vast cosmos that is Ruby Ra's mind, and working in emotions uncharted by your average new music explorer. Great minds think alike; similarly vast universes have already collided with hers, with the Bedford-born artist having already collaborated with Flamingods after coming up in London's performative art-punk scene.
There's a mood of heartfelt war throughout this release, like a comsic Furby going into battle. The minute-long 'Intro', with all its hoots and howls, sounds like military post-punk made by the Clangers. Compare that to the rock-ballad follow-up 'Cruel', which sounds like the ensuing pink-snouted onslaught. Members of Interpol, Vestments and Isolation Society team up to propel Ra into the air on a mercury waterspout. 'Sparky' flips the table again into wonky synthpop: we hear her "floating statically now / it feels so good / Xerox machine of joy spitting out, keeps spitting".
Our favourite is the seven-minute 'Run Run', which crashes into all-out stellar bloodshed: screaming, lashing, twizzling. But the sonic scope of this EP, we should note, is matched by its subject matter. Everything from bondage to social isolation is covered; it's a fantastic release which cuts far past any expectation of easy listening.
JIJ
Shirazi / Jarno – Late Night Thoughts EP (Fluid Electronics)
Dutch label Fluid Electronics are back with their second wax instalment, and once again they didn't have to look too far from home to curate some suitably dream-inducing and gently psychedelic sounds for the four-track EP. Label owner Shirazi calls in fellow Dutchman Jarno to co-produce two mesmerising tracks, before inviting Amsterdam's Love Over Entropy and Rotterdam duo Duplex to complete the mystically-inclined package.
Opening track 'Late Night Thoughts' is close to the sonic equivalent of a moonlit free dive in an undersea kelp forest, with endless waves of intricate harmonic layers and reverb-soaked textures casting a powerfully hypnotic spell. Meticulous audio craftsman Love Over Entropy conjures the soundtrack to a waking dream with his spellbinding remix, with celestial pads gliding over stripped, broken drums as the determined synth motif evolves and modulates, utterly absorbing as it stealthily unfolds. 'Continue Learning' maintains the pre-dawn atmospherics, effortlessly gliding through a haze of thick synth chords and obedient drum hits as it works its magic. Finally, Duplex pull back the midrange on their rework, making way for an almost edible acid line that bubbles and broods with sinister intent before opening out majestically as the track builds to its rush-inducing conclusion.
PC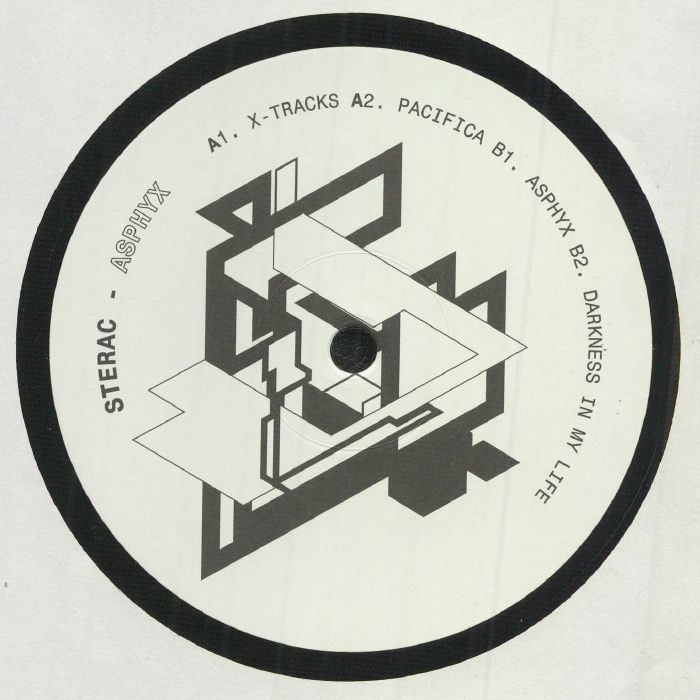 Sterac – Asphyx (remastered) (Delsin)
Delsin once again do a fine turn in re-issuing a prized vintage techno jewel, this time re-mastering Steve 'Sterac' Rachmad's 'Asphyx' EP. First published on Dutch label 100% Pure in 1995, the centre stickers were affixed to the wrong sides on the original release, leading to plenty of confusion among selectors and collectors as to the correct titles to each track. While certainly not ideal, it's probably of little consequence in the grand scheme of things, thanks largely to the fact that all of the music is rather wonderful. Sure enough, it still sounds extraordinarily strong after more than a quarter of a century, during which time the revered Netherlands-based artist has continuously pursued his intrinsic calling as a purveyor of the highest grades and various shades of techno. The Detroit-inspired chords of 'X Tracks' delight as they modulate, powering over crisp drums and disciplined low end. 'Pacifica' sees rolling breaks keep a lively tempo, under which growling bass snarls as lofty chords provide endless width to the aural landscape. The striking amalgamation of dreamy synth textures and raw techno rhythms extends into title track 'Asphyx', with pads floating over murky bass notes as hats fizz and phase through the air. Finally, closing track 'Darkness In My Life' is endowed with a melancholic beauty all of its own, as mournful pads combine with robust chords to forge a sound that is at once delicately poised and intensely evocative.
PC
Edit Piaf – Edit Piaf 03 (Edit Piaf)
Edit Piaf is a new Barcelona based label bringing their own minimal/tech house take on music into the electronic world. They're a mysterious bunch and the third drop – but first of the year – on the label contains two simply titled tracks, A and B. Both are great party turners A, proving quite melodic with a Balearic feel to it, and a mixture of samples from American soul and hip hop music at its start. before turning energetic and booming with heavy use of luxuriant synths.
The B side boats French vocals with a few English words thrown in the mix, and a more stripped back . A fantastic way to showcase their emerging talents to the world.
AY
This week's reviewers: Ava Yusuf, Jude Iago James, Patrizio Cavaliere.