The best new albums this week
This week's top layer of album action, sliced off by our reviews team
JUNO DAILY ALBUMS APRIl 16
ALBUM OF THE WEEK
The Zenmenn – Enter The Zenmenn [Music From Memory]:

Enter The Zenmenn. Enter an as yet unknown, yet evidently talented band, releasing their debut album for Music From Memory. It's a natural follow-on from the label's seminal compilation 'Heisei No Oto', celebrating music by Japanese leftfield pop artists in the period 1989-1996.
But in contrast to the retro-nostalgic emphasis of that release, MFM's focus on oriental-sounding acts now concerns the present day, with every recording by The Zenmenn here contributing a slice of Eastern equanimity to today's easy listening tapestry.
While little about The Zenmenn is known to the public, they have a keen feel for the value of social proof; they credit the writer Winton Rousseauas (who is also, perhaps not coincidentally, unknown) for describing their new album as an "experiment in harmonic convergence emerging from a deep respect for cosmic symmetry and a resistance to the prevailing Zeitgeist."
But, in this reviewer's humble opinion, they don't need this kind of waffle to back them up. The Zenmenn's talent is evident as soon as the black play button is hit. Admittedly, the imperfect digital medium that is Spotify feels unworthy to be its playback conduit, but we all make sacrifices for things of beauty.
With a ruminating swoon and a hip-lulling sway, we are first treated to 'The Magic Eye', a five-toned slice of instrumental magic in ¾ time, demonstrating a virtuosic fingering ability. It's a low-key opener. We don't hear any vocals until 'Homage To A Friendship', which features Berlin solo act John Moods, whose frank lyrics of uncertainty contrast surprisingly to Zenmann Y's synth pop-outs. It's a ballad of on-the-rocks friendship, set to a backdrop of ease. The cognitive dissonance makes sense, considering the band's stated mission to offset an era of "spiritual neglect", by offering "dualistic fusions of complexity and simplicity".

But simplicity prevails; the focus is solely on The Zenmenn from here on. 'Flags Of The World' dons a lo-fi hip hop veneer, but shows off an unpretentious live instrumental flair beneath the warmth, hearing calypso steel pans and koto play in beautiful robbed time. 'Bamboo Garden' follows as the vocal return. It's hard to tell if a vocoder is in use, or if the Zenmenn are just that good at singing.
Perhaps the most endearing track is 'Stairway To Heaven', which – to give in to a music journalists' cliche – sounds like it comes from alternate-reality Twin Peaks soundtrack. But no, it really does. You don't get to deny it, given the sliding wow guitar, baritone bass, and hazy climax at the two-thirds mark. There's an extra dimension to it, though. Plucky pads embellish the mix at every turn, and round off the track with a further Eastern lick. It couldn't be further away in vibe from the subsequent track 'Salad Bar', which is a much better take on the style Mac DeMarco goes for. To envisage this track on your pre-listen hype-up, imagine Weezer's 'Island In The Sun' as an apple on a stick; 'Salad Bar' is the Zenmenn's sweeter, far more delicious toffee'd counterpart, sweating, beckoning, crying out to be eaten on a hot summers' day.
By this point, the album's made its statement, and we're in it for the loing haul. It rounds off with a hat-trick; 'Topaz' and 'Topaz 2' express skin hunger via bossa nova, while 'Bella Fantasia' feels most characteristic of MFM's catalogue, operating in a mood of idealistic balearic fantasy in the style of Ishinohana or fellow label artist G.B. Beckers. Not many debuts are this well-developed, so hats off to your grandiose entrance, Zenmenn. We hope you never exit.
JIJ

Taylor Deupree – Mur (Dauw)
From microscopic glitch and experimental techno to lingering ambience and immaculate sound art, Taylor Deupree's considerable cache in alternative electronic circles is well deserved. The New York-rooted artist has exacted a high-end aesthetic which champions deep knowledge of synthesis and engineering without interfering with the delicacy of the composition. In later years, as on 2018's Fallen, he's paid attention to the piano as a central tenet to his work, using elegant and expressive processing and embellishments to create contemplative ambient with a classical air.
Mur arrives housed in a wonderful Jelle Martens sleeve on Belgian label Dauw. It marks a personal album for Deupree, who revealed on his Twitter, "I wrote Mur last year after frustrations with an album I had been working on… Mur flowed. Leaving the other project behind was a lifted burden." Pitched as a response to the universally weird 2020, Mur feels staggeringly close and intimate. The title purportedly comes from the idea of a consistent murmur in Deupree's music, which seems a fair assessment. But even compared to Fallen, this five-track album brings you in close and whispers in your ear.

There's a steady movement in these pieces – indeed 'Mer' feels deeply layered with its quiet ticks, humming tones and passing rumbles, but it's still the piano that forms the heart of the music. At times the ensemble of micro frequencies and lingering sprites seems to hover in nervous stasis, before the release of a plaintive note to set the system in motion again. All this happens in a very natural, flowing manner though – there's never a sense of grid-locked sequencing.
Even in its darker moments, such as through the ominous bass drone passages and surprise digital infractions of 'Mar', Mur feels wholly at ease with itself, unfurling with patient repose to serve as Deupree's own catharsis for an unsettled year.
OW

Andy Stott – Never The Right Time (Modern Love)

Given the raw loneliness of his sound, it's no surprise Andy Stott drew inspiration from the pandemic. A decade on from his defining album 'Passed Me By', 'Never The Right Time' is an statement of resilience. After a period of personal upheaval bringing his life to a standstill, and throwing a spanner in the works of various new creative endeavours, this project stems from countless days spent in isolation, recording hours upon hours of raw material; flits, horns, drums, flutes. It's a nigh-impossible feat in today's mega-screamy digital music culture to produce a sound so darkly serene, and yet to keep that sound entirely and undeniably one's own.
One track in, and we're hypnotised. Alison Skidmore's vocals swoop in on the expertly-paced ambient intro 'Away Not Gone', where Stott's vocal processing displays an unmatched ability to freeze, obscure, enshroud. They contrast inimitably with his hallmark bass sound, which we've taken to calling the 'Stott bass of doom'.
The title track operates in a UK bass arena found somewhere between Basic Rhythm and Blank Banshee, and subsequent tracks reveal Stott's stated inspirations: A.R. Kane, Junior Boys, Nídia, László Hortobágyi, Leila. Heck, 'Repetetive Strain' sounds like Murlo or T5UMUT5UMU, but it hears like their trademark flourishy grime sound has been submerged in quicksand. The references are so plentiful that we're confident in calling this Stott's most colourful album yet. Don't be fooled by the omnipresently monochrome cover.
It's also an album that starts out good, and gets progressively better. 'When It Hits' instantly commands attention with its gut-pounding piano hammerings, not losing one sonic inch of impact from its applied reverb. We can't decide between 'The Beginning' or 'Answers' as favourites – the first is a detuned squarewave-ridden and linndrum-laden dub ballad, and the latter is the album's gritty banger of choice, rivalling the iconic Stott track 'Damage' and even giving Amnesia Scanner a run for their money.
JIJ

Coil – Love's Secret Domain (Reissue) (Kontakt Audio)
There is plenty of discussion about the mammoth swathes of Coil music which have been reissued since Peter Christopherson passed away in 2010 – there are few oddities and studio offcuts which haven't been pressed up at this point. Beyond that dubious activity though, there's the matter of Coil's core albums, and hot on the heels of Musick To Play In The Dark Vol 1 comes a fresh airing for Love's Secret Domain. Although only eight years apart, the musical gulf between the two releases is vast, but each album has the kind of imperial presence and looming influence which commands respect and warrants the repress.

Love's Secret Domain, like so much Coil music, exists in that strange liminal zone where you can sense the early 90s era the music was made in, and yet the level of production and ideas contained within races forwards, leaving their contemporaries flailing in the dust. Moving on from the confrontational snarl of their 80s industrial material, John Balance and Christopherson created a strange and vivid tapestry which veers from thrumming pulses to eerie ambience, with lashings of lysergic magick and technoid fantasies in the sonic spectrum. At times it feels so grounded you're practically food for the worms, at others celestially jettisoned in anti-gravity. Such is the beguiling, many-sided brilliance of Coil, rendered and remastered faithfully here on this, one of their finest albums.
OW

Georgia – State Effect: Accel (OOH-Sounds)
By now we are no stranger to Georgia's trademark style: semi-improvisatory electroacoustic jams, no-conceptronic and sloshing musique, repurposed into different moods for each release – be they urban, surrealist or 'World'. For a duo so machine-like in their output, it can be difficult to conjure the thought of Georgia ever topping their previous releases. But on returning to the Italian label OOH Sounds (after 'Decouple ][ Series' with Bellows), the pair behind the alias – Brian Close and Justin Tripp – make sure to bring their finest game for their new album 'State Effect: Accel'.

Perhaps the main descriptor for this album should be 'quantum'. According to Georgia, the eight-tracker, representing only the glitziest and intermittent angle of their sound, follows three principles. Firstly, it is 'nonlocal', forcing the listener to experience time in an unusual way. This is perhaps best experienced on 'Story Scene' or 'Mental Arena Mode', cuts which judder backwards and forthwards both sonically and conceptually, painting scenes of elusive time signatures and visions of NFT bitspace. They effortlessly reflect the pair's synchronicity with Oiseau Danseur aka. DJ Marylou – designer, Rinse France host and Cafe OTO favourite – whose brittle vocals monitor each ambience with sci-fi distress, GLaDOS-style.
Secondly, the album is 'phased', meaning it can only be experienced in pieces, at given moments in time. No track emphasises this better than 'Mere Exposure Effect (Custom Aligned)', whose sino-modellings and out-of-step grime refractions are more than enough to memetically infect. The title alone is extremely self-aware; it's as though Georgia know we'll end up with this track on repeat, 'merely exposed'.
Finally, 'Accel' is 'inter-objective', consisting of multiple entities, yet remaining irreducible to just the sum of its parts. 'Zipf's Code' is the epitome here; whistles, bells, calls, knocks, tinks. Imagine the opening, alien learning scene from 'Under The Skin', rendered into musical form. Barmy.
JIJ

Clara Mondshine – Luna Africana (Survival Research)
The early 80s was a vibrant time in Germany's burgeoning electronic music scene. There were DIY micro scenes popping up in cities like Frankfurt, but in the beating hearts of Cologne, Düsseldorf and Berlin, innovations were coming on in leaps and bounds. Conny Plank's power as a producer, Kraftwerk breaking new boundaries on the road to electro, Tangerine Dream expanding the vistas synthesisers could depict. In the midst of all this seminal activity came Clara Mondshine, the nom de plume of Walter Bachauer. Signed to Klaus Schulze's Innovative Communications label and produced by Schulze himself, the record is a deep cover curiosity from 1981 that will have kosmische heads in a lather.

This is the perfect example of electronic music in its embryonic, inquisitive years, where the looming spirits of prog, psychedelia and traditional folk music from around the world all fed into the influence pool. Bachauer clearly recognised the potential of this music as an expressive, evocative tool, and he paints such vivid scenes with his rich and varied palette. For all its metronomic ticking and gaudy saw waves, 'Fischer Des Meeres Der Stille (Fishermen Of The Silent Sea)' feels more organic than electronic. 'Raga Des Aufgehenden Planeten (Raga Of The Rising Planet)' is loaded with bombastic mystery, and while a Indian classical influence is certainly there, it's folded thoughtfully and tastefully into the sequenced patterns. Steeped in imagery and driven by a sonic narrative, Luna Africana is a gem from a glorious time in electronic music history – something to truly melt into from start to finish.
OW
Grauzone – Grauzone – Limited 40 Years Anniversary Box Set (WRWTFWW)
The legacy left behind by Grauzone is quintessential post-punk. The short-lived band from Bern, Switzerland only released one official album, which was all they needed to cement their place in history. The appeal is obvious and instantaneous, all rigid disco pulse and dystopian veneer, angular guitars and yowling vocals, with raw blurts of synths and atmospheric noise thrown into the mix with a naivety which makes the music all the more honest and compelling. Given their name (German for 'grey zone'), the band were often lumped in with the Neue Deutsch Welle scene, but beyond the mistaken nationality they were also a bit too ragged for that tag.

Now WRWTFWW are giving this seminal band a ceremonious reissue of their sole album, also gathering together attendant EPs from the 1981-1982 period they burnt brightly and quickly through. With additional live recordings and printed material presented in a faithfully lo-fi photocopied style, it's as sincere a reissue as you're likely to find. The zine style approach ably matches the serious yet impulsive tone of the music, certain to delight those who have been waiting decades for a proper edition of the album to come back within reach. There's every chance we're about to witness a renaissance for 'Kälte Kriecht' as a wholly compatible contemporary club cut – one to shake your fringe to down at the death disco.
OW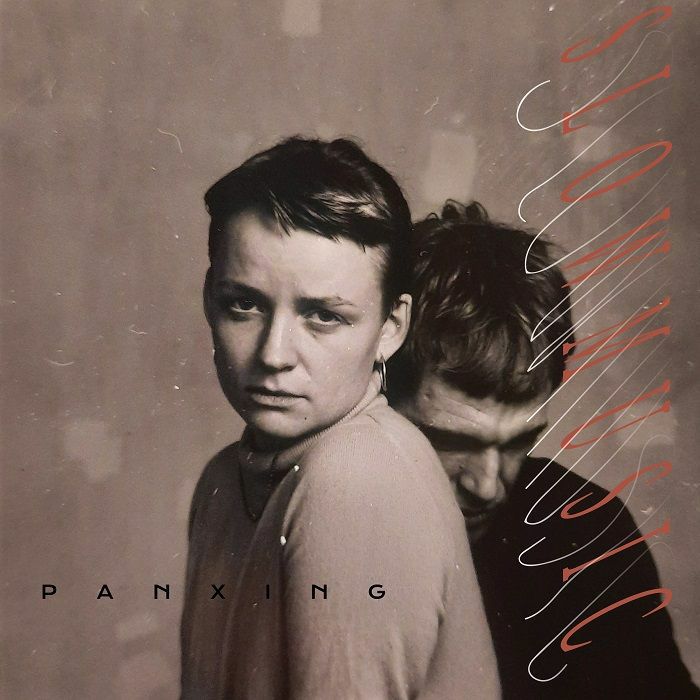 Panxing – Slowmusic (Anyines)
It feels like everyone is talking about liminal spaces in some form or another right now. The pandemic itself has been labelled such — a point between what was, and what comes next. With her second album, Slowmusic, Danish musician, part-time art historian, mother, and Anyines label boss has offered what could easily be read as the minutes from her experience of similar transitions. A record that has taken many years to piece together, born from occasional writing and recording sessions rather than a committed act of coherent art-making.
Slowmusic isn't just a catchy title, then, and again reinforces the idea of liminality in album format. At least some of what's here will never be again, other elements could well be developed on new projects as the future unfolds. It's certainly a progression, of sorts, from 2017's lauded debut, Anti gone. Whereas that felt as though sculpted with complexities, here for the most part things are kept far more simple. We're still talking about deep, electronic pop, but rather than masking vocals in pitches and effects, or throwing Casio beats into the mix, this follow up is more domesticated, perhaps even traditional.
Unarguably working in the artist's favour, the result means we're now paying just as much attention to the natural vocals of Panxing as we are her prowess on pianos and manuscript paper. Lyrically the game is raised, too. Tracks like opener 'Wrong Guy' come close to spoken word, tense and intimate atmospheres making sure the listener is hanging on every line. Poignancy and relevance are found in abundance: "What did I learn today? Who did I love? What made me laugh? If you were dying, would you worry about this?" she asks on the exceptional 'Forbes Jam', just one of several here guaranteed to resonate.
MH

Various Artists – Ten Years Of Butter Sessions (Butter Sessions)
It's quite staggering to think Butter Sessions is already 10 years deep – the Australian operation has always managed to exude an air of 'nowness' when so much club music is caught in the past. Across three 12"s and no less than 22 tracks, Sleep D's mighty Naarm-based label gets a thorough overview and the overwhelming sense is one of community consistency. These artists are all naturally connected to the label, sharing its energy and reflecting something about what the assembled throng want dance music to be in the third decade of the 21st Century.
Some of the artists may be less familiar to those who aren't specifically keyed in to the Aussie scene, but there's no telling the breakthrough underground heroes from comfortably established artists. Despite the size of the compilation, it's impressive how everything hangs together so logically. Bold, propulsive patterns are the order of the day, with plenty of outboard grit and a ravey instinct beating away at the heart of the matter, but this is also incredibly smart club tackle with the capacity for patience where it counts. Those elements make for a potent combination – rather than singling out specific highs and lows, it's more useful to say this is gold from start to finish. Three separate releases wholly deserving of being copped as one almighty unit – a unit documenting one of the jewels in Australia's ever-expanding techno crown.
OW

Eomac – Cracks (Planet Mu)
Trading Berlin's grimy brutalism for picturesque, remote, rural Ireland, Eomac's latest is testament to the subtle positives that have come from the pandemic's great big pause on everything, which inadvertently freed many artists from the demands on style and productivity a relentless industry and fickle nightlife culture once dictated. People have finally been granted the creative space to operate on their own terms, which in the case of this producer (one half of Lakker, noeverything and Lena Andersson) means a haunting journey into cinematic, foreboding bass and techno.
Cracks is certainly a record waiting for clubs to reopen and guilt-free raves to recommence, at which point you'll probably hear some of the contents everywhere. Scarcely a moment that couldn't be described as 'intelligently banging', there are more than a few nods to the trance-tipped, pulse-packed, warm drum and driving tones that have risen to dominate the techno-tech-breaks space in recent years. Here though it's often less melancholic euphoria, more dark and brooding atmospherics, as exemplified in the desperately screamed vocals of 'Falling Through the Cracks', 'Prophetess'' choral moodiness, the symphonic 'All The Rabbits…' and uneasy, politicised broken rhythms of Akala-sampling opener, 'Mandate For Murder'
MH
This week's reviewers: Oli Warwick, Martin Hewitt, Jude Iago James