This week's best new albums
A cavalcade of the finest long playing delights as delicately sifted by Juno Daily's dedicated scholars of sound
ALBUM OF THE WEEK

Cristian Vogel, The Rebirth Of Wonky (Endless Process)
There comes a point in the career of an electronic artist when they want to make a deeper connection with the sounds and styles that inspired them. Often that means collaborating with other musicians in a band, exploring their record collections from the inside out rather than the other way around. Witness David Holmes indulging his psychedelic fantasies on The Holy Pictures or James Holden evolving from trance to cosmic electronica with the Animal Spirits.
But what happens when the urge to embark on a creative adventure strikes deep in lockdown? At a point "when you can't go clubbing anymore and have to dance with oaks", as the opening track of this album so neatly puts it? Having already scratched the band itch in 2007, when he made an unexpected left-turn from merciless techno to loose-limbed indie rock with Night Of The Brain, Cristian Vogel strives for an ambitious solution – dissolving genres, embracing atmospheric contrasts, and gliding ghost-like through dancehall walls, proving that you can move forward while being confined to quarters.
He starts on a high with a building electronic throb, a low steady beat and a seductive female voice intoning "return to the source", like the announcement calling citizens to attend Carousel in Logan's Run. But at the moment where the track would have normally kicked into high tempo, it disintegrates into a fizz of radiation that then blossoms into an expansive, searching drone, like Boards Of Canada somehow morphing into Labradford. It's adrift yet utterly liberating, like barriers dropping away after a long, difficult night.
After that, he can, and does, go anywhere. 'What Goes Around Comes Around' sets two electronic pulses from different eras on a collision course, an analogue synth pattern from the dawn of electronica rubbing up against a deep techno throb that sounds like the Radiophonic Workshop setting up in a warehouse on an industrial estate. 'The All Clear' starts like a tribute to 'Tow Truck' by Sabres Of Paradise before establishing a gorgeous shimmering synth pattern that feels like being inside a phone battery while it's recharging. 'Pendula' isn't so much a wall of sound as a hedge of sound, full of layers and static and unexpected spikes, while 'Acido Amigo' sounds like a demonstration pattern for a 70s modular synth and is only slightly undercut by the nagging feeling that Aphex Twin has buried a hard drive contain thousands of similar tracks in a peat bog on a remote Scottish island.
The second half of the album introduces beats which lessen the experimental power of the compositions – proof perhaps that Vogel isn't ready to leave techno behind quite yet. 'Peace La Roche' creates a hypnotic synth sequence that feels like a laser being fired into a mirror maze, but breaks the spell with rough beats. 'Thula', meanwhile, ties itself up in knots, all stuttering synths and uncertain clatter, and 'Ice La Fantome C'est Moi' wanders deep into an ominous fog, which feels authentically like the darker moments of lockdown. This could well be the point – to show that a pilgrimage inwards will unearth difficult truths – but it's less satisfying emotionally.
Thankfully, 'New Born Wise' leads us out into the sun-dappled everglades, and the album finishes with a skittering of soft sensation, like waking up somewhere unfamiliar. It's impressionistic, sometimes out of focus, more of a sketch than a song, but it's the perfect close to an album that understands that enlightenment lies in the cracks between genres, even if – as the self-aware 'The Rebirth Of Wonky' title suggests – it hasn't entirely found the power to leave them all behind. This is Cristian Vogel's 25th album. It's a good start.
IW

Femi Kuti & Made Kuti – Legacy + (Partisan)
Tackling music from the Kutis is never easy without getting lost in huge essays or lectures on Fela, Made's grandfather and Femi's dad, and the legacy he left behind as a true game-changer. The sort of guy whose funeral draws crowds of more than 1million. It's happening here and we've barely started.
So instead let's first focus on Femi Kuti, at least to begin. ime in papa's iconic Africa 80 ensemble taught him the ropes, but the once-young upstart (now 58) took that raw Afrobeat and honed a sound in many ways more universal. Certainly song lengths, musical patterns and polish were often more orthodox in the ears of Europeans and Americans compared to the epic and uncompromising tones of dad.
After carving out a name for himself as a bona fide saxophone extraordinaire, in his own right, he has gone on to become one of Africa's best-selling artists. And the fact Stop The Hate, his latest, sounds quintessentially global, exotic and yet familiar is testament to that success. You'd struggle to think of more internationally recognised artists from the second largest continent on the planet selling out stadiums across the world for so long, almost ranking alongside the likes of Amadou & Mariam for longevity. Which means For(e)ward, debut album from youngest of the lot, Made, which makes up the second half of this special double release, has some weighty expectations on it.
Suffice to say, it wouldn't be here if the results were anything short of impressive. Of course, there's plenty that plants us right in the middle of the classic Kuti universe. Not least the hypnotic drum and vocal patterns, and the vehemently political, often anti-establishment messaging. But there's evolution here, too, from unexpected, sample-heavy head nodders to slick tropical soul.
MT

Various Artists / Vladimir Ivkovic & Ivan Smagghe – IDMEMO – A Future Of Nostalgia Vol. 2 (Above Board)
Recently, there's been an increased appreciation of the swathes of electronica just beyond the reaches of dancefloor conventions. The 90s and 00s are littered with deep cover artefacts from bedroom producers who were trying to do strange and unique things with their machines. Music From Memory's recent Virtual Dreams compilation was a fine deep dive into the more ambient dimension to this phenomenon, but now for something a little spicier, here's our gracious hosts Vladimir Ivkovic and Ivan Smagghe. It's hard to think of two DJs better suited to offering up a mercurial look at what the iffy IDM tag even means. Their stated intention with this compilation is rooted in their respective experiences working in record shops, and the curious confluence between 'trad' indie music and techno-derived forms.
After a first volume that romped through Cylob's vocoder bombast, I.F.'s twitchy acid lamentations and strung-out kosmische psych from Spiritualized, this second slab once again juxtaposes unlikely bedfellows with open-eared curiosity and true selector's instinct. There is a more classic electronica bent to many of the tracks here – The Black Dog's 'Psil-cosyin' and Funckarma's are masterpieces of hi-tech programming and chrome-plated sound design. But why take the easy route? Genre totems Autechre get a look in, but it's their decidedly offbeat version of noisy, industrial-shoegaze anomaly Seefeel that gets an airing. Aphex is present, but as The Polygon Window, remixing Soft Ballet with a haunting, bludgeoning and scarcely mentioned version that echoes his track 'Ventolin' on heavy sedatives.

There are the kind of deep level digs you'd expect from Ivkovic and Smagghe too. Good luck finding a copy of Zugzwang's original 12", and credit to anyone else who had been holding Tinfoil Teakettle close to their chests all these years. It's that level of research and knowledge that makes a collection like this worth exploring, for seasoned heads as much as curious newcomers.
OW

Galcid – Hope & Fear (Detroit Underground)
It's easy for mastery of synthesis to become about subtlety and refinement – using a wall of modular to elicit the perfect tone. But what about pushing to the other extreme? Sometimes you want to see someone with towers of equipment wrenching unimaginable cascades of sonics out of ungainly patches, with all the grit and dirt left in for good measure. Formerly a duo, now solely the work of Lena Saito, Galcid is one such venture where you can have some faith that all that lush studio gear isn't going to waste. Saito has returned to Detroit Underground, a label with its own embrace of futurism and technology as a wild and unknowable frontier. The result is an album that snarls out its identity in a flash.
The dazzling array zapping through the opening stretch of 'Awareness' is hard to fathom – it's an acrobatic display of what can be achieved across the stereo field. The sound palette is a noisy mix of analogue and digital blips, shrieks and thumps, pushed into the red and placed right up front so the sculptural imagery of the sound occupies your cerebral cortex. It's an exercise in engineering as much as an expression – a celebration of what machine music can do when you let the machines set the tone.
There are more conventional moments – the acidic throb coursing through 'Undulation' feels like a familiar foothold even if the overall construct of the track is brilliantly non-standard. There is also some space for melodic levity, such as on 'Electronic Flash' which pivots around a beautiful, skittering chord tone. But by and large, this is a place to enter when you want to be shocked by the startling newness of everything. The cyberpunk styling is hard to refute when it's executed this well. With this album, Saito has laid out a formidable case for her position amongst the upper echelons of contemporary machine manglers.
OW

Rivet – On Feather and Wire (Editions Mego)
The sinewy techno Mika Hallbäck has been pursuing as Rivet has always boasted personality and verve beyond the more functional realms of the scene. The Swedish producer's EPs have actually been quite measured in their dispersal, dropping in modest amounts on labels close to home like Skudge and Kontra-Musik, but each one has displayed an errant spirit that speaks to influences beyond the club. Now, after a period of silence, Rivet returns with an album that makes good on the adventurous promise of earlier works by immersing more fully in those spaces where electronic music isn't just a beat to dance to.
If you were to listen to 'Coral Spate' for instance, you'd be forgiven for thinking you were hearing a particularly well-produced slice of 1980s industrial deviance. Hallbäck sounds like he's having the most fun he's ever had working his sequencers and synthesisers, creating a febrile energy out of every part and making the equipment truly sing. There's a certain poppy nous to the melodic composition as well, not least with the sumptuous analogue lead that buzzes and writhes its way through 'Etana's Ascent'.

It's noticeable that drums take a pointed back seat throughout On Feather and Wire, and yet it's a restlessly energetic album. The movement and modulation of the synths is key, but also the distorted voices which breathe a cybernetic anima into each piece. Even when beats do come through more pointedly on 'Keloid', it's hard to discern what's a drum hit and what's a sculpted blast of synth noise or repurposed found sound. In Hallbäck's hands, everything takes on an extra dimension, whether it's spatial, temporal or timbral. It's an opulent feast of sound design, and yet the lingering atmosphere is one of red-lit synthwave dungeons for denizens of the night in a perfectly stylised version of the past.
OW

Emily A. Sprague – Hill, Flower, Fog (Rvng Intl.)
In 2019, Rvng Intl. gathered together some of the self-released works by Emily A. Sprague. Previously, the music of the artist from the Catskills Mountains existed in the undergrowth of the DIY tape scene, seemingly sculpted from the very landscape she was surrounded by, and listening to Water Memory / Mount Vision there is an overarching sense of intimacy and isolation which draws you in and keeps you close. You can also sense the lack of expectation or outside concerns – just a free spirited exploration of sound in conversation with her surroundings. Since being brought to wider attention through Rvng's compilation, now Sprague returns with an album that feels noticeably more open and sentient of the outside world.
There's a natural ease to the unfurling of patterns and sequences throughout Hill, Flower, Fog, which sets out its pastoral intentions from the get-go in titles as much as sound. Albeit voiced through synthesisers, there's an undeniable natural rhythm to Sprague's patient refrains. This is not the sound of thrumming urban centres, but rather humming rural idylls. The loping configurations of chimes that peal out through 'Horizon' sustain themselves for the full run time without ever falling into monotony, such is the circular nature of the pulses that her synths dance to.
For the prevalence of glowing lead lines and arpeggios throughout, there's also plenty of space afforded for moments of pause and reflection. 'Woven' takes its form slowly, lingering on stunningly rendered sustained notes so you can savour every timbral flutter in the sound. It's in these moments, when you're not being carried away by a cascading melodic reverie, that you can truly appreciate that craft in Sprague's sound – the dedication and care given to a particular tone before it joins its cohorts in a poised ballet of control voltages and gates opening and closing in the electric breeze.
OW

Sage Alyte – Paume de Pierre (Vlek)
Very much a product of the Belgian experimental scene, Sage Alyte surface on Vlek with a recorded document of the live performances they have taken round squats, cafes and small theatres. The project is made up of Roxane Métayer and David Jarrín Zabala, who between them play a panoply of instruments from violin and banjo to hand percussion and synths. The end result of their patient, engrossing collaboration is an evocative music emphasising tonal expression rather than linear composition.
The opening track on Paume de Pierre is a swirling exercise in drone punctured with the kind of harmonic overtones unique to live instrumentation, but this is not a one-dimensional ambient record. Zabala's banjo takes the foreground on 'Soleils inscrits', while 'Araignée Incolore' moves in rhythmic sway to muted, plucked strings and eerie, bowed yelps with a wyrd folk tradition at its heart.

There's a pervading gloom around Sage Alyte's music, even in its sunnier moments. Clearly, Métayer and Zabala have a penchant for darker sounds, but there's also an interesting thread of exotica lingering around the edges of these creations. As rooted as they are in the present-moment playing of the pair, each piece seems to reach to a nonplace in the distance, whether in the surreal hoedown mantras of 'Levons une petite souche' or the rainforest-prairie dichotomy of 'Etincelles et crapauds'.
OW

Jonathan Fitoussi – Plein Soleil (Obliques)
Existing in the somewhat clandestine world of modular synthesis power users, Jonathan Fitoussi has spent years quietly amassing a staggering body of work. Alongside Clemens Hourriere he bedded in at EMS in Stockholm to put the Buchla 200 system through its paces (and the resulting Five Steps album on Versatile is essential). You might catch him playing live with an EMS Synthi and a Music Easel, or collaborating with AIR's Jean-Benoit Dunckel. Fitoussi mixes an apparent grounding in classical music theory with the advanced knowledge required to make premium studio gear truly sing, and it comes through in pearlescent volumes on his latest album, Plein Soleil.

Released on his own Obliques label, it's a pronounced tip towards ambient pastures, as elegiac notes, chords and pads rise and fall around gently modulating lead lines. There are some very Buchla-esque percussive pulses ping out in the stunning 'Amazonie', but much of the album ebbs between placid drone and gently undulating sequencing, with nary an edge in sight. Given the overarching solar theme, it certainly works as a beautifully rendered tribute to the great glowing orb in the sky, and a portent of brighter days on the horizon.
OW

Elite Beat – Selected Rhythms Vol. 2 (Research Records)
Those with one eye on the dub-oriented scene around Portland, Orgeon, may well have caught wind of Elite Beat already. The live band collective operates in a low-key manner, but they're plugged into a wider global network of dub explorers thanks to band lynchpin Jesse Morrison. Morrison, who also produces as Gulls, has his finger in many pies, not least running the excellent Boomarm Nation label. The bulk of Elite Beat's material to date had come out on tape as part of the Casual Rhythms series, which the folks at Research Records clearly picked up on when they pulled together the first Selected Rhythms collection in 2019.

Given the rich vault of material tucked away in those tapes, they've returned for a second volume, which is as essential as the first. You can very much sense the relaxed, live band demeanour at the heart of Elite Beat when you start to lose yourself in the snaking cuts on this collection, but this is no haphazard free for all. Locking into tight, incisive passages and holding them down, the synergy between the players is palpable, but more crucially Morrison's confident desk wizardry is the glue that binds the project together. The reverb and delay is wielded with an expressive touch that doffs its cap to the Jamaican masters, although Elite Beat notably shuffle to a different rhythm to the usual rigours of dub and reggae.
OW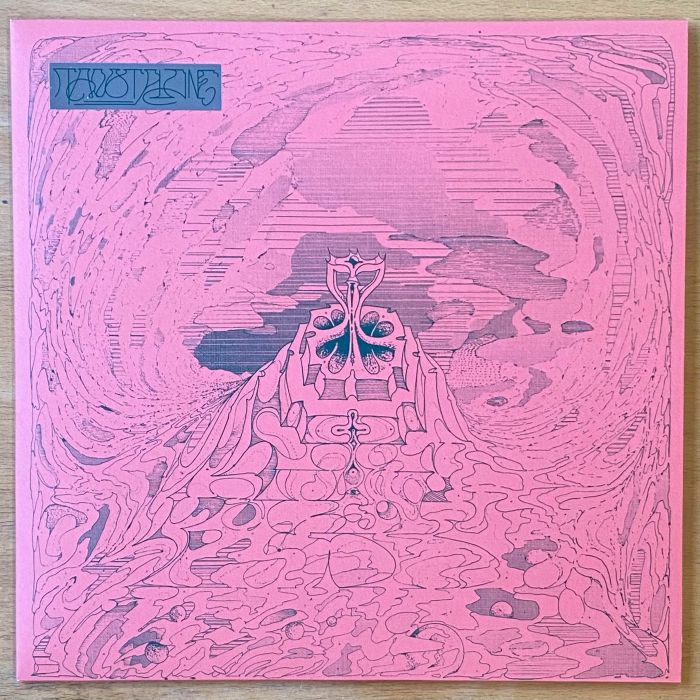 Tarotplane – Horizontology (12th Isle)
The space 12th Isle occupies is a curious one. The Scottish label's output could fairly be considered ambient, whether it's X.Y.R.'s hypnagogic, long-form suites or Ramzi's inquisitive world building, but there's a consistent, bristling energy in the music they release which is far from static drone fodder for a thousand yoga retreats. Tarotplane are the latest to shore up on this unique and impeccably presented land mass, having previously sailed their wares to Aguirre, Lullabies For Insomniacs and VG+ Records. In the field of contemporary spiritual sonics, that's an impeccable itinerary.

Horizontology is a very easy record to love. At every turn we're confronted with thick layers of synths moving in gentle unison, reaching from twinkling notes at the top end of the frequency range down to voluptuous arps, slowly passed through laconic filters and powered by fluttering sequencers. There's not a note out of place, even as the album unfolds with a fluid, offhand quality that feels like it emerged from heavy-lidded improvisation as much as thoughtful composition. That's especially true of the B-side, which melts four tracks together as one strung-out sojourn through pastoral climes. If great ambient isn't meant to make you feel like you're floating down a river in the countryside, what is it meant to do?
OW
This week's reviewers: Martin Hewitt, Ian Watson, Jude Iago James, Cai Trefor, Oli Warwick.