Quirky and fun but with the potential to be serious instruments, 2hp's ultra-compact Eurorack philosophy is exemplified by the brand's Lunchbox systems.
There can't be many synth brands whose name alone spells out their entire USP, but California's 2hp Modular specialise in just that: Eurorack modules precisely 2hp in width – no bigger, no smaller. With over 40 modules currently in production, 2hp have become a reliable go-to source for compact, efficient Eurorack tools.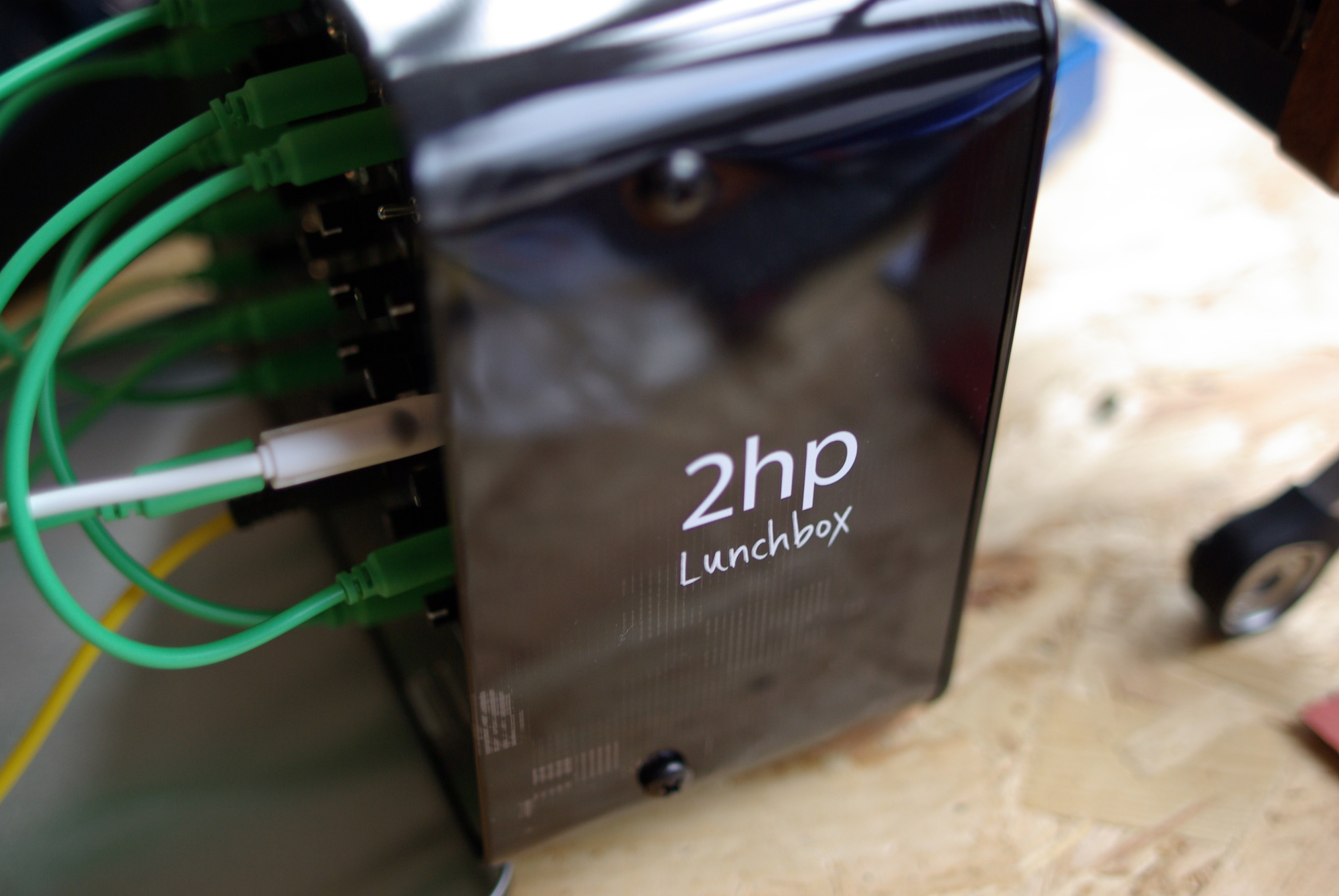 The new Lunchbox series sees the brand bundle their most popular modules into four flavours. There's a simple Synth Voice Lunchbox with a VCO, envelope generator, filter and VCA. The Drum Machine Lunchbox features the brand's Kick, Snare, Hat and mixer modules. The Effects Rack Lunchbox consists of the brand's DSP-based Grain, Verb, Delay and Freez modules. Finally, the top-of-the-range Picnic Basket shown here goes big with a total of eight modules on board. All four systems feature built-in power supplies and come supplied with patch cables and one of the brand's own zero HP mults, a 1-into-5 cable splitter. (The Lunchbox case with built-in power supply is also available separately.)
Whether you'd actually define any of the setups as a 'system' in the conventional sense is debatable, but the Picnic Basket undoubtedly comes closest. First of all, yes, the Lunchboxes really do come house in actual lunchboxes of the cheap and flimsy metal variety, a tongue-in-cheek approach that you'd probably expect to get dinged and scratched quite quickly with use, building up a unique patina. The Lunchbox is supplied with rails fitted, power supply module on one side (using an external DC converter) and modules ready-racked. In the case of the Picnic Basket, that rack space is filled with a relatively broad selection of 2hp's best modules: Seq sequencer, Pluck physical modelling voice, VCO, MMF multi-mode analogue filter, Kick drum synth, Verb stereo digital reverb, ADSR envelope and Rnd clock source/random voltage generator. It's a good all-round selection and one that's immediately fun out of the box, offering a sonic versatility that's unsurprising when you consider that each of the 2hp modules individually offers much more depth than its size would suggest. Route the VCO through the filter and you've got good old-fashioned analogue subtractive synthesis; sequence the Pluck module and you've got weird and wonderful physical modelling melodies; add reverb and you've got big, spacey drone potential; send a clock trigger to the kick and you've got a versatile drum synth to underpin it all.
It's important to note that you can't quite access the full potential of the Picnic Basket in its standard form, at least not all of the potential at once since there's no mixer. 2hp are open about the fact that the Lunchbox setups are intended to be customised and expanded by the user. You can use them all on their own in various different ways (you'll need some kind of controller or sequencer for the Synth Voice and Drum Machine models, while the Effects Rack obviously requires an audio signal from elsewhere), but they're best thought of as starting points for bigger systems or as building blocks to add into an existing modular setup.
In the case of the Picnic Basket, it's crying out for a VCA and a mixer so that you can enjoy blending the sounds of the Pluck, VCO and Kick modules, however you choose to patch them. With that simple addition, the Picnic Basket becomes a neat little self-contained techno system, but we'd also be tempted to add some additional processing options. We might even go so far as to cross the streams and mix and match some of the Pico modules from Erica Synths, which follow a similar ultra-compact philosophy to 2hp's offerings; the Pico Trigger would complement the 2hp sequencer nicely, while some additional Pico effects modules would work nicely alongside the 2hp Verb. (All four Lunchbox systems also need an output module of some sort if you intended to use them as standalone instruments; 2hp's Trim attenuator module would do the job if you want to stick with the brand's own modules.)
The point is really to expand on the basic setup with your own personal choice of additional modules, whether they be from 2hp or any other Eurorack brand. With the 4hp power supply module fitted, there's a total of 38hp available space remaining in the Lunchbox case, with eight power connectors on the cable and a spare port for a second flying bus cable. That gives you plenty of scope for building a self-contained system with efficiency of space as one of its key goals, and it's a lot of fun deciding which direction you want to go in.
Greg Scarth
More info/buy