This week's best new albums
The top layer of this week's album cake sliced off with pristine accuracy by Juno Daily's reviews team

ALBUM OF THE WEEK
Kruder & Dorfmeister – 1995 (G Stone)
In 1995, with all that jungle being banded about, the world needed a break. Slap-bang in the middle of the most drooled-over decade in dance music history, it was a milestone year for smooth, emotive electronic music.
In 1995 new jack swing – which sounded like the erotic, precursory love-child of UK garage and R'n'B – culminated with Montell Jordan's 'This Is How We Do It' topping the US Billboard. The nebulaic cloud of Ibizan balearic beat had left behind a heady scent, ionizing worldbeat acts like Enigma and Deep Forest. Mobb Deep released The Infamous, on which Prodigy's brooding production style helped 'beatsmith' to be taken a bit more seriously as a job title. Most importantly, though, trip hop had lulled listeners into its own realm. Bjork, Tricky, Portishead and Boards of Canada released some of the genre's defining albums, epitomising the scene's scratchy, karmacomic sound.
Another offshoot appeared, albeit in a primordial form. It had not yet been christened as 'downtempo', but for Austrian heartthrob duo Kruder & Dorfmeister, the ingredients to help pioneer the genre's jazzier side were ripe for the plucking. Only two years earlier, they had released their debut EP G-Stoned, and were revelling in positive acclaim for the Simon & Garfunkel cover track High Noon. It predated successful jazz-hop acts like The Herbaliser and Mr. Scruff, who ran away with the style they came up with. They dubbed the period from 1993-1995 – in which they made music consistently without distraction – "the innocent and pure K&D time".
K&D now return with their first ever LP, named after the landmark year. Rivalling 1998's K&D Sessions, 1995 is a similarly focused effort. But, in seeming protest against mundane interpretations of this sort of music as 'lounge' or 'background', this album has something to prove.
A specific feel can be named for each track. 'Swallowed The Moon' is quizzical. 'White Widow', nocturnal. 'Don Gil Dub', sylvan. As we listen, we notice each track has a distinct mood to portray, and all allude to a great deal of influences. Case in point: Spring carries far-off echoes of deepchord dub, blended with what could easily be a jump-up jungle bassline. The slowed-down breakbeat overlaid with the track majestically rushes and drags, spelling out the beat's pace before occasionally reversing into the next phrase. The curveball Ambiente is likewise a rhythm n' blues fever pitch, more closely akin to ominous, '50s finger-snapping soul jazz than anything remotely close to hip hop.
By far the most disproving and genre-bending track on the album is the 13-minute 'One Break', a masterwork of shifting double-time ambience and dark sways. The track is as reminiscent of subdued halftime as it is of boomy trip-hop, only deploying the genre's trademark breakbeat after almost 6 minutes of kick drum driven exposition. After a nauseating excursion through beatsmithery – and gurgled vocal snippets from an old recording of an auctioneer – we are treated to a liquid jungle beatswitch. It's a rollage not unlike something heard on Good Looking or Formation Records, jungle labels active during K&D's "pure" era.
The album closes with 'Lovetalk', spurning vinyl breaks for a whirly krautrock synth. It's overlaid with a sample from a woman, Sophia, calling a New York radio station in 1991, explaining the positives of women approaching men for relationships. It is a note of empowerment, bolstering 1995 as an album which effortlessly captures that year's zeitgeist. Once more, we can enjoy that moment in time.
JIJ
Throwback to late 2017: Bicep's self-titled debut had just been released. I was studying at university. There didn't seem to be a single halls bedroom that hadn't had 'Glue', or Four Tet's remix of 'Opal', blared out of it. It was a truly anthemic album, a staple of the university experience. You could detect the heady trail of Bicep wherever you went, be it overtly in the club, or implicitly on the keen face of a crew-cut fresher.
'Isles' is their follow-up. Not straying from their trademark rave nostalgia, cuts like 'Saku' – like a version of 2017's 'Opal' with its tricky mega-swung garage drums and nonchalantly bewitching vocals by Clara La San – are bound to satiate fans of the first LP, and perhaps even attract another student buzz. 'Atlas' doubly hits on the nostalgia mark, recalling the duo's undeniable classic 'Just'.
The album deals loosely in the themes of isolation and transience connected to living on an island, "wanting to leave, wanting to return" as Bicep put it. Interspersed with the stylistic relics of their recent travels to Turkey, Bulgaria and India, 'Sundial', 'Rever' and 'Fir' feature no end of gated vocal chants and blissed-out, one-shot rave wails, perhaps generated by a vocaloid or samples from forgotten pop records.
Their most adventurous work appears towards the latter half. 'X' is a synthpop cum breakbeat blade-runner, much like a new school take Anne Clark's 'Sleeper In Metropolis' with added buried croonings and alien ride clanks. The closer 'Hawk' is similarly rapturous, a more experimental, but nonetheless trancelike, soundtrack for flying over a future London.
Perhaps Bicep tend to shoot for uplift because there is an under-recognised connection between dance music and ritual rapture. "We're not religious, but we're both from different religious backgrounds", they comment. "One of the things we loved about dance music was that freedom it gave you to be released from talking about those things."
JIJ

K.S. Eden / 41 Degrees – Passed Beyond (Stroom)
Stroom is a label you can count on for mysterious music with an engrossing story that draws you in close. This retrospective compilation is quintessentially Stroom-y, bringing to light the all but invisible legacy of one Kevin Eden. Eden rode the wave of the punk and post-punk era in the UK, starting out in Manchester and bowled over progressively by incendiary gigs from Sex Pistols, This Heat and beyond. That might not be instantly apparent listening to the more ambient parts of this collection, which comes shot through with Fourth World evocation, but it was born out of the same DIY spirit and convention shattering spirit that defined the most visionary bands and producers of the late 70s and early 80s.
After his early band forays, Eden released an album as 41 Degrees which gets a look in here via a few key tracks. 'White Flowers' is absolutely of its time – a wonderfully angular slice of post punk songwriting with poetic leanings and a mystical tint, but even at this juncture Eden was reaching into space beyond formal song structures. The compilation's closing track, 'November', is a luxurious, beatless rumination of sustained piano chords and mellifluous bass soaked in the sonic stew of vintage studio processing.
Under his own name, Eden's tendency towards ambient reflection really took flight though. There's a spine-tingling uplift to 'Hombre's heady mix of thick one-chord pad and meandering guitars, while 'Ghost Fires' sounds shockingly contemporary in its dense layering of sampled material, odd percussion and teasing chimes. Eden's post-punk roots still shine through, especially on the brilliantly dubbed-out improv synth warbles and grungy bass of 'Still Beats'. Passed Beyond is a mixed-up affair, but it hangs together beautifully through a gritty sonic commonality and the consistent brilliance of the compositions.
OW

Milan W. – In Bloom (Universal Exports)
Embodying everything wonderfully unpredictable about the ever-flourishing Belgian leftfield scene, Milan W. returns with an album for Universal Exports, a new label from Yves De Mey, Roman Hiele and Allon Kaye. With that cast of characters involved, the scene is set for something unusual, rather than a repeat of the gorgeous ambient electro refractions of Milan W.'s 2018 LP Envelope. This time around, Milan explores a more classically-informed approach, hinted at especially in the title of the second track 'Ostinato'. The focus is on precise and considered melodic sequences falling in mesmerising cycles, with equal emphasis on unusual synth voices and tunings which edge the album towards the baroque climes Vessel has explored in recent years.
Indeed it feels like Milan W. is holding court in a wyrd and fantastical kingdom throughout this album, with the bewitching pomp of 'Helium Queen' facing off against the synthetic brass regalia of 'Columns' in a race to depict the most vivid scene. The key to the cinematic magic throughout this album is the sound design, where dissonant overtones add a delirious quality to the synth passages, both reminiscent of early music and yet utterly not of this world in the same instant.
'Avenue' is perhaps the one piece where the convincing shroud of fantasy slips, thanks in part to the more linear direction of the music and a more pronounced set of drums. That's no criticism – it's a wonderfully sculpted track, but conspicuous in the certain conventional qualities it carries. In many ways it serves as a kind of settler before the album's second act, which peaks with the ineffable closer 'Helix Waltz'. From the angular lilt of the main lead – which sounds like it's made up of about six different synth voices – to the reflective pause of the final choral pads, it's a boldly singular conclusion to a boldly singular album.
OW
Elko B – Realm Of Rides And Romance (Ekster)
Antwerp's Elko B is a polymath artist tangled up in a web of collaborations and group projects. He returns to Ekster following 2017's I Bambini Di Bassillisco to explore his own curious and playful soundworld, where twee progressions and arch easy listening collide with experimental instinct to make for a gloriously off-key but seldom po-faced affair. The synthwave refrains lay the kitsch charm on thick, with certain incidentals striking a soundtrack tone hinted at on previous records, but this music is also too full and frivolous to sit behind a moving image.
The friction between the twanging guitar lines and the purposefully plastic synths are a vital source of this record's strange appeal, no more apparent than on the overblown Western theme 'Tension, Ride And Romance'. Every trope is present, from the lonesome whistle to the tumbling timpani, crafted like a DOS game theme but with a subtle depth and weirdness beyond the seemingly banal.
Exotica licks, country & western schmaltz, MIDI bebop, chanson reveries – Elko B leaves no style unturned as he crafts a lurid fairground of experiences like he's about to complete Theme Park, but it's the lingering unease in between the humourous hooks that strike deeper than a mere novelty excursion.
OW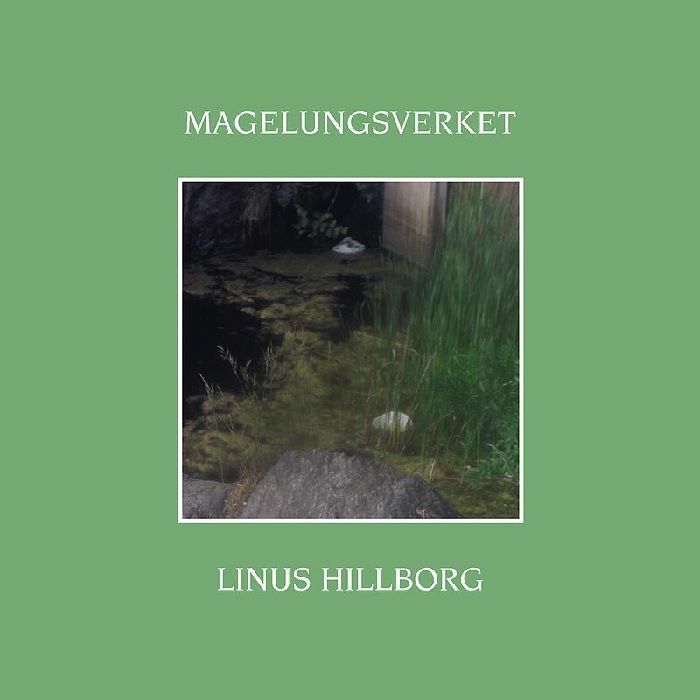 Linus Hillborg – Magelungsverket (Moloton)

Linus Hillborg is a pivotal figure in Stockholm's coolest and most diverse avant scene. A scene which is largely centred around the output of the Moloton label to which Hillborg is newly signed. Magelungsverket, his debut album, is derived from his interactive audiovisual installation (Orphan Works). The installation works much like a computer game and users generate the soundtrack through their movements in the virtual world. Hillborg's visual creation is a bleak Stockholm that could have been and may yet be, which plays into armageddon discourse.
The music is suited to a harsh environment, very dissonant, conjuring images of snow storms and loneliness. The feeling of being at the extreme end of existence is very powerful and the audio quality is testament to Hillborg's adventurous recording. Modular synth and an analog tape machine were his domain. Meanwhile a guest metal clarinet player, and a guest on bowed cymbals, bells and chains joined him to create the generative soundtrack. With there being so many endless hours created by users, the editing process to decide on the fixed compositions must have been arduous. The final result, however, is remarkable; inspired. It's a truly impactful listen which ought to make Hillborg someone capable of breaking out of his local scene and onto the global stage.
CT
Tom Furse – Ecstatic Meditations ( Lo Recordings)
It takes some going to get a record deal with Lo Recordings. They're one of those increasingly rare labels that are a stamp of quality and you pretty much know that what you're going to get is good. Highlights over the years have included Grimes, Aphex Twin and Four Tet. Their current day roster
features a number of artists making experimental electronic music and star among them is Tom Furse. Furse is now on his second album for the label and it offers a completely different side to him to what he expresses in The Horrors—he is the keyboardist and co-founder of said band. Furse's music is soothing, tranquil, blissed out, yet it ebbs and flows keeping one's attention.
Speaking about it in a press statement, states, ""There was a certain kind of sound I was listening to that wasn't always ambient but definitely had that quality about it and I just came to think of it as 'still music' – music without much form, but deeply spiritual, abstract and expressionist. This album is an exploration of that idea." The reference points he cites include Alice Coltrane, Laraaji and Japanese environmental musician Yasauki Shizimu. What Furse achieves is making a record that feels on a level with the genius musicians who've helped him find his own sound. It's a meditative album that you can leave on and escape into that will completely transform your body and leave you feeling more divine.
CT
Yung – Ongoing Dispute (PNKSLM)
Denmark's second city, Aarhus has a thriving band scene. A lot of the underground scene is born out of the truly DIY, soon-to-be-closed volunteer run venue TAPE on the outskirts of the main hub of the city—a venue that has been an integral platform to Aarhus band Yung's success. It's their CBGB, their Windmill and it's going to be closed. On a brighter note, Yung's first record in nearly five years is out. Aptly titled Ongoing Dispute, it's an honest reflection of the struggle in their band, the creative differences, the burnout from touring. This sense of adversity, though, is what makes the record have a character that bands who've graduated from DIY beginnings to the lofty LA suburbs can't get. They are able to write raw rock songs that capture that exciting feeling of being on the edge of destruction — that true essence of punk rock burns brightly. This singer is particularly likeable with a commanding Jarvis Cocker-esque charm working brilliantly as the most melodic element in the band. Underpinning this vocal is guitar-led compositions taking cues from the best in post-rock/krautrock/jangle pop. That said about the melodic element, let's not take away the fact they can be incredibly unhinged at times: dig into 'Unresolver' on the LP to hear the closest thing they have to Refused.
CT
One of the most unsung heroes of drum & bass, DJ Trace has been ahead of the game at practically every stage of it. When roughneck jungle Amens were the order of the day, he flipped the script and delivered the jazzy drum of 'Coffee'. When it seemed like the UK was the centre of drum & bass in the mid to late 90s, he moved to Philadelphia and took the music with him, establishing a base there for what would go on to become a massive scene stateside. Then he hooked into the whole techstep scene, his 'Mutant Revisited' remix of T Power marking the way forward and creating a space for a whole new generation of artists like Ed Rush, Optical, Dom & Roland, Bad Company and Nico just for starters, to bring their steely, chrome-tinged take on the genre to the fore in the early 00s.
Retox features serious wadges of new Trace material across four sides of beautifully cut vinyl and as the titles might tell you, he's in no mood to mellow out now. 'Ditch' is a massive roller that streams through like a runaway train. just building and building with relentless, merciless momentum. 'Saboteur' features a bit more in the way of edits and rhythmic curveballs, underpinned by some seriously shuddering sub-bass that would probably trouble the floorboards of houses half a mile away, let alone your own. 'Orc' finally lets rip with the Amen breaks but like everything on this album it's done with the kind of instinct for impact and finely honed power that you'd expect from a true veteran. Dry January?! We'd rather Retox if it's all the same to you.
BW
This week's reviewers – Cai Trefor, Jude Iago James, Oli Warwick, Ben Willmott