Exclusive peek at new book 'Who Say Reload' – an oral archive of drum & bass
New book also contains exclusive pics from the legendary Metalheadz Sunday Sessions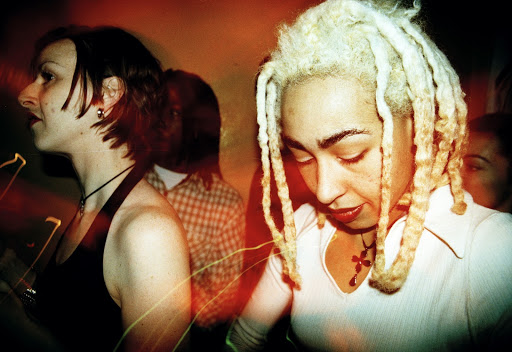 Storm (left) and Kemistry
'Who Say Reload', a new 160-page hardback book described as "an oral archive of drum & bass, has just been announced by electronic music and club culture publisher Velocity Press.
Charting the movement's progression and impact through memories from key players, the book contains material almost solely sourced from first-hand witnesses; the likes of 4hero, Roni Size, Lennie De Ice and DJ Hype, to name but a few.
The book offers special insight into the environment, equipment, samples, and influences that went into making classics like Alex Reece's 'Pulp Fiction', M-Beat's 'Incredible' and 4hero's 'Mr. Kirk's Nightmare'. There's also key knowledge about lesser-known tracks crucial to the scene's proliferation, as well as through-the-grapevine stories and testimonials from the scene's key players at different periods, like Fabio, Friction and DJ Storm.
Paul Terzulli wrote 'Who Say Reload' after noticing most historical information on the genre existed merely as disparate fragments online. Having been witness to the scene's formative years in the 90s, he noted, "there was always an element of mystery about the music and its creators. You could experience it through vinyl, tapes of raves and pirate radio and, assuming you were old enough, going out to the raves themselves. However, finding out more about the creators of these futuristic soundscapes was a different task altogether. I felt that the stories of those responsible should be collated and presented in one place, rather than scattered across podcasts, YouTube videos and obsolete websites, or as anecdotes flickering past on a social media timeline."
Terzulli – a long-time hip-hop music fanatic and founder of the cult blog Only Built For zShare Links – was at first only small-time fan of the scene. "I reluctantly tolerated my friend Kevin's rave tapes throughout the hardcore era until one day he suggested I should check out his tape of DJ Hype's set at Dreamscape 12. Looking back at the tracklist now, all the anthems are present – hearing records like 'Terrorist' (by Ray Keith), Q Projectt's 'Champion Sound' and, most significantly, 'Dred Bass' (by Dred Bass) for the first time was a real game-changer for me."

Fabio(left) and Storm (right)
His interest truly piqued when he noticed a strong hip-hop influence on the drum & bass records coming out in 1997.
"A large proportion of the artists I interviewed have their roots in hip-hop." He continues, citing Marley Marl, the Bomb Squad and Mantronix as early influences on the scene. "Where do you think they got that Amen break from?", he muses on his blog, referring to Mantronix's breaks/hip-hop fusion 'King Of The Beats', a track arguably responsible for elevating the Amen break to the level of notoriety it has today.
The book contains photography from Eddie Otchere, an active participant in the scene from its inception. "I needed photographs that captured the essence of the era, rather than relying on solely on present-day pictures and sanitised press shots", Terzulli writes.

L-R: Mike De Underground, Randall, Marley Marl, MC Fats, Cool Hand Flex & friend outside Mike's Record Shop in Forest Gate, East London.
Of the photography in the book, Otchere added: "The raves, the studios, the radio stations, the cars and the producers that drove them, they're all here."
Terzulli uncovers information which many writers have found difficult to source. One of the first chapters is an interview with Lennie De Ice, who, despite his frequent accreditation as the key pioneer of jungle with his track 'We Are I.E.', is normally known for his low proifle.
On 'Who Say Reload', though, Lennie speaks at length, detailing how and where he found the samples for the seminal breakbeat track: from an old Simon Harris compilation. He also recounts rarely being able to hear the track being played out, due to serving time in prison at the peak of its popularity.
"I was locked up on F-Wing in Brixton. At night time when all the screws had gone, people would put the radios on and have a little rave inside their cell with some puff or whatever drugs they had; trips were rife inside. I was locked up at the same time as a few of the rave promoters from back in the day and a lot of the people inside had been ravers. I remember Colin Faver playing it one Saturday night; people knew it was my tune and they all had the plastic cups banging against the bars in the cells when it came on."
Testament to the rarity of the stories told, another chapter – handled by DJ and pioneer Fabio, covering the '90s transition from breakbeat hardcore into jungle at nights like RAGE – tells the story of Ibiza mainstay Carl Cox's frustration with drum & bass being played in exclusively dubplate form.
"Carl Cox decided he didn't want to play hardcore anymore. Grooverider came on after him and had 'Terminator' (by Rufige Kru) and all these tunes and smashed it with all these new remixes and Goldie tracks. Carl came up to me and said he was thinking of stopping playing this music and was going to start playing techno and more house stuff. When I asked why he said it was because he couldn't get the tunes we had and all the dubplates – 'Where's Groove getting these tunes from? I can't get 'em!'"
"That was when around the time the split happened. You either stayed with hardcore, went into house and techno or jungle, and we went with jungle."
'Who Say Reload' will be printed and bound on 25cm x 25cm high quality 130gsm paper, and released on 5th March 2021. The book is available for preorder now; do so via the Velocity Press website
Jude Iago James
" The book also comes with a one-off A2 poster, detailing the inner labels of the seminal releases covered in the book (pictured below).