Visionist confirms Black Midi, Matthew Bourne collaborations and shares 'The Fold' video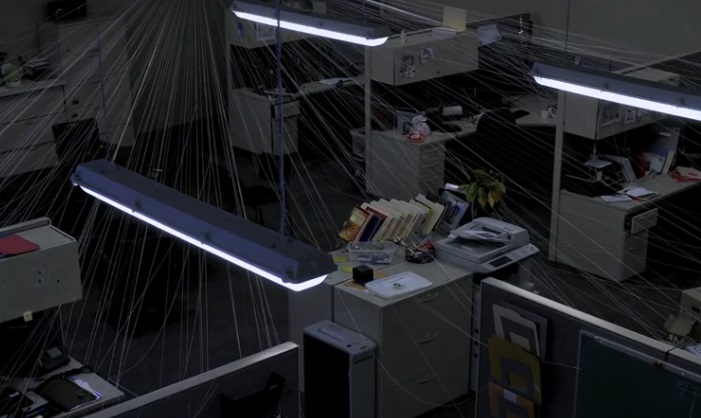 Visionist has announced details of his forthcoming third album, which will include collaborations with Black Midi drummer Morgan Simpson and pianist Matthew Bourne.
Louis Carnell aka Visionist has also shared the evocative new video for 'The Fold', the first full track to emerge from his forthcoming third album. The album, titled Call To Arms, is the first for the London-based, former Big Dada artist's new home Mute Records. It also marks his first forays into song and lyric-based music, with 'The Fold' featuring the voice of Haley Fohr (Circuit Des Yeux), who heads a list of guests that also includes experimental saxophonist Ben Vince, multimedia artist and opera singer Lisa E. Harris; experimental multi-instrumentalist KK Null, Ben Romans Hopcraft (Childhood) and artist and producer Wu-lu.
The video was created using footage filmed of Jonathan Schipper's 2016 installation, Cubicle, from the Rice Gallery in Houston, Texas. Its footage of abandoned offices entangled in spider webs certainly takes on a new perspective in this work-from-home age of the pandemic though.
Visionist explains: "The song is about protection, usually a positive action – but not always. I see the action of folding as a form of safe-keeping or the first step to ruin. A fold can also be a protection in numbers or what could be considered a lack of individuality." He continues, "Every Birdcage should have a door that is controlled inside and out, it is not enough to be admired if you cannot admire yourself."
Talking about the video, he adds, "I've been thinking a lot about, and acting on the notions of repetition, routine, control. I came across Schipper's Cubicle exhibition a few years ago, so when we first went into lockdown, it came to mind. The Cubicle demands patience and seeks evolution. At the beginning of lockdown there was a lot of Hope for new thought, but it was the creatives call for destruction under the old rule."
* 'Call To Arms' is scheduled for release on March 5