Not the Hootenanny – our guide to NYE 2020's hottest streaming parties
To quote the wise and oft repeated words of Jez in 'Peep Show' – "Not the Hootenanny! Never the Hootenanny! We're better than that."
This year there's even less excuse than normal for settling for the questionable entertainment on offer via Mr Holland and his chums, if indeed he is allowed to gather them together. To be frank, we haven't checked.
With nightclubs and venues shut and pub life either severely curtailed or completely non-existent, depending on where you live, it's inevitable that we'll turn to the internet in search of top quality musical entertainment. There's plenty of it about too, from stadium-sized acts to more grass roots affairs, in both live and DJ form.
Just take your pick from our list and be glad that, for once, no-one's going to throw up on your shoes or charge you six quid for a small bottle of tepid lager. All that, and you're only a matter of feet away from your bed when it all gets too much.

The Hacienda
WHAT: Manchester's most famous club lives on in virtual form long after the Factory empire crashed and the developers moved in. They're staging a free 24-hour NYE livestream party in conjunction with United We Stream GM
WHO: An all new Hacienda Classical, Inner City and Phuture live, a special tribute to Frankie Knuckles from 2013, the ever wonderful DJ Paulette, Danny Tenaglia, David Morales, Greg Wilson, Jon Dasilva, Todd Terry and Norman Jay MBE.
WHEN: 10am GMT on NYE
LINK: Click here


Exit Festival
WHAT: Classic live performances from the archives of Serbia's world famous Exit Festival.
WHO: Prodigy, Faithless, Pet Shop Boys, Nile Rodgers & Chic, Moby, Motorhead, Cypress Hill, Snoop Dogg.
WHEN: 21:21hpm CET
LINK: Click here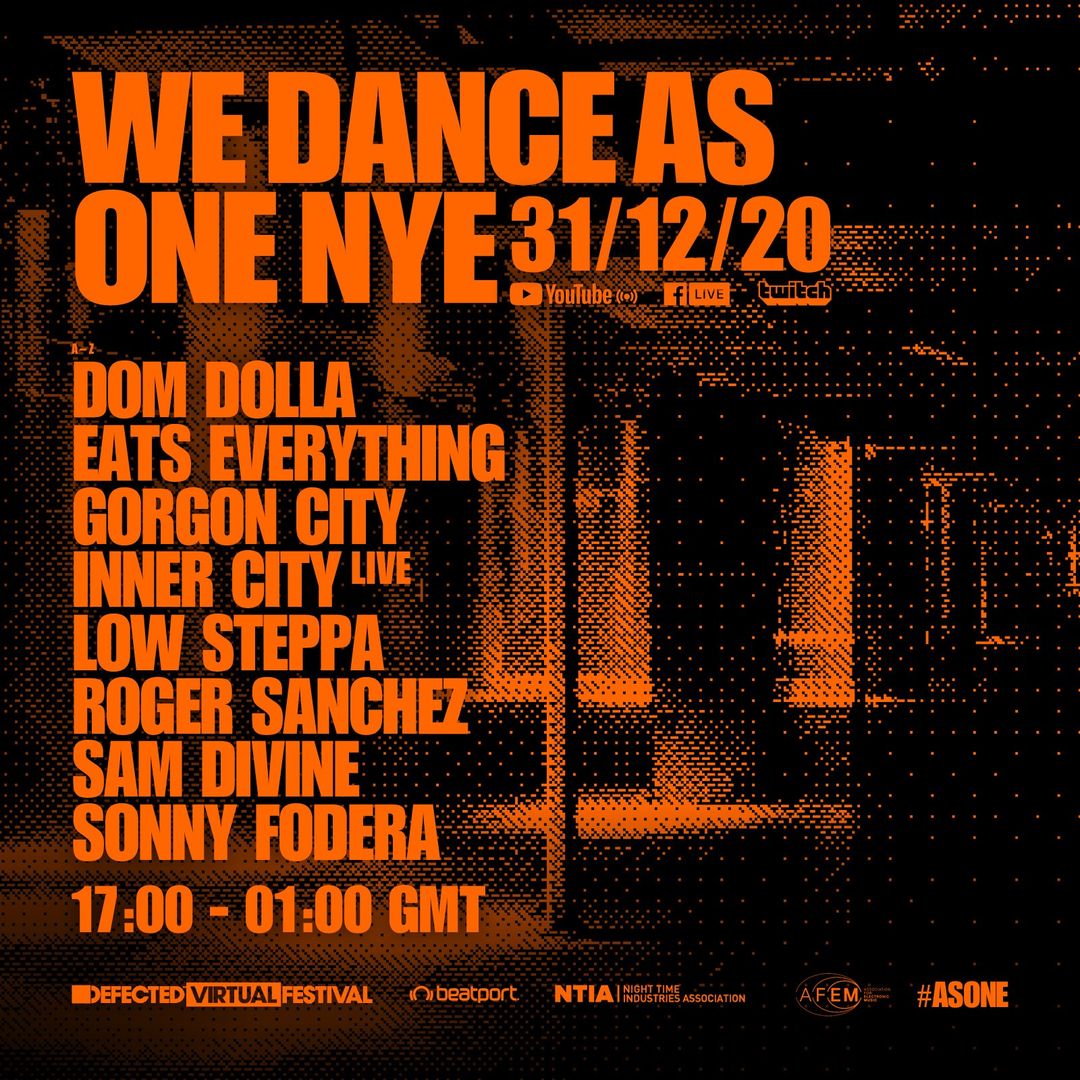 Defected, We Dance As One
WHAT: House label Defected in action, bringing a selection of global talent.
WHO: Sonny Fodera and Gorgon City live and direct from Printworks London, Sam Divine, Low Steppa and Eats Everything delivering the first-ever live streams from the brand new Defected HQ in East London. Plus there's Dom Dolla joining the party from Melbourne, Roger Sanchez in Miami and Inner City representing the Motor City of Detroit.
WHEN: 5pm – 1am
LINK: Click here

Optimo
WHAT: Legendary label representing their unique take on acid, techno and house culture
WHO: Veteran DJ duo and Pure residents J.D. Twitch and J.G. Wilkes said there was no way they were going to miss their 21st Hogmanay in a row, so they teamed up with Mixcloud to bring the (ticketed) party to life online.
WHEN: 10:30pm – 3am GMT
LINK: Click here
Rave To The Moon
WHAT: Some of the biggest DJs and MCs playing live from various venues around the world, including the Royal Albert Hall, and raising heaps of cash for charity in the process.
WHO: Mr Scruff, DJ Yoda, Beardyman, Nitin Sawhney, Felix from Basement Jaxx and many more.
WHEN: 8pm – 1am GMT
LINK: Click here
Woodbridge Festival

WHAT: Twelve socially distanced live events – yes, someone, somewhere actually got to go out in 2020 – in the wilds of Suffolk, captured and broadcast over NYE.
WHO: Red Snapper, Justin Robertson, Kirst Allison. Leee John of Gorillaz/Imagination fame head the bill.
WHEN: Times vary, check event page below.
LINK: Click here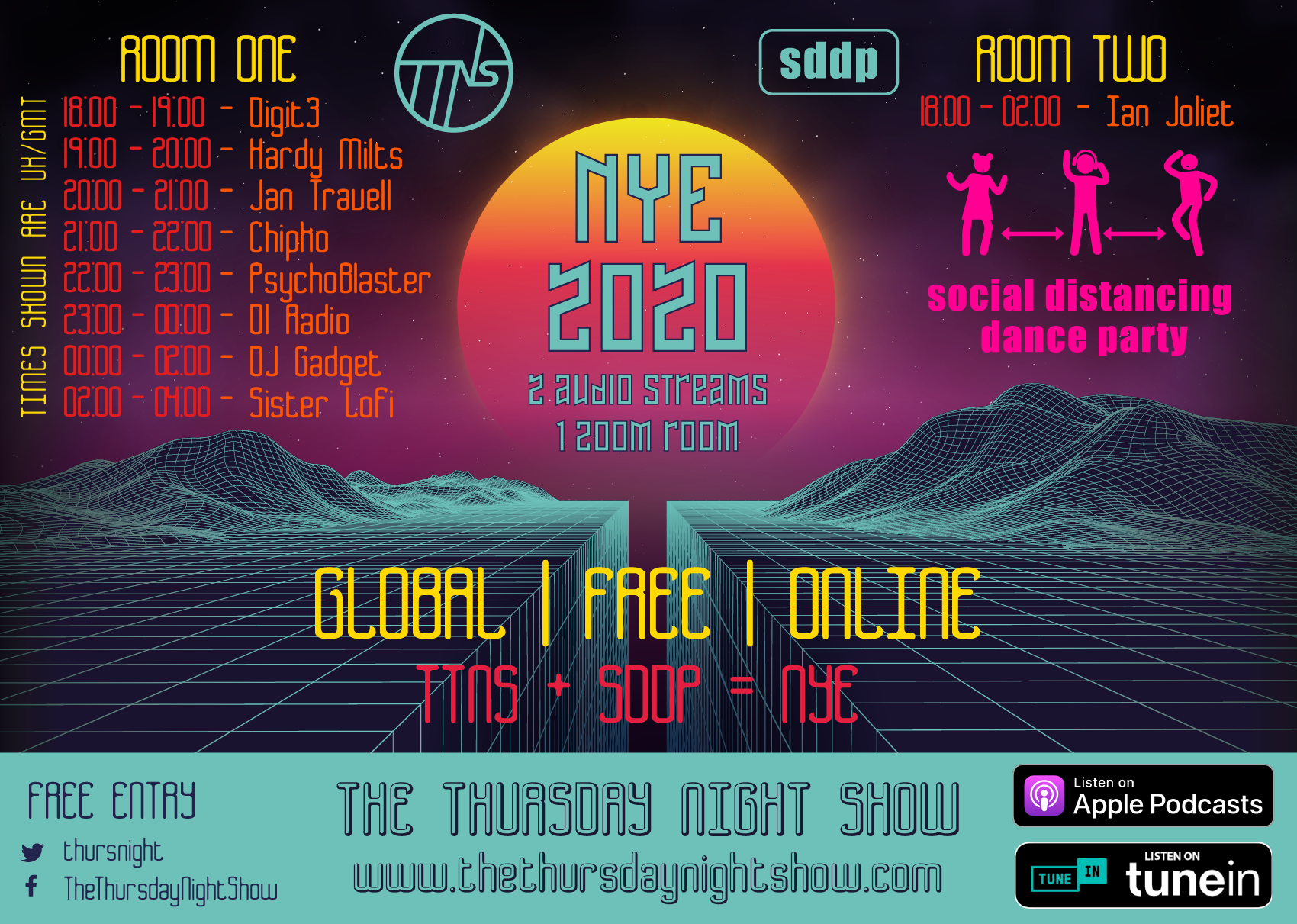 TTNS + SDDP

WHAT: Social Distancing Dance Party honcho Ian Joliet was one of the first onto the streaming party bandwagon, performing week in week out throughout lockdowns, first and second waves and that little bit when we wondered if things might actually get back to normal. Here he teams up with a host of techno, trance and other DJs to do his thing, which is usually combining the unexpected with the underexposed, playing everything from Motown to weirdpop.
WHO: Joliet staffs room two, while Digit 3, PsychoBlaster, DJ Gadget and others bash out the bigger beats in room one.
WHEN: 6pm – 4am GMT
LINK: Click here