PreSonus's studio in a box offers everything you need to get started making music or podcasts.
Over the last few decades, the idea of a studio in a box has evolved. In the 80s, you could have used that term to describe a cassette-based four-track recorder; in the 90s, the idea of the DAW was born; today, the closest thing would probably be a studio bundle like PreSonus's AudioBox 96 package. Designed to include everything you need to get started making music, creating podcasts or recording radio shows, the bundle is the closest thing you'll get these days to a studio in a box. You'll need a laptop or desktop computer to plug it all into and run the included software, but otherwise it includes everything you need, from the big stuff like an interface, mic and headphones, down to the essential little accessories like cables and a mic stand.
The centrepiece of the entire setup is the AudioBox USB 96 interface, the box which allows you to get sound in and out of your computer. It offers two audio inputs, each of which can take a microphone or an instrument, two outputs and a headphone socket. Connected via USB, it's solid, well built and reliable, plus easy to use. For the brand's 25th anniversary, the box gets a stylish new black paint job, but that doesn't change its performance compared to the standard version, which is impressively clean and clear. At this entry level price point you expect clear sound and accurate recording these days, which the AudioBox delivers. It also includes MIDI in and out sockets, the protocol that allows you to connect hardware such as controller keyboards, synths and drum machines to expand your setup as your production skills evolve.
The M7 microphone included in the bundle is a good basic condenser model. Condenser mics are typically more detailed and nuanced than cheaper dynamic mics, making them good all-rounders for recording vocals (whether singing or speech) and instruments of all types. A microphone cable is provided and a small desktop tripod-style microphone stand allows you to get started, although we would suggest that a full-size mic stand would be a worthwhile investment once you start to get a bit more serious about your recordings.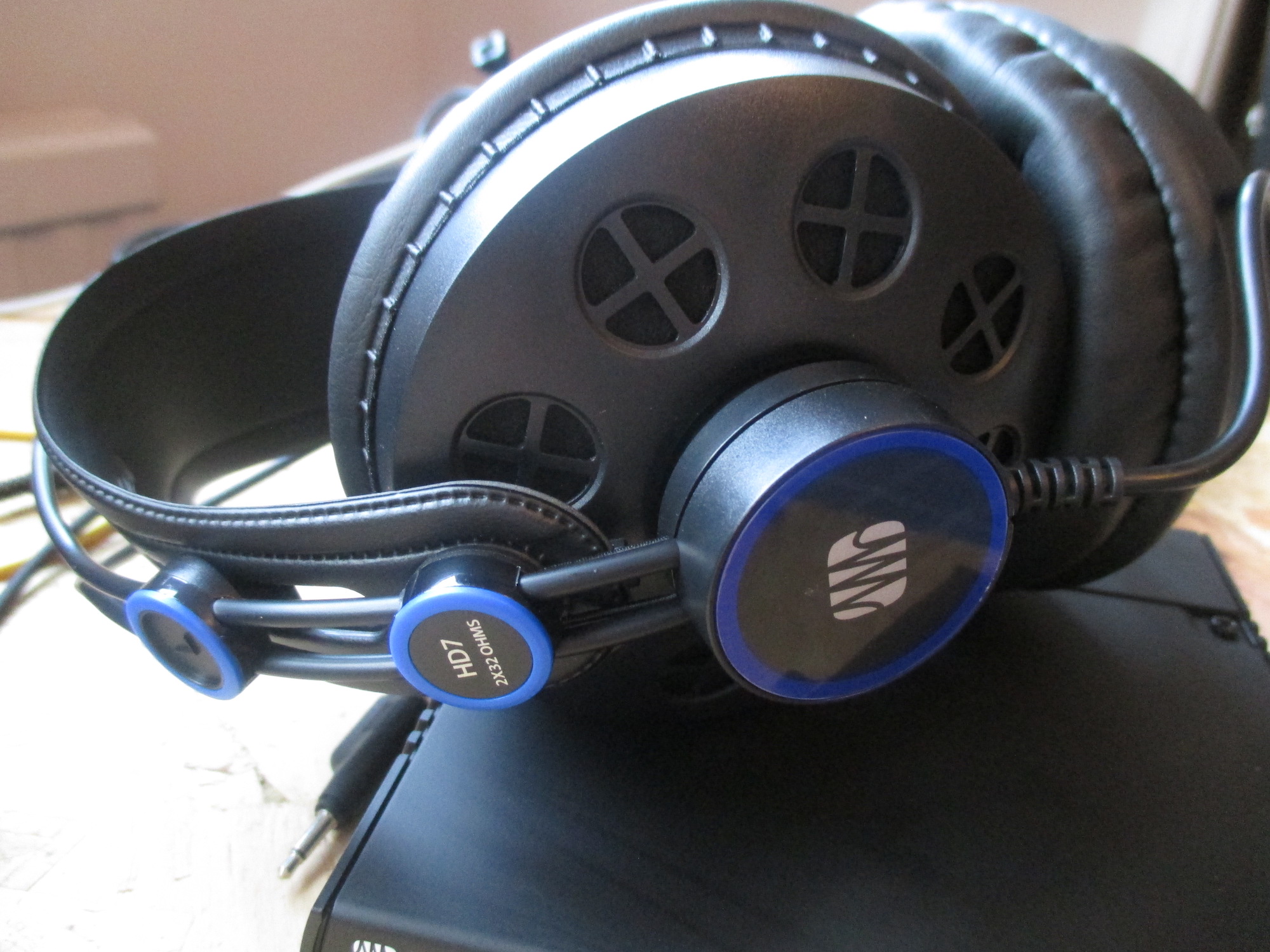 To hear what you're doing properly, the HD7 headphones are designed specifically for studio use, with a semi-open-backed design that allows some sound to spill out but produces a more natural, realistic sound. They're an impressively revealing pair of headphones at this price point and allow you to hear the details of your music effectively. In an ideal world, of course, you'd have a pair of studio monitors to allow you to listen back to your music with clarity and precision, but the headphones are enough to get you started (and for bedroom studios they give you the benefit of being able to work quietly without disturbing housemates and neighbours). Almost all studio environments use headphones alongside speakers, so if and when you eventually add monitors to your setup the headphones will still be useful.
The final piece of the puzzle here is Studio One Artist, PreSonus's software package. It's a very good DAW (digital audio workstation), allowing you to record, produce and mix music using its built-in virtual instruments, synths, sampler and effects. The hardware in the AudioBox bundle is all compatible with other DAWs if you'd prefer to use something like Logic, Ableton Live or Cubase, but Studio One Artist is a very good piece of software that's easy to get to grips with if you're a complete newcomer to production.
The AudioBox 96 studio bundle represents how far we've come with entry-level recording setups. The affordability alone makes this an appealing package, representing a decent saving over buying all the hardware and software separately. More importantly, it's a truly competent setup that allows you to get started with the basics of making music. In other words, it's a fitting anniversary celebration for PreSonus. Here's to the next 25 years.
Greg Scarth
More info/buy