Continuing the legacy of DIY synth guru Ray Wilson, Elettrorama's compact synth offers an affordable introduction to analogue sound.
DIY synth enthusiast Ray Wilson sadly passed away in 2016, but his legacy lives on via the brilliant designs he created and shared under the banner of his Music From Outer Space brand. ourtesy of Italian synth brand Elettrorama, who produce officially licensed, ready-built versions of MFOS products with the blessing of Wilson's family. The brand's Minisynth Plus is an updated version of the Soundlab Mini-Synth, one of Wilson and MFOS's most popular designs.
Elettrorama's synth is a mildly tweaked version of the original design, designed for those who don't feel comfortable with the relatively tricky DIY build of the MFOS circuit, but want to experience the synth itself. It's a simple, user-friendly analogue monosynth with two oscillators, a state-variable filter (switchable between low-pass and band-pass settings), a simple envelope generator and low-frequency oscillator for modulation.
The Mini-Synth is a fairly basic synth, but the SLMP+ makes things a bit more user-friendly and versatile with the addition of a built-in MIDI interface, pitch bend, modulation, portamento and a sample-and-hold circuit. All in all, it's a setup that seems tailor-made for newcomers to analogue synths: convenient and user-friendly, with a classic analogue sound and features that will teach you transferable synthesis skills that you can apply to most other hardware synths.
Starting from the oscillators, it's clear you've got a strong basis for a decent analogue sound here: the raw oscillator tones go from smooth and deep pulse waves through to an edgy sawtooth, while the switchable modes of the filter give you plenty of options for crafting classic analogue sound. The filter could be described as being somewhat generic if you were in a critical mood, but for a synth of this type it's probably better to have an all-rounder rather than something which imposes a distinctive character on every sound you try to make; you wouldn't want something overly subtle or something overly aggressive and harsh. The sound of the SLMP+ is its main selling point, which should be the case for any synth, but that isn't necessarily true. Here we have a proper old-school synth with a raw, no-nonsense sound and a straightforward design.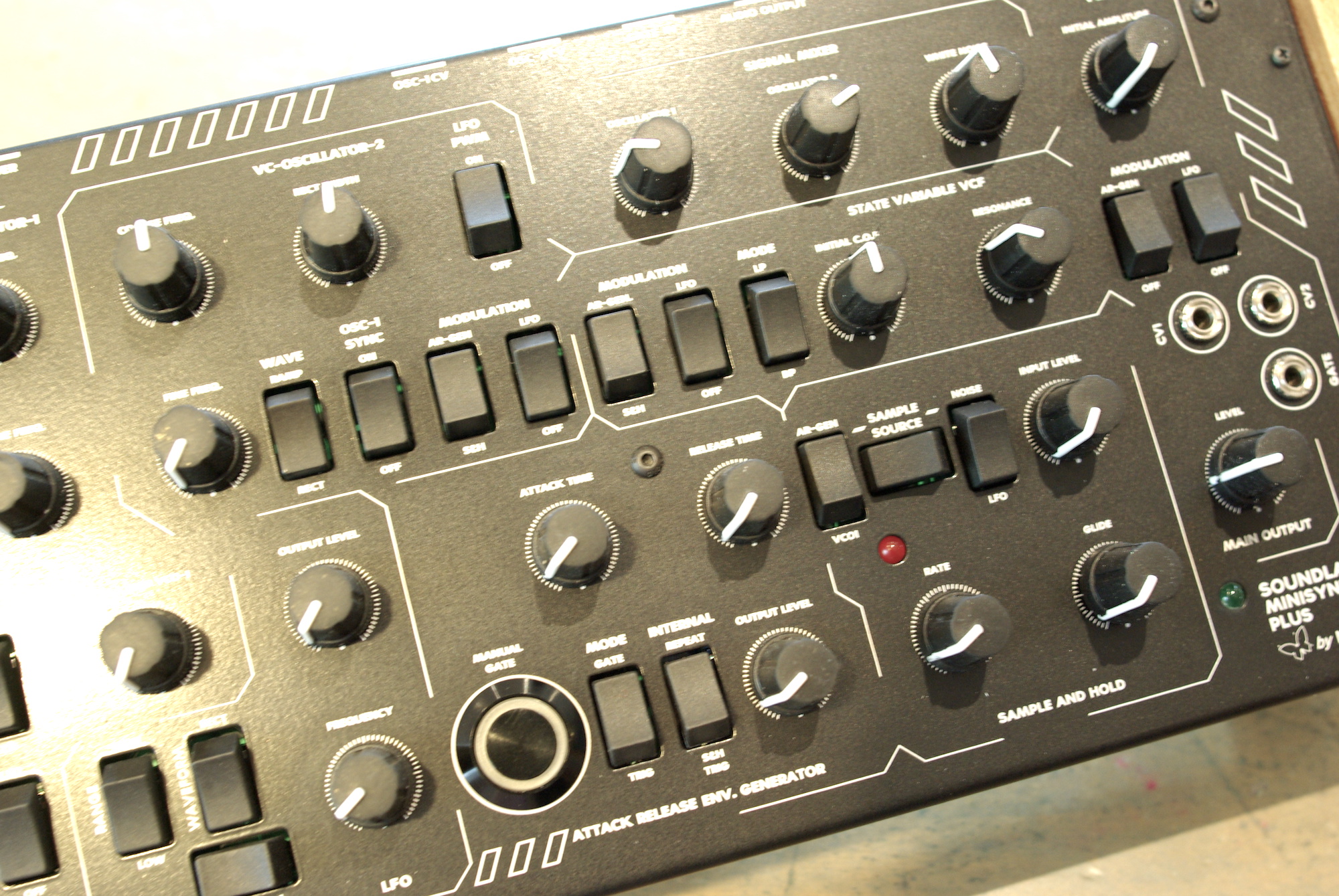 Build quality is reasonable for the price point, if not completely bombproof. The feel of the switches and knobs seemed a little inconsistent at first but quickly evened out with use, while the enclosure and wooden end cheeks are basic but well built. Elettrorama aren't a giant manufacturing outfit, and you wouldn't expect the same slick finish that you might find on a Korg or Roland synth, but the construction and feel of the unit are good for the money.
All in all, the Soundlab Minisynth Plus is a fitting tribute to Ray Wilson and the impact of Music From Outer Space. Wilson's enthusiasm for synths was matched by his desire to share his creations with the world and encourage newcomers to electronic music. The SLMP+ isn't the last word in pure synth power, but it offers a compelling package for newcomers to analogue synthesis: a little more raw and old-school than most alternatives in this kind of price range, but with a strong analogue sound and a simple approach that teaches you the basics of synthesis.
Greg Scarth
More info/buy