Is it just another DJ mixer or a whole new way of thinking? Here's why Pioneer's new flagship is a statement of intent.
In 1995, Pioneer DJ released the DJM-500. By today's standards, the brand's debut DJ mixer looks almost prehistoric, but the genetic link to the new flagship DJM-V10 is still immediately recognisable.
The DJM-500 established the idea of effects-based mixers, integrating performance options within a digital mixer, unlocking even more creative potential from the brand's recently released CDJs. The V10 is the most extreme incarnation of that idea to date, with more effects, more features, more streamlined connectivity – and, indeed, more channels – than any other mixer Pioneer currently offers.
The fact that Pioneer chose to launch with a six-channel version of its new format is no accident. The brand's previous flagship model was the DJM-2000NXS, a four-channel mixer which has now been discontinued, leaving the four-channel DJM-900NXS2 next in line after the V10. It feels like the step up to six channels is more than just a 'bigger is better' approach to product design. In fact, I'd go so far as to say that the V10 is a statement of intent, largely in terms of how Pioneer want us to think about DJing. Are you likely to hook up six CDJs? Almost certainly not, unless you're Jeff Mills. But look elsewhere in the Pioneer range and you'll understand why it matters. In recent years, the brand has hinted at broadening the scope of DJing, introducing the DJS-1000 sample player and the Toraiz range of synths, samplers and sequencers. The V10 isn't the first six-channel mixer the brand has produced (the long-since-discontinued DJM-1000 took that honour), but it's easily the most versatile.
Pioneer themselves say that the V10 is "built to allow the most creative DJs to craft original soundscapes" and it's hard to argue with that when you consider the changes to the previous DJM formula. The new four-band EQs stand out as an obvious change (and an effective one, with completely different frequencies to the old three-band designs and full -∞ dB isolation on the high and low bands as standard), but another shift comes in the way that effects are now applied. Each channel has what you'd assume to be the familiar Pioneer filter knob but actually operates slightly differently, allowing you to sweep a full 270 degrees after choosing a mode over in the filter control section on the left. The filter knob is sandwiched between a new Beat FX Assign button and a Send knob (you'll also find the same filter and Beat FX controls on the master channel). These relate to the Send section over on the left-hand side of the mixer (which includes two external sends in addition to built-in delay, echo and reverb) and the Beat FX on the opposite side, which themselves include a new Shimmer reverb mode. It's a cleaner, more intuitive approach to effects that quickly begins to feel natural.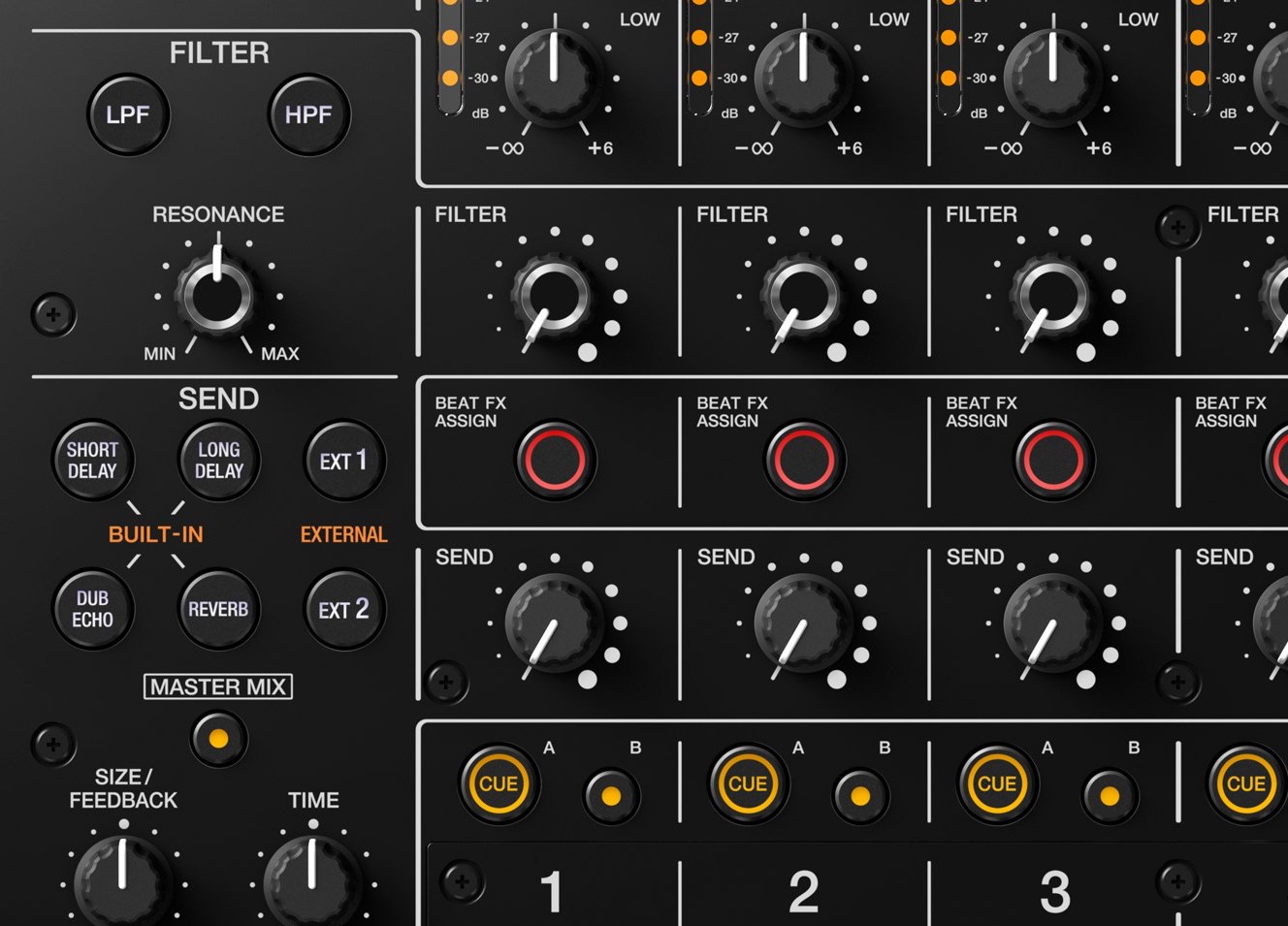 Looking higher up the channel strips gives another hint of this new approach, with each channel offering at least eight sources, followed by the usual trim control but also a new single-knob compressor control for each channel. There are suggestions that this is for boosting the loudness of unmastered tracks, but it feels even more appropriate for use with Toraiz instruments (and potentially other synths and drum machines), as part of a hybrid DJ/live performance. The single-knob approach seems simplistic, but in practice it's effective enough to be useful for controlling dynamics and boosting loudness.
The approach to master controls is also carefully reconsidered, with a new three-band isolator, EQ on the booth monitor output and split headphone output sections for back-to-back sessions. The dual headphone controls are cleverly implemented, with two cue buttons on each channel strip, allowing a pair of completely separate cue mixes at any given time (you can also link the two if you prefer). Presumably for packaging reasons, the left-hand Headphone A outputs are on the top panel and the right-hand Headphone B outs are on the front of the unit, but the fact that they have their own separate controls is neatly thought out, allowing independent control over cue/master mix and level. Headphone A also benefits from pre-EQ and mono split options, making it the slightly more versatile choice for solo use.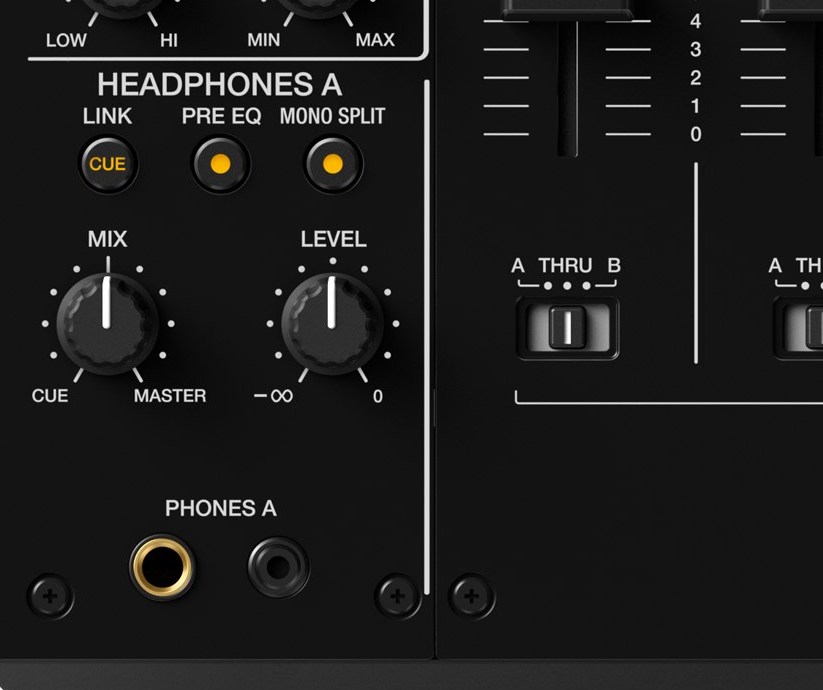 If the V10 represents a new direction for Pioneer, it's a promising sign. There are some layout changes from previous DJMs, and the new approach to effects will take a bit of practice to adjust to, but if you've used any other Pioneer mixer or controller you'll be comfortable with the majority of the layout and the functionality on offer here. The main changes are as much about integration with other Pioneer products as they are about improving the mixer as a device in its own right. There are obvious comparisons with other mixers like the Allen & Heath Xone:96 and Richie Hawtin's Play Differently Model 1, but the flagship mixers of all three brands feel like they take quite distinct approaches.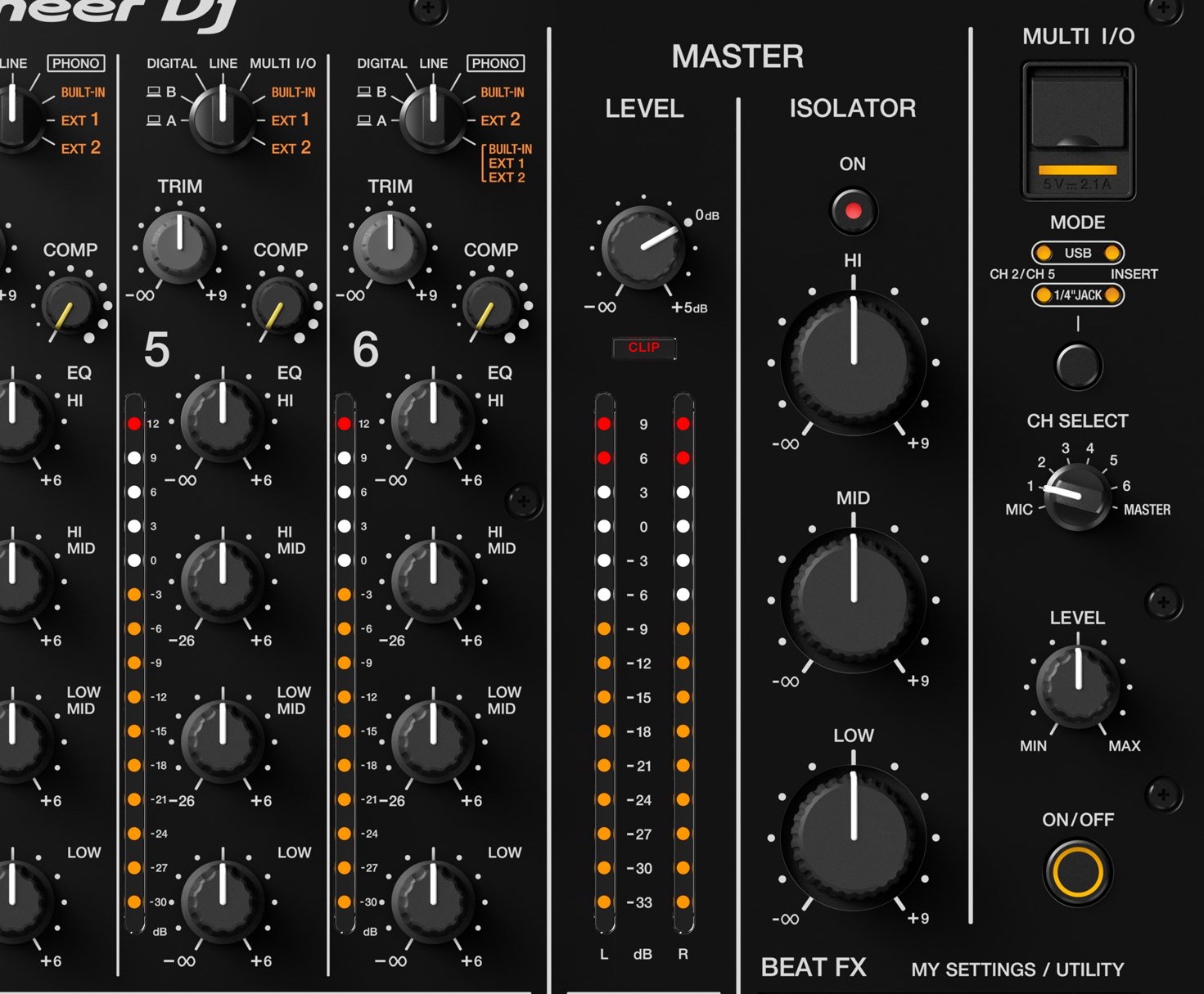 Will this approach continue within Pioneer's range? We expect it will. The trickle-down effect is well established in DJ hardware. We've seen that with Pioneer's CDJ range, in which features of flagship models have always made their way down to cheaper models eventually. We'd be amazed if we don't see a similar four-channel mixer at some point and probably some of these ideas appearing on two-channel mixers in years to come. For many DJs who just want to play simple mixes, the DJM-900NXS2 is probably still more than sufficient, but for b2bs, hybrid live sets and anyone with an interest in deeper sound sculpting, the V10 offers unprecedented versatility.
The V10 feels like the beginning of a new era for Pioneer. There's a strong sense that this represents the start of the new normal. Expect to see a lot more of it in years to come.
Greg Scarth
More info/buy