Erica Bassline DB-01 analogue synth set to land in April. We're still shipping
The boutique brand's unique take on the acid groovebox format is due to arrive next month. Plus: a note on Juno shipping as normal.
A note on shipping during the Covid-19 outbreak: In light of current events, we'd like to give you an update on what's happening at Juno. We're taking the necessary steps to ensure our staff are safe, while continuing to deliver your orders as normal. All orders are being sent as usual, and if you order before 5pm GMT your order will be despatched the same day. We have an in-stock guarantee, so everything that is showing as in-stock on the website is in our warehouse and ready to ship to you. Find out more here.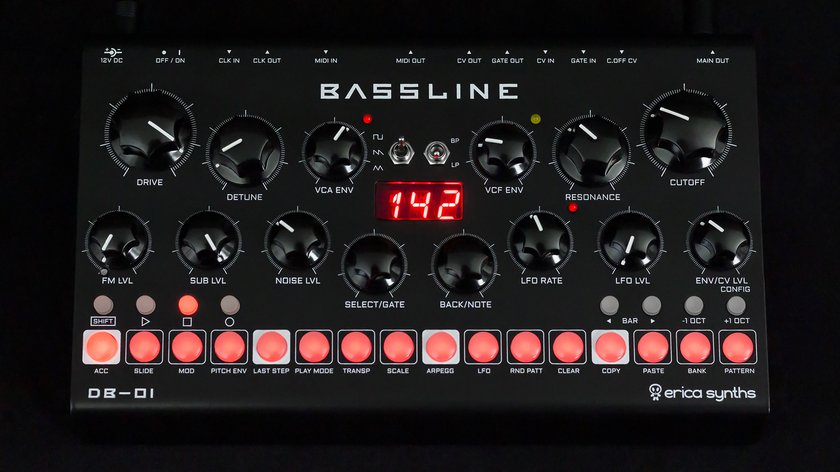 Latvian boutique synth brand Erica Synths has announced that its Bassline DB-01 synth will be shipping from April. The fully analogue groovebox was unveiled at this January's NAMM trade show in California.
The combination of a bass-focused synth with a step sequencer is a popular one, but many of the currently available options are heavily inspired by the classic Roland TB-303. That's not to say they're not good instruments in their own right, but most of our favourites – like the Cyclone Analogic TT-303 BassBot and Roland TB-03 – are designed to sound as close as possible to the old Roland classic.
The DB-01 does things a bit differently. It's based around a single oscillator and the brilliant low-pass/band-pass filter taken from the brand's Acidbox synth, teamed with independent envelopes for amplitude, filter cutoff and pitch. There's a sub-oscillator generator, syncable LFO, 64-step sequencer and a detune effect based around a bucket-brigade device (a kind of analogue delay chip). All of which makes it a seriously meaty bass synth, as the early sound clips clearly demonstrate.
The DB-01 will be available in April, priced at £476. You can check out full details here, including adding it to your wishlist or requesting an email notification when it comes into stock.
Scroll down for a sound demo of the synth and videos of some of the brand's other synths and modules.