A rare 70s analogue drum machine gets reissued with a few modern twists. Does its sound justify its unusual approach?
When discussing reissues of vintage instruments, it's standard practice to explain which artists have used them, which tracks they can be heard on and why their contribution to music is noteworthy. On this occasion, that's not really possible. The truth is that the original 70s MFB-301 wasn't hugely popular, and it probably didn't feature on any of your favourite records. Cult classic, not bestseller? Maybe. But even that might be a stretch.
So why is the 301 relevant? Firstly because it might just be a bit of a lost classic, but secondly because it offers an interesting alternative to some of the more mainstream drum machine options around this affordable price point.
The new 301 Pro is billed as a reissue of the 1979 original, but it's a little more complicated than that. Firstly, it incorporates the clap circuit from the later MFB-401 model (the 301 didn't have a clap), giving a total of eight analogue drum sounds: bass drum, snare drum, clap, tom, bongo, claves, cymbal and hi-hat. Among other tweaks, the most notable is the inclusion of comprehensive MIDI control. Given that MIDI wasn't invented until a few years after the original 301 was designed, it's an entirely logical update, expanding the potential of the unit and making it easier to work with – in fact, as we'll explain, it's probably best used as a MIDI device rather than a standalone unit.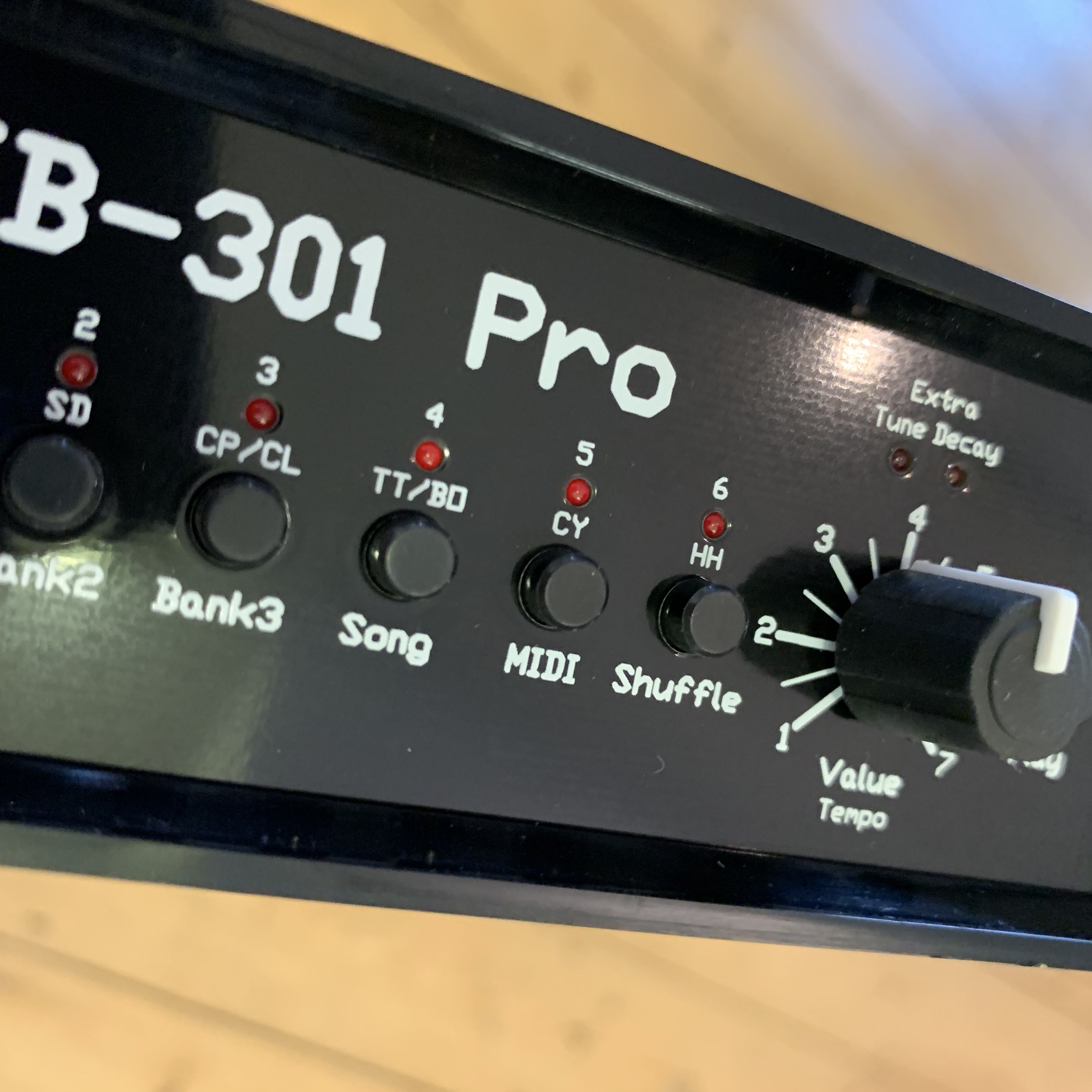 The 301 Pro is housed in one of MFB's typically utilitarian cases, an ultra-lightweight little black box that features little more than a row of buttons and one rotary pot on the front panel, plus a smattering of connections on the back: a micro USB port for power, sync input, 5-pin MIDI socket, stereo line out (all sounds are mono) and headphone socket. As you might suspect from the limited range of controls, it's a fiddly experience to program patterns but the sound is well worth it: solid, deep kick drums, snappy clap and snare, plus hi-hats beautifully splashy and organic, a bit like a Roland TR-606.
I must confess that it only took a few minutes for me to get a bit frustrated with attempting to program the unit via the front panel and resort to controlling it over MIDI instead, but doing so revealed that the 301 Pro is more versatile than the size of the unit might suggest. Parameters like tuning, decay and attack for individual drums can be adjusted using MIDI CC signals, but there are also specific MIDI notes (listed in the manual) which can be used to trigger pre-defined combinations of sounds and parameters. Playing from MIDI notes #66 to #72, for instance, triggers seven different variations on cymbals and hi-hats, with longer and shorter mixes or different tonalities. Jamming with a pad controller, I quickly found myself channelling my inner Jeff Mills. The sounds lend themselves to techno and electro in particular, but really they're such classic stuff that they work for pretty much anything, in much the same was as an 808 or 909.
The setup is ultra basic in a lot of ways, but it's important to remember the context of the original unit: the 301 predated similar drum machines such as the TR-606 by a couple of years. The equivalent Roland model in the late 70s would have been a basic rhythm machine like a TR-66. Even their flagship model of the era, the CR-78, was largely a preset machine with very limited programming capability and virtually no control over the sounds.
MFB are more than capable of designing feature-packed drum machines, as evidenced by their Tanzbär models, but that would no doubt have bumped the price up significantly. In fact, the 301 Pro is specifically designed to play nicely with those more expensive models, capable of acting as a supplementary sound source to expand their range of drum circuits. There's no denying that the 301 Pro is fiddly to use via the front panel controls, but linking it up to a DAW or a controller like an Arturia BeatStep Pro unlocks its huge potential.
The 301 Pro is a fascinating little device, limited in some ways but packing sound that you'd expect from a much more expensive drum machine. It's certainly not as slick or polished as a Korg Volca Beats or the more expensive Roland TR8S, but I suspect it'll appeal to an entirely different kind of person. The point of the 301 Pro isn't to be a modern drum machine with all the bells and whistles, but a link to the past. It's got history, it's got heritage, but above all else it's got a unique and appealing sound all of its own. Yes, it makes you work for it, but if you're looking for an alternative to the usual suspects, the 301 sounds fantastic.
Greg Scarth
More info/buy