Not Waving's Redacted gets Ecstatic reissue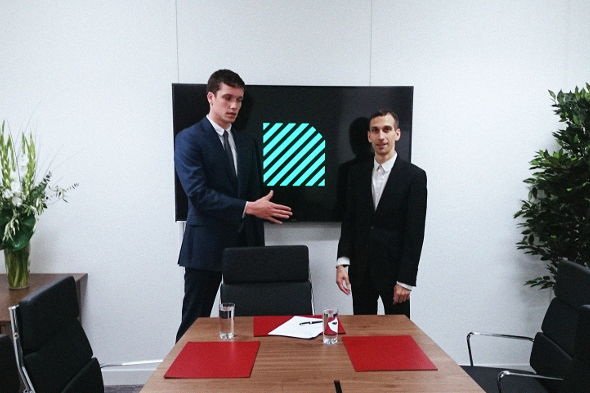 Alessio Natalizia's earliest works under the name are to get a fresh vinyl edition. 
Whilst Alessio Natalizia is busy accompanying a very hungover-looking Oscar Powell on a Diagonal US tour, news arrives the London-dwelling Italian's Ecstatic label is set to revisit one of his earliest Not Waving documents. The Not Waving project came to life back in 2012 when Natalizia and his Ecstatic label mate Sam Willis were between albums as Walls and has since grown to be quite the prolific outlet for the Italian. The recent Animals album for Powell's Diagonal (announced with the above classic press shot) coming after Not Waving long players on Ecstatic and Emotional Response as well as an espionage-themed split LP with Pye Corner Audio.
Not Waving is also a project that has zigzagged between formats and his second album, Redacted, has just been reissued by Ecstatic on vinyl some three years after it saw initial release as a highly-limited gold cassette. Consisting of eight tracks, all called "Redacted", the album expanded on the "classified" themes of his Remote Viewing-inspired debut LP Umwelt and drew into even murkier territory. Newly remastered for vinyl by Matt Colton, this Not Waving refresher can be sampled with the brutish EBM pump of the second redaction available to stream in full below.
Ecstatic will release Redacted by Not Waving on August 26.
Tracklisting:
1. Redacted 1
2. Redacted 2
3. Redacted 3
4. Redacted 4
5. Redacted 5
6. Redacted 6
7. Redacted 7
8. Redacted 8
Ecstatic on Juno