Via App announces new album, Sixth Stitch
Break World Records will release the New York-based artist's latest long player.
Now based in Brooklyn, Dylan Scheer cut her teeth on the Boston noise scene and made quite the statement with her debut for 1080p in late 2014. The 'post-hypnagogic' sludge of her Dangerous Games tape still stands as one of the most frazzled collections of techno the Vancouver label has released to date. This talent for moulding sounds on the verge of falling apart into something danceable translates to Scheer's live performances as Via App with Brendan Arnott memorably stating her set at last year's Sustain-Release caused "someone to thrash their head right against the speaker for the better part of an hour, drunk on the chaos."
Recently announced as a performer at this year's edition of Unsound in Krakow, Via App will follow up a 12″ on 1080p last November with a new album for the wonderfully-named North Carolina label Break World Records. Taking the name Sixth Stitch, the album weighs in at an impressive fifteen tracks and sees Scheer follow the likes of Elysia Crampton and James Ferraro in working with Break World. A special mention should be made for the vivid, fantastical album artwork which comes courtesy of Ben Mendelewicz, a New York-based illustrator known for his work on comic books as well as commissions for the likes of Adult Swim, Stussy and Funny or Die.
Break World Records will release Sixth Stitch by Via App in October.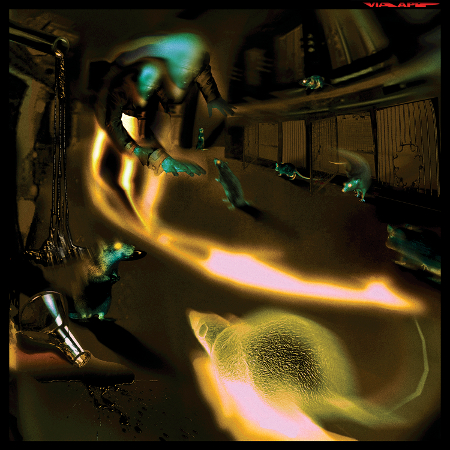 Tracklisting:
1. Far She
2. Phantom Dictation
3. Get in Line
4. Visabel
5. String Of Disappearances
6. Selector's Confession
7. Con Artist
8. Sixth Stitch
9. Fevered Proviso
10. Narthex
11. Withered On The Vine
12. Disappearances
13. Savannah Backroads
14. Looking To The Same Sign
15. Airborne Shuffle
Via App on Juno