RAMZi album due on Total Stasis
Phoebé Guillemot will return to the Montreal label with Phobiza Vol. 1: Dia.
Currently in the midst of a European tour, Vancouver-by-way-of-Montreal Phoebé Guillemot has been recording under the name RAMZi for the past three years and has developed somewhat of a singular style over her smattering of releases. It was muggy Montreal outpost Total Stasis that granted Guillemot her debut RAMZi release with Etwal Timoun, a 12″ that doubled up as their own inaugural record and she's gone on to work with 1080p on last year's wonderful Houti Kush album and set the tone for RVNG's Commend See series on another stellar collection, For Haku.
In this period, Total Stasis have developed their own aesthetic thanks to a clutch of zoned out records from Aquarian Foundation, Anom Vitruv, CS & Kreme and Elysia Crampton. As RA reports, Guillemot is now set for a return to Total Stasis with a new album, punningly-entitled Phobiza Vol. 1: Dia, which comes with the following rather cryptic note: "a cruise thru RAMZi archipelago, noon sun to crepuscular estuary garden." You can stream B-side cut,"Majestic Zouk", below for an idea of how this new RAMZi LP is shaping up.
Total Stasis will release Phobiza Vol. 1: Dia by RAMZi in late-August.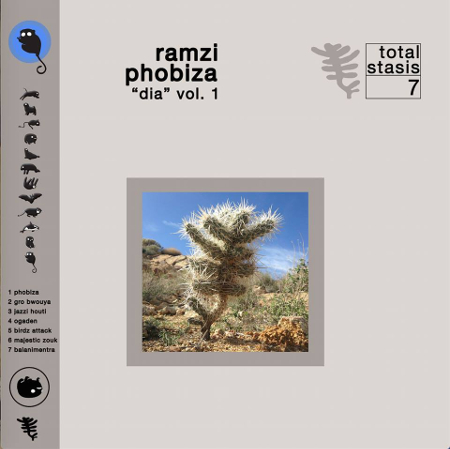 Tracklisting:
A1. Phobiza
A2. Gro Bwouya
A3. Jazzi Houti
B1. Ogaden
B2. Birdz Attack
B3. Majestic Zouk
B4. Balanimentra