Blank Slate hits up Big Mean Sound Machine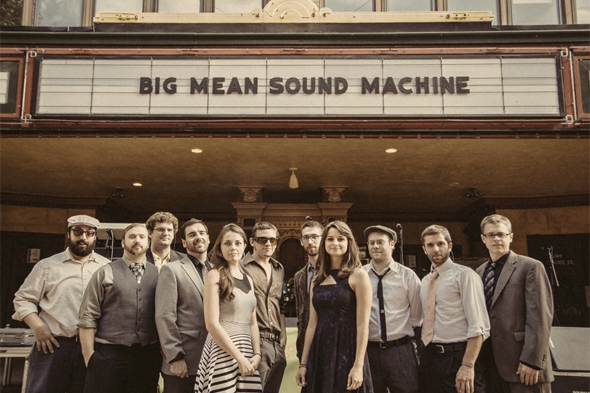 The Berlin house and techno label turns its hand to afrobeat.
Up until now Blank Slate has been a label primarily concerned with intriguing abstractions on the edges of house and techno traditions. From flagship artist René Audiard through to White Visitation, Arnaldo and Shcaa and more, the Berlin-based label has constantly surprised and delighted with the path less followed through dance music. Big Mean Sound Machine are a band that hail from Ithaca, the same upstate New York town that Blank Slate has its roots in (as revealed when we profiled the label in 2014). Largely known as a live concern up and down the East Coast, the sizable outfit (counting up to a dozen players on stage) deals in a modern interpretation of the classic afrobeat sound, channelling the spirit of Fela Kuti et al into a slick, danceable whole.
Having previously released two albums on Angry Mom Records (Marauders and Contraband in 2012 and 2014 respectively), Big Mean Sound Machine have been snapped up by Blank Slate to bring a very different kind of energy to a label more commonly found lurking in shady corners of experimentation. The A-side of the release features three pieces that ably demonstrate the band's full-bodied big band sound in all its glory, while the B-side ties the record to the wider Blank Slate picture. First up label regular Mirko turns out a sensitive 'Retouch' of lead track "Triple Bacon", making the edit process almost unnoticeable as he sharpens certain edges for the dancefloor. René Audiard meanwhile opts for a typically cerebral affair, keeping a minimal house core pumping away underneath disorientating layers of instrumentation twisted into a very different kind of mood. Preview the afrobeat of Big Mean Sound Machine on Blank Slate below.
Blank Slate will release Blank Slate 014 by Big Mean Sound Machine on July 21.
Tracklisting:
A1. Triple Bacon
A2. The New Filth
A3. Sharks
B1. Triple Bacon (Mirko's Edit)
B2. Sharks (René Audiard's Remix)
Blank Slate on Juno