Osaka-based musician Koshiro Hino traces the genesis of his work as YPY along with the development of his birdFriend label in this discussion with Yusaku Shigeyasu.
These days, there is a veritable cornucopia of music genres and sub-genres out there; but there is one that feels somehow peculiar. Leftfield. This term never points to a specific sound, instead representing a distinctive, experimental, freeform approach that strays from any classification. And this is exactly what Koshiro Hino playfully crafts under his solo alias, YPY.
Alongside leading roles in two intense, minimalistic four-piece bands, Bonanzas and Goat, and his new ensemble project Virginal Variations, YPY has put out adventurous, raw cuts mainly via his own birdFriend label. His work is at times tagged as guitar drone, techno or house, if only for lack of a better term. Last year, he debuted on vinyl with the Visions EP for Berlin label Nous, which included dark, moody and dance-orientated rollers outside unspoken rules of club music. It is followed by his first full length album, Zurhyrethm, set to be released in late June for the Osaka-based EM Records.
One overcast, humid May afternoon that hinted at the early advent of summer, we met up near Hino's home in the quiet residential area of Tanimachi, Osaka. Still charged up from the excitement of a Bonanzas performance the previous day at Conpass, his home venue, I sat down with the 30-year-old iconoclast at one of his favourite curry restaurants to discuss his unique approach to musical exploration over a few cups of chai.
Hino's early 20s sound like an interesting time; besides playing in Bonanzas and Talking Dead Goats "45, which would later develop into Goat, he was inspired by Derek Bailey to attend free improvisational sessions with the likes of Takeshi Ueno from Tenniscoats and Masahiko Okura, a former bass clarinettist for Otomo Yoshihide's New Jazz Orchestra. As well as being part of the city's band scene in the late-00s, he was a regular at Flower of Life, an enormously influential party launched by BetaLand after their life-changing experience at Burning Man. There, Hino would get lost in the psychedelic sets of CMT and DNT, which stretched from obscure disco all the way to deep techno.
In 2012, Hino bought a disused Roland sampler from a member of the interdisciplinary art project Shinai Kankei, formed by Yoshinori Henguchi, a photographer who would go on to shoot publicity pics for Goat. It represented his first foray into the world of electronic music gear and he soon began to immerse himself in it. "I'd always wanted to have a go at programming since I'd only had some guitars and stuff like pedals before," recalls Hino. "I was going to do something completely different with this sampler. That was how YPY started." With that, Hino sips his chai. His demeanour is remarkably humble, which is curiously at odds with his austere persona as the bassist at the Bonanzas live show, not to mention the ambitious productions he has been at since day one.
With the much-anticipated sampler in hand, the electronic artist-to-be didn't turn to vinyl as a sound source, instead downloading a drum machine app onto his mobile. He just felt his way around the sounds, which yielded tens of rhythm patterns all on a single BPM. Lacking the know-how, however, he recorded them manually, rather than in the automated mode, ending up with slight difference in the length of each sample. "It had taken about six hours by then and I got bitterly disappointed when I realised what had happened," Hino says with an infectious laugh. "I'd been recording with an idea that it was going to be a polyrhythm or something when I played some samples together. On second thoughts, I was like 'it's not too bad listening to the patterns out of sync. Why don't I just keep at it a bit more?' He continued in this fashion, "I spent another six hours finishing off all the patterns I programmed. It took the whole day in the end." In combining them, he gave birth to YPY's first ever electronic track, "Zurhyrethm".
Forming a three-part suite, "Zurhyrethm" employs several layers of lo-fi percussion taken from presets, strewn with unmatched clatters. Strangely enough, the result is a stuttering, footworky beat that emerges out of the apparent perceptual disorder. The title comes from 'zure rhythm,' Japanese for 'rhythm out of sync', with Hino wittily embodying the meaning by swapping its syllables. Originally issued as a self-made CDR in 2012, it hit the shelves of Newtone and Naminohana, two of Osaka's most popular record stores, which are known to music connoisseurs with a penchant for esoteric sounds. It was also sold at venues where Hino performed his solo live shows while part of the Boredoms' guitar orchestra during their European tour.
It wasn't until last year, however, that YPY's first effort caught the eye of EM Records founder Koki Emura, who has sought out forgotten gems from across the globe while offering newly recorded materials, such as the recent stellar Na Mele A Ka Haku reissue and its reconstructed EP by Compuma. Their encounter took place at the Akuma No Numa party in Kyoto in 2014, hosted by three music aficionados; Compuma, Awano and Dr. Nishimura, known for the Discosession fame with Chee Shimizu. Emura was featured as a guest and Hino, a great devotee of the label, handed him a promo CD of Goat. Months after the night, hearing his wish to release on the imprint, Emura phoned Hino up and they agreed to make an album out of his archive. Of the bewildering variety, which ranged from 4/4, drone, noise, and even to tunes with a pop sensibility, it was YPY track "Zurhyrethm" that caught his attention, leading to the album of the same name.
Most of the tracks on Zurhyrethm, a collection picked from over 70 tunes of YPY, were made a year or so after the accidental conception of the title track in 2012. Following the sampler, Hino bought a cassette MTR and Roland MC505 and increasingly dedicated himself to home recording. Yet with little understanding of programming, Hino never did things by numbers, going through a process of trial and error by multi-recording on tapes, imitating a sound collage piece, playing it backwards and altering its playing speed on the MTR, which led him to spawn three album's worth of tracks.
To narrow down this overwhelming archive of demos, Emura let Hino's sworn friend Yosuke Yukimatsu in on the selection work in the hope that the latter's experience mixing dance music with noise and other experimental genres at local club nights would generate a wider appeal. Yukimatsu delivered the goods and chose roaring floor-friendly cuts like "Bugs Groove," a "homage to Bags' Groove by Miles Davis." It provides a marked contrast to the balmy "Dreams," which offers a soothing home listening, like muffled electronic tides lapping against shimmering arpeggios.
So, what did Hino make of their choice? "There are rather unexpected tracks that I wouldn't choose," he responds. "The ones that I think are the best are all left out. I gave them no request for the selection. I just left my tunes to them and waited for the result. So, it doesn't feel like my album somehow, but this is perversely new and curious to me. It gives me a different perspective on my tracks." Pondering further, Hino tells me that listening to what they put together represents "another interesting way of presenting an album. So it feels like it turned into EM's piece rather than mine while I was away. This way of packaging may help prolong the longevity of a piece, like increasing its intensity."
Intensity is a common thread that runs through all of Hino's sprawling productions. It isn't necessarily synonymous with a boisterous, forceful sound. He eschews conspicuous structures or overt arrangements and brings a sonic potential out of sober materials, creating deceptively stark pieces with a dramatic impact that capture and hold the attention from the off. Take "Gazing Beat" in the mid-section of Zurhyrethm. It is a simple repetitive pattern comprised of preset udu, hi-hat and various sporadic electronics. As it unfolds, it exudes an enigmatic, tantalising charm right up to the end.
While Hino always aims at such intensity, he seldom starts writing with a complete picture in his mind. "I'm not making music with a full understanding," he admits. "When there is a certain idea, I'll try it just for the hell of it. I do things without knowing what the consequences might be." Hino tells me his approach sometimes is to leap without looking because somebody might have done that before. "You just throw in these puzzling ideas and expect them to develop into something strange. And sometimes you hit a what-the-fuck thrilling moment that gives you goose bumps, like 'oh, this is not what I was thinking, but it's wicked.'"
As he discusses this creative process, a glint in his eyes reveals the inner excitement Hino feels, betraying his otherwise outer calm. It is this joy in experimentation which is arguably one of the keys to Hino's open-ended aesthetic, enabling him to exploit the unexpectedly inspiring sounds he discovers to great effect. Indeed, in order to maximise these creative opportunities, he voluntarily tries his hands at new machines and follows his instinct without ever referring to the manuals.
In contrast to this experimental approach, however, recent years have seen more of his club-oriented side, especially in the realm of techno. As rhythm is one of Hino's specialties – he devises complex beats on irregular meters for Bonanzas and Goat – it makes sense that he is leaning to techno, a style compatible with groove experimentation. One of the cases is the Visions EP, an antagonistic five-tracker with gloomy atmospherics, rolling low-end and tight, pounding kicks. It is YPY's most floor-ready take yet, its dispersed bleak drums suggestive of the anarchic No Future work from the likes of Neil Landstrumm and Subhead in the '90s. The similar ethos permeates The Rusted U.F.O tape for his own birdFriend label.
This cassette label, established in 2013, has accumulated nearly 30 titles to date. In its catalogue lies an unfettered variety that projects Hino's musical character: an extended dreamy Balearic house track by Bonnounomukuro, Suzmenba's obscure folk song with a goofy vocal atop a clattering broken beat, melancholy machine funk manipulated by Inoue Shirabe, the polyrhythmic exercises of Don't DJ, plus YPY himself. "When I come across someone that strikes a chord, I'll get in touch with them," says Hino. "Despite those interesting talents around me, the scene doesn't seem to expand, and I've always felt like it's too good to remain as it is. I want to keep running birdFriend as a platform for music that nobody wants to release but that I think is great." Hino cites an artist working in the middle of the USA without an audience as the perfect example of who he might approach to release on birdFriend.
To my great surprise, not only does he design all the cover art (depicted above), but he even manufactures the tapes with a cassette duplicator and packages them. "I'm the kind of guy that goes the whole hog when I feel like it," he says of himself. The T-shirt he is wearing is a case in point. It was originally made for Best Friends, a label event organised by Hino last year. He periodically hosts parties, featuring artists and musicians that tickle his fancy, be it bands or electronic music. Through his vigorous activity and DIY spirit, Hino has grown by leaps and bounds over the past year into a spearhead that straddles indie and club in the Japanese underground scene.
Having finished our chai, it feels like the right time to leave the restaurant. By now, the dull weather of earlier has turned to drizzle. Behind curtains of raindrops, rays of sunshine are bursting through murky grey clouds in the western sky. This unclassifiable scene is somehow reminiscent of the elusiveness of YPY's work. One thing is haunting me: leading the bands, producing music, running the label and planning events―what drives him so much? "Whether it's a label or an event or whatever," says Hino in his usual easy-going manner. "I think through my curation I could help curious artists to cross over genres. And once they interact with each other, it may lead to something way more intriguing. With that in mind, I just can't help but dabble in many things, you know." He heads back to his home studio, where his serendipitous journey continues, all the while with a mischievous glint in his eye.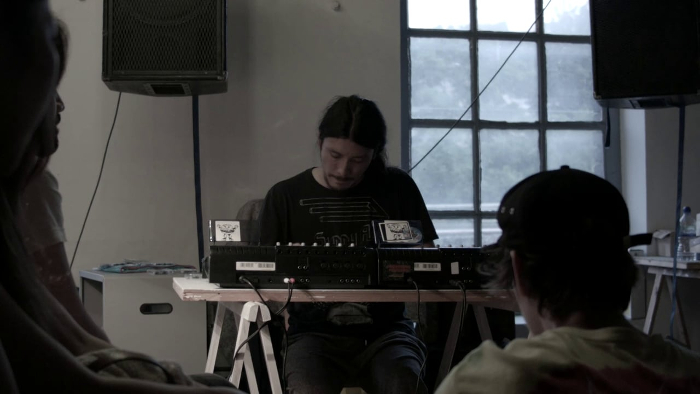 Interview by Yusaku Shigeyasu
Zurhyrethm by YPY is out this month on EM Records (Juno)
Header art based on Zurhyrethm cover