Crate Of The Nation: Rise of the Record Collectors
In the first of two features, Matt Anniss surveys the current climate of record digging, speaking with Zaf Chowdhry, Brian Shimkovitz and Ruf Dug among others.
"Do you dig?"
For DJs of all ages, there's never been a more loaded question. Once upon a time, it was merely a polite enquiry or an enthusiastic conversation starter; these days, it tends to boast much greater subtext. Fundamentally, you're being asked not only about the depth and size of your record collection, but how much your prize possessions cost.
Should you answer with an excitable 'yes' to this most simple of questions, the conversation will inevitably move on to the relative rarity of your records, your willingness to go that extra mile to secure obscure records, and the smallest amount you've spent to secure that killer Brazilian new age record/promo-only New York disco gem/early Detroit techno jam/strange Balearic white label (delete as appropriate).
In some cases, those that pose these sorts of questions aren't actually interested in your answers. Instead, they're merely interested in getting an opportunity to show off their crate digging credentials.
Once, DJs competed with each other to acquire the hottest new white label promos; these days, it seems, everyone is fighting to find the most rare, expensive or obscure old releases. If these happen to have been championed by DJ Harvey, Theo Parrish or Motor City Drum Ensemble (to give three more obvious examples), so much the better.
Of course, dusty-fingered record collecting is not a new pursuit, and many DJ careers have been built on an ability to spot and secure lesser-known (or, for that matter, well known but impossible to find) gems.
In their seminal, 1998 guide to DJing, How To DJ (Properly), Bill Brewster and Frank Broughton wrote: "Many of the best DJs were record collectors first, and DJs second. Ever since northern soul, DJs have known that owning hidden treasures is a sure-fire way to beat the competition". In certain specific scenes – soul, funk, disco, and hip-hop, especially – the ability to sniff out vinyl gold has always been an essential skill.
Today, though, it seems more people are at it, and that those who excel at finding obscure records are becoming celebrated scene heroes. Whereas DJs were once defined by their ability to read a dancefloor, many are now judged purely on the rarity or financial worth of the records they play. Even lower down the dance music pyramid, young DJs promote dedicated "vinyl only" nights to show off their expansive collections, inviting noted record collectors – rather than, say, the producers of their favourite new releases – to become headline guests.
It's certainly a turnaround of sorts. So how have we got here? What's driving the competitive culture of record collecting in the 21st century, and has the Internet age changed the game completely? Are those among this new wave of celebrated "curators" – many of which boast their own archival labels, or compilation series – the real deal, or merely nerds with time to dedicate to researching records online? Most importantly of all, how do we define the art of "crate digging" in 2016?
"Everybody's on it"
Zaf Chowdhry has seen it all over the last 30 years. Now co-owner of London's celebrated Love Vinyl store (pictured above), Chowdhry has spent three decades buying and selling records, first at Reckless Records in Soho, then later as an online seller of obscure and expensive wax.
These days, he's a sought-after DJ, renowned, in particular, for his knowledge of "private press" disco and boogie. So far, he's compiled two volumes of obscure, self-released vinyl for BBE under the Private Wax banner. He's forged a successful career out of his obsession, which first took root when he was a teenager.
"At that age, there was no way I was walking past a record shop – in fact it would have been my first port of call coming out of school," he admits. "That's all I did. We had a local record shop in my area, and it was like a youth club."
Chowdhry has seen the record collecting scene change a great deal over the last three decades, with dancefloor trends – cyclical rises in interest in disco, boogie, soul, funk and Balearica – leading to a thriving crate digging scene.
"Now, basically everybody's on it," he says, laughing. "I can't talk, because, I'm in the business of doing reissues, but now it seems like everything is coming out again – even the really obscure stuff. It's a good thing to be honest, because it highlights how much good music there is out there, that never was discovered in the first place. There's more to come too. This is the mad thing – it seems like it's just endless".
Amongst collectors, Chowdhry is considered something of a 'don'. "I remember I once went to Zaf's house, and within the first 10 minutes I'd heard about £10,000 worth of records," Ruf Dug tells me. "He's just on another level".
Chowdhry looks embarrassed when this story is relayed to him. "I've started selling some nice stuff out of my jazz collection now," he says. "I'm getting to the age where I can sell five, six records, raise £500 or £600, and then buy a new shower, which I use every day. It's just a matter of priorities."
Until the demands of running a business and parenthood took over, Chowdhry would frequently make trips abroad to hunt for wax – something that has always been considered a badge of honour for serious crate diggers. "I've not been for about 15 years, but before that I used to head over to America once a year," he says. "There's nothing better than going somewhere and digging yourself in obscure places. Each year it gets harder and harder, but people are still doing it. Every record that is owned by somebody is just going to be owned by somebody else one day. All these rare records I'm sitting on, they'll be in someone else's collection one day, because vinyl circulates".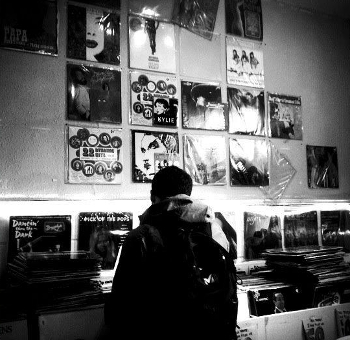 Many of the most celebrated 'diggers' in the scene, from Redlight Records trio Tako Reyenga, Jamie Tiller and Abel Nagengast, to Athens Of The North founder Euan Fryer, and Psychemagik man Danny McLewin, think nothing of travelling half way around the world to search for wax. Others, such as Young Marco, Ruf Dug, Jeremy Underground and Julien 'Waxist' Minarro, combine DJing trips with raids on local second hand stores and thrift markets.
"It's often difficult because of the schedule, but I always try to bring back some records from DJ trips," Minarro (pictured left), who has put together a number of compilations of Caribbean disco and boogie cuts for Favourite Records, says. "I've never been on a proper road trip dedicated to records, but I'd love to do it. Some of my tourist travels have been driven by record shopping, though. I went to New York a couple of years ago with some friends, and for me it was really about record shopping more than anything else. While they were sightseeing, I'd go off to visit markets or stores."
The rise in reissues of little known music from Africa, in particular, has been driven by crate-digging tourists, DJs, collectors or record dealers willing to travel to the continent to find old warehouses full of surplus wax, lock-ups heaving with piles forgotten gems, and dusty shops that have seen better days. This particular scene is notoriously competitive, with stories emerging of dealers willing to move to Nigeria or Ghana, for example, in order to make a living from "flipping" records (buying them cheap locally, in order to sell them on to collectors at vastly increased prices).
"It's a rat race – the competition and back stabbing is something else," says Awesome Tapes From Africa founder Brian Shimkovitz. "Because I've always dealt with cassettes, I don't have any stake in that world. I don't want to sound like a snob, but I don't want to reissue any records that are listed on Discogs, that anybody else even knows about. It's funny that they're all fighting with each other, though."
Shimkovitz's love of little-known African music is renowned, and originally went hand-in-hand with his academic interest in ethnomusicology; the study of links between music and broader native culture. His label has done a great job in introducing a global audience to strains of African music that were previously unknown outside the continent. Even so, he claims that he's never headed to any specific country in order to dig for music.
"I know that people describe what I do as crate digging, but I don't see it as that, because I'm not specifically going to look for music," he says. "I'm going to various countries in Africa to visit and do research, and at some time during that month I'll be in shops, buying cassettes, or going to some person's old warehouse to see what they have left. I'm really into hanging out in Africa, meeting people, eating food and talking and stuff. I'm not one of these dudes who drops into a country, spends ten days digging, and then bounces."
Some others, though, are more open about their crate-digging missions. A couple of years back, having just returned from the Caribbean, Invisible City Editions bosses Brandon Hocura and Gary Abdugan opened up to Brendan Arnott for Juno Plus about their secretive record finding trips. What came across clearly was their dedication to following up even the most unlikely of leads.
"I had found an online index of the Trinidadian music industry from the '80s that listed all of these record labels and shops," Hocura said. "Almost everything was closed down, but I'd still look into these addresses – 'oh, it's an apartment building now, cross it off the list'. Some of them were still around as CD shops, and I was looking for records and talking to a guy, who said, 'oh, I know the Rhyners used to have this big warehouse'. So we called them up, and they managed to get us access. Nine times out of 10 we end up not finding records, but it's a journey, right?"
Even by hardcore record collecting standards, this is pretty extreme. The vast majority of celebrated 'diggers' don't go to these kinds of lengths; instead, they're just constantly on the look out for records in the strangest places.
"I met this retired couple at a flea market once, who were selling 45s to raise money to build schools in Africa," Julien 'Waxist' Minarro says. "They told me they had more in their house. So I headed to their place in the French countryside, and their garage was full of dust and wax. I didn't find a lot of great stuff in the end, but it was fun because they were a bit weird and crazy, and their dog wasn't that keen on letting me dig through their piles of wax."
Flea markets – or their British equivalent, car boot sales – seem to be a constant source of material for dedicated record collectors. For those prepared to devote their time to sifting through seemingly never-ending boxes of so-so material, it's possible to occasionally strike gold.
"I once found a sought-after Chosen Few EP called You Are Everything To Me, featuring this crazy track called "Dancin' All Over The World", in a flea market in this Parisian suburb," Minarro remembers. "There was a guy who had, say, 10 crates of shit '90s dance music. I went through it all, until the last box, which contained trashed records. At the back, I saw the sleeve that you cannot miss. The record was almost near mint, and I paid one Euro for it. If you bought that online you'd have to pay hundreds".
"They call themselves diggers, but they're just YouTube heads"
Ah, yes, the Internet: something of a thorny subject amongst the crate-digging community. It's certainly true that the rise of online "marketplaces" such as eBay and, for music obsessives, Discogs, has changed the scene dramatically over the last decade.
Where once record collectors learnt of obscure, rare and expensive releases from other diggers or DJs, these can now be found with a few clicks online. Meanwhile, the rise in online DJ mix culture – and the MixesDB website, where vinyl nerds from around the World join forces to identify unknown tunes in high profile mix recordings – has made it easier for anyone with the time, money and inclination to build up a fantastic record collection without ever stepping foot in a record shop.
"For whatever reason, digging is cool, and playing old records is 'the thing'," Ruf Dug says. "Then it attracts other people as well. There are a whole heap of people who are into it and call themselves diggers, but they're just veracious YouTube heads."
Ruf Dug (pictured below) is particularly critical of a certain strain of crate digging – and, it should also be noted, DJing – that equates a record's monetary value with its quality. "All that Discogs does is give you market value for a particular record," he says. "It's a market, and it's a game. There are all sorts of people in it. If someone's got next to no money, and finds out a techno record he's bought is suddenly worth £100, and he can sell it online to pay his rent, what's wrong with that? Sure, there are going to be speculators as well, but that's just how capitalism works."
Ruf Dug has, in part, built his DJ career on unearthing and championing records that others have overlooked, mostly found in the 'bargain bins' and cut-price crates found in dusty second hand stores the world over. While admitting that the Internet is a great resource for those hunting for records, he prefers to find odd and interesting records on the cheap – something that was once a backbone of both record collecting and DJ culture.
"I really do hold this belief that if something is more than a fiver, you're already too late," he says. "Someone already beat you to it, so what's the point? There are plenty more amazing 25p records that have yet to be played by DJ Harvey and be turned into a 50-quidder," Ruf Dug adds. "I'd say the experience of finding great but overlooked records, for very little money, is a much more authentic experience than buying something celebrated and expensive online".
Another 'digger' who subscribes to this mindset is Aiden D'Araujo, famed for his House Hunting column on Ransom Note. The regular feature celebrates D'Araujo's travels around London and beyond, seeking out cracking house, proto-house, disco and techno records for rock bottom prices.
"I'll big up anyone who scores a house Holy Grail or wax want list weapon at a bargain price, but a lot of it is 'look how much I've spent on this rare record', or 'check out all the rare records in this mix," he says. "I know heads that will instantly disregard records on Discogs as the rating isn't nearly 5 out of 5, and they're under a fiver, so in their mind it can't be good. They obviously haven't got a clue".
D'Araujo sighs before admitting he feels the romance and ritual of record collecting is lost to the convenience of online ordering, adding "It doesn't affect me as I support the shops, but a lot of heads just ain't patient any more – if they hear it, they've got to have it now".
On the flipside, there are those within the scene who celebrate the way that the Internet has changed the game. Even Zaf Chowdhry, who co-manages a physical store and has long been a champion of the trusty old record shop, has good things to say about it.
"The Internet has changed everything," he enthuses. "I remember that pre-Internet, there came a time with disco and boogie that I thought I had it all. The Internet has just highlighted that there's 10 or 20 times as much stuff out there than we previously thought, and my collection has got much bigger, just through the sharing of knowledge online".
To enhance his argument further, Chowdhry highlights the experience of two 20-something Norwegian friends of his, Frederick "FredFades" Overlie and Hans-Jorgen "DirtyHans" Waerner, who run the celebrated Touchdown parties in Oslo.
"I stayed with them when I played their party, and I was just totally amazed by their collections," Chowdhry says. "Between them they have one of the best collections of private press 45s I've ever seen. The shit they have is incredible. They've done it all through the Internet, hustling producers, being super nerds and being on it. There's no way that they'd have been able to do that without the Internet – it's just impossible."
Matt Anniss