Dave Smith Instruments & Tom Oberheim – OB6 Polyphonic Analog Synthesizer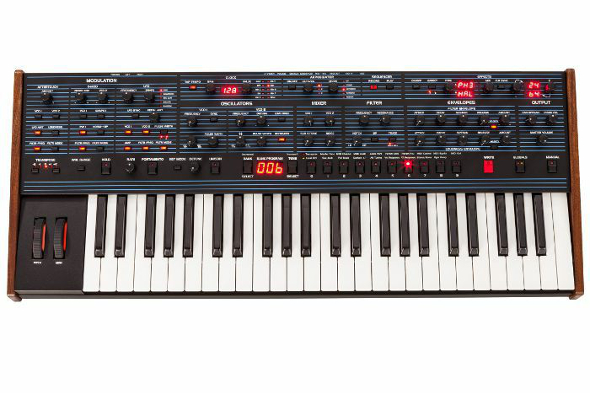 The retrograde sounds of Dave Smith & Tom Oberheim's collaboration is examined by Marco Rodrigues.
With such the number of new synthesisers currently being developed and announced as revamps of classic pieces of gear, 2016 represents something of a peak year for synths. The advent of polyphony is often spoken about with two crucial pieces of '80s-era gear in mind: the Sequential Circuits Prophet 5 and the Oberheim OB series. You'll hear vintage synth heads define themselves as either a 'prophet guy' or an 'OB guy', praising specific musical moments forever associated with each machine. The new OB-6, however, is a collaboration between the very architects behind both these seminal pieces of gear: Dave Smith and Tom Oberheim.
The OB-6 isn't just a triumph of timing and concept but a powerful new synth with new studio dynamics firmly in place, as well as a faithful recreation of the trademark Oberheim sound. For most  classic synth-manufacturers in activity, looking to the past could pose a disruptive strategy and one that steers product development off course. That change often signifies, among other things, a return to an acceptance of limitation as character building in music making. For Dave Smith Instruments, however, that back-to-basics attitude effortlessly blends with modernity through a simple but high-level approach to design that's carried on from the times of Sequential Circuits.
The DSI OB-6 is a six-voice polyphonic analogue synthesiser with integrated sequencer, arpeggiator, built-in effects and a four octave keyboard in addition to habitual features like envelope trimming, filter and modulation capabilities. Solidly built with wooden sides panels, the OB-6 clearly references its distant predecessor the OB-8 – a classic eight-voice polysynth from the classic OB range. With most functions directly accessible from the font panel, I'm able to immediately hit it off by just playing a few notes, writing a few sequences and arpeggios that I begin to tweak. From the oscillators to the mixer, filter and envelope settings, controls on board are laid out intuitively; the choice of preset patches is easily carried out through a small digital menu just above the keys and you can choose up to 500 presets.
The OB-6 comes with two main oscillators plus a sub-oscillator for added beef in the lower frequencies, plus there's a noise oscillator for extra sizzle around the edges (ideal for wind-type sounds, for example). Each main oscillator comes with frequency control for pitch, pulse modulation and continuously variable knobs for wave selection. A great feature allows you to select in-between waves amid square and saw types and this type of continuous selector is also available on the filter. Reaching in-between states when switching between low pass and high pass modes is something I had never seen before on any synth and you'll be glad to read it produces quite unique results.
Played notes sound big, rich and, at times, harsh. This cadence could be great for highly stacked, complex compositions when you really need the sounds to cut through the mix, but conversely it might not hit the sweet spot if your intention is to create minimalistic sequences that repeat for longer periods in a track. Programming sequences with the OB-6 is incredibly easy, which I preferred to do in step mode, which allows up until 64 steps with as much as six possible simultaneous voices.
A another impressive feature is after playing a chord to then then press 'unison'. This means, thereafter, every key I pressed was a variation of the chord I played first (transposed to a corresponding root note). By laying down sequences this way, especially with higher pitched notes, I was able to make Detroit-style sequences resembling the high-pitched, ultra-bright circular melodies of a lot of Underground Resistance records.
Some of the sequences available on board also resembled trademark Soichi Terada progressions, with an extremely ear-grabbing characteristic that really shine through in a great, dreamy but super tight way. Travelling through the presets this way it becomes clear that this is a super powerful tool for atmospheric synth lines, rich pad sounds, eerie strings, angelic and complex ambient sounds, darker drones – you name it.
The built-in effects include spring reverb, trademark Oberheim phasers, flanger, ring modulation and more. Modulation options are comprehensive when compared to classic Oberheim models too, but not as packed as previous Dave Smith products. Everything's simple enough to synch to other sound sources through USB and MIDI too.
Generally, although the Blade Runner soundtrack was mostly created in Yamaha CS series synths, I can't help but feel when going through the pre-programmed patches that this product harks back to '80s retro-futurism because it's full of dark drones to super ethereal, angelic pads, strings and choirs from a distance. It is absolutely spot on for nostalgic music making over noise generating, with the OB-6 a musical beast to its core.
More info/buy
Marco Rodrigues