Win tickets to Peder Mannerfelt & Machine Woman live
Manchester party meandyou. have booked the double act for a night in Northern Quarter venue Soup Kitchen and we have a double pass to give away.
Responsible for giving artists as far and wide as Norman Nodge to Frak their first UK gigs, you could say Manchester's meandyou. collective are further ahead of the curve than most. With former podcast contributor Andrew Lyster a resident DJ alongside Herron, Juniper and Joy O, meandyou. have brought the likes of Workshop and Smallville crews to northern England alongside other internationals Patrice Scott, Tama Sumo & Lakuti, DJ Sotofett – among many others – to most recently putting up a Northern Electronics showcase with Abdulla Rashim and Varg. Their next party takes place this Friday and sees Sweden's Peder Mannerfelt and Berlin-based Russian Machine Woman descend on the Soup Kitchen to perform a live show each – the pair of course connected by a release of Mannerfelt's label.
We have a double pass to give away and to enter simply answer the question below. A winner will be notified by email after the competition closes at 4pm on Thursday, May 26.
[jp_comp question="What was the name of Machine Woman's EP on Peder Mannerfelt Produktion?"]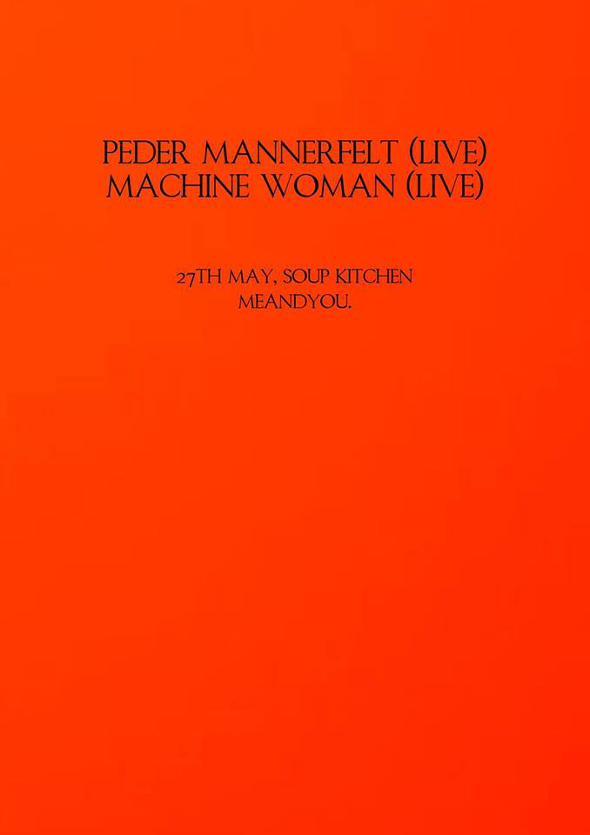 Details:
Friday, May 27 2016
10pm
Soup Kitchen
31-33 Spear St, Manchester M1 1DF
Tickets £7 – more info here
Full line-up:
Peder Mannerfelt
Machine Woman
Residents