Healing Force Project – Transhumanism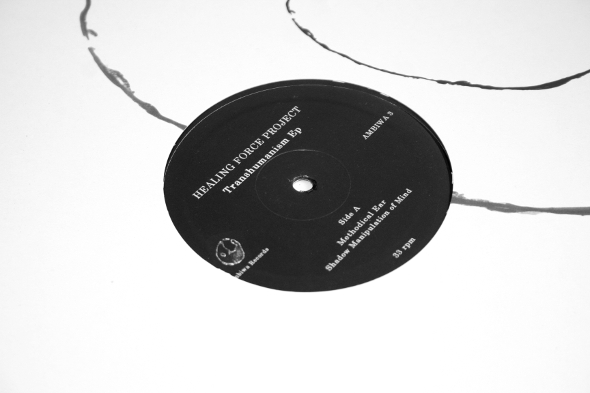 Verona imprint Le Disque, named after the local record store of the same name, only has a modest output on its main label. It has recently launched new sub label Ambiwa, whose mission statement simply declares that it is into 'abstract house music'. They've previously presented us works recently by Downbeat Records mainman Jose Rico as well as a collaboration by MCDOO and Sirius Type aka Deepblak main man Eric Porter. For their third edition they've handed the reins to Antonio Marini aka Healing Force Project whose impressive and defiantly original music of late see him as the perfect candidate to cater to this fledgling label's MO.
Transhumanism sees Marini delve less into avant/free-jazz territory as heard on recent releases, such as his most recent Gravitational Lensing EP on Firecracker Recordings or the tremendous Entheogenic Spore on Bedouin, though it's not exactly 'straightforward' by any means. Le Disque themselves describe it as "a combination of ethereal and angular sounds, but with many points of reference connected between them".
Take for instance, "Methodical Ear," where dust coated and jagged hi-hats ride atop a groovy organ melody, antagonizing a dense and floppy sounding kick much like Theo Parrish's approach to rhythms. "Shadow Manipulation Of Mind" is definitely an interesting one too, which uses a Miami bass-style cowbell sequence over some gloomy organs drenched in delay, all creating some Carl Craig style dancefloor drama… Albeit more abstract of course. But "State Of Induced Hibernation" is definitely the most techno sounding cut. This hypnotic trip calls to mind the work of Max Duley or more recently Acronym, with its organic and esoteric qualities featuring layers of glorious repetition in the form of panned tribal drums, random laser zaps and weird modular squeals for added (glorious) confusion.
On Transhumanism, Healing Force Project asserts his position as one of the most interesting and forward thinking producers in techno at the present time. With the large majority of the genre's producers, as our editorial team pointed out quite recently "disappearing down a trail of reverb' and 'hypnotic techno' (which seemed for a while to be the last bastion of innovation) equally becoming spoiled by a succession of copycat producers, also flogging a dead horse, Marini's music excels both in intensity and trace induction, without resorting to cliché. He continually provides such inspiration with his music; a real breath of fresh air in the scene's current status quo.
Nic Tuohey
Tracklisting:
A1. Methodical Ear
A2. Shadow Manipulation Of Mind
B1. Sinapsi Sonora
B2. State Of Induced Hibernation