Planet Mu announces new Konx-om-Pax album
Caramel from the audio-visual artist will arrive in July.
When it comes to the Konx-Om-Pax work of Glasgow-born Tom Scholefield, you are more likely to recognise the name for his video work or the glossy, futuristic graphic design he's contributed to albums from Lone, Laurel Halo, 0PN and Rustie. He has been recording and releasing music in various forms for the past decade however, and a debut Konx-Om-Pax album proper for Planet Mu in 2012 called Regional Surrealism proved his talents fully extend to this medium. Since then, the Scot has gone on to contribute to the label's exhaustive 20th anniversary compilation as well as feature alongside Helm, Roll The Dice and others on a Blanck Mass-curated film rescore for Death Waltz.
The wonderfully unpredictable path laid down by Planet Mu so far this year continues apace with the news of a second Konx-Om-Pax long-player due in July called Caramel. A press release for the 14-track album reveals Scholefield has been chipping away at Caramel for the four years that have passed since his debut for Planet Mu. You can hear the title track below and the discernible change in mood from the previous Konx-Om-Pax album is, according to Scholefield, down to the differing locations in which they were recorded: "I made Regional Surrealism when I was living in a big empty flat on my own in Glasgow town centre surrounded by concrete and junkies. Moving next to the park, closer to friends and getting to tour the world had a positive effect on the feel of the tracks."
Planet Mu will release Caramel by Konx-Om-Pax on July 8.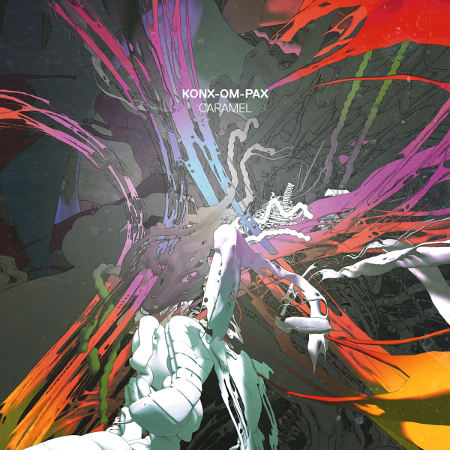 Tracklisting:
1. Video Club
2. Perc Rave
3. Last Jam Forever
4. Manhunter
5. Oren's Theme
6. Frozen Border
7. Mega Glacial
8. Caramel
9. Radiance
10. Beatrice's Visit
11. Stay
12. Cosmic Trigger
13. At The Lake
14. Rainbow Bounce
Planet Mu on Juno