Mannequin order the Moral Rearmament of Zahgurim
The UK industrial act are under the spotlight as their sole album is announced for expanded reissue later this month.
It's a given that any reissue material Mannequin turn their hands to will be of the highest calibre within the murky realms of coldwave and industrial. Alessandro Adriani's unstoppable label continues to find ever more wonderful delights both new and old to treat us to, and already this year Maoupa Mazzocchetti, Heinrich Dressel and Shazam have been spotted alongside wonderful compilations of GDR-era tape music and early Italian industrial. Zahgurim are a perfect fit for Mannequin's ethos, comprised of Paul Ackerley and William Vince and active for just a short period in the early '80s. The duo were together long enough to record an album and perform for the seminal Berlin festival and label Atonal, at the behest of Manfred Schiek and Dimitri 'Tresor' Hegemann.
Moral Rearmament positioned Ackerley and Vince alongside such time-honoured luminaries as Psychic TV and Test Dept. although despite their strong links to occult-concerned fellowship Thee Temple Ov Psychick Youth, the project would go no further and they would embark on other musical ventures. Mannequin have seized upon the chance to reissue Moral Rearmament 30 years after its initial release, pressing up 400 copies with two additional tracks "Dog Unit" and "Presence" that were never previously available. It's a staggering piece of work to hear in full, dense and rich with sound design terror that manages to reach beyond the lo-fi trappings of so much of the early industrial movement. You can dive into the swirling psychedelic electro stylings of "New Flesh" by way of the SoundCloud player below, while the release is available to order from here.
Mannequin Records will release Moral Rearmament by Zahgurim on May 23.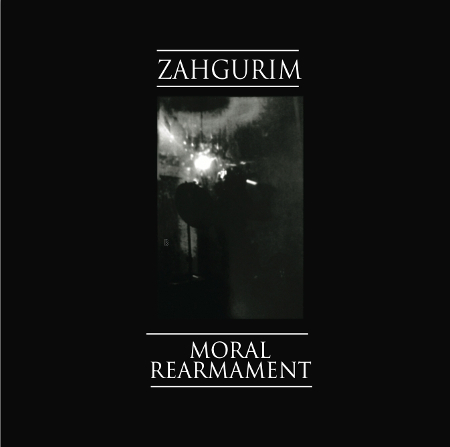 Tracklisting:
1. Dropkick!
2. New Flesh
3. The People's Temple
4. Dog Unit
5. Panstwo
6. Shower Scene
7. Two Women
8. Presence
Mannequin on Juno