Elon Katz is The Human Pet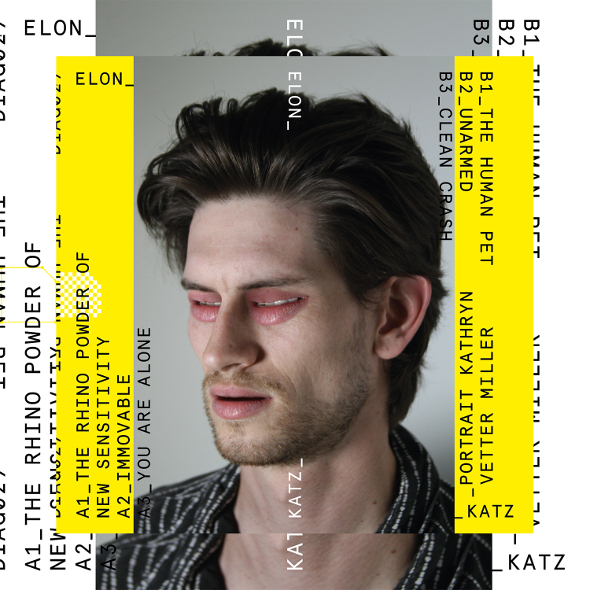 Diagonal will release an album of 'citric pop' from the Streetwalker man.
Los Angeles-based musician Elon Katz has several projects in his figurative locker, but is most fondly regarded here at Juno Plus for Streetwalker. A project with JP favourite Beau Wanzer, Streetwalker gifted us the wonderful Future Fusion album on Cititrax back in 2013. Their prior single, 2011's Ooze CS for Catholic Tapes, was picked up and reissued by Powell and Jaime Williams' Diagonal in 2014 replete with a killer new remix from Silent Servant. It transpires this relationship between Katz and Diagonal has been further strengthened with the news he has a new album on the way for the label.
Due out next month, The Human Pet arrives with the above eye-popping artwork and it would seem to set the tone for the music featured within. Album track "Immovable" can be streamed below, and sounds like a mutant take on DAF, which makes Diagonal a wholly appropriate home. Eschewing press release convention, the only information provided by Diagonal are the following 'care instructions'.
The Human Pet is always hungry.
The Human Pet can only be satiated with attention and sustenance.
The Human Pet is highly obedient, but also opinionated.
The Human Pet does what it pleases, and is often punished in exchange.
The Human Pet is socialized, but takes some acclimating to new situations and environments.
The Human Pet requires open space to avoid neurosis.
The Human Pet is sweet and fun, but has a vicious bite and bark.
The Human Pet is a loving companion to its master.
Diagonal will release The Human Pet by Elon Katz on May12.
Tracklisting:
1. The Rhino Powder Of New Sensitivity
2. Immovable
3. You Are Alone
4. The Human Pet
5. Unarmed
6. Clean Crash