Best reissues and archival releases: March
March brought archival treats from Das Ding, Heinrich Dressel, DDS, Dark Entries and The (Hypothetical) Prophets – read on for Flora Pitrolo's thoughts.
Das Ding – Missing Tapes (Minimal Wave)
These are apparently the last drops from the succulent Das Ding archive and they come on gorgeous pale yellow wax. Missing Tapes is a fine companion piece to H.S.T.A., Minimal Wave's 2009 retrospective of the Dutch maverick's early 1980s work, and compiles archival material that Mr Danny Bosten described as 'leftovers' when I interviewed him recently. Well, there's no accounting for modesty. The only thing missing here is the reason why they were missing for so long: these are important efforts from one of the great artisans of home-made synth.
While tracks such as "Sad but True" and "Raid" will already be familiar to fans, others are truly newly-found slices of Das Ding pleasure, that also manage to reveal a slightly lighter, less brutal Bosten. "Somewhere" is a classic dance track steered by an irreverent use of a drum machine and textural caesuras marked by underfoot crunches and breaking glass. "IC Anything" sees Bosten candidly displaying an irresistible Italo vein, whilst "Try Out" expertly moves between bleak nocturama and playful machinic synth progressions.
As always, the best thing about Das Ding's music is the dichotomy between the driving sensation and the feeling it could break apart at any moment. This is music that centrifugally self-destructs by way of the same force that pushes it forwards and keeps it together. The record closes on the forlorn "16", a darling thing, a weeping baby theremin with a folk song pushing through it. As I was writing this column, it played it out as I played the Konstruktivists' "Francis Bacon" in, and a shiver went right through me. Just a suggestion.
Listen/buy vinyl
The (Hypothetical) Prophets – Around the World With (InFiné)
Having given Bernard Szajner's Visions of Dune the reissue treatment in 2014, French imprint InFiné now delivers a much-appreciated second spin of a record any lover of bizarre wave should spend at least one evening with. The (Hypothetical) Prophets was an intriguing project from Szajner and fellow comrade Karel Beer centred on the imagery of shady spy films and the atmospheric élan of Soviet references. The Prophets were a 'fake' Soviet pop band that was also a real French band; a well-thought out, many-headed project that performed itself and commented on itself at the same time. Beer and Szajner wore dark anoraks and hid behind newspapers; their tracks contain instructions for building a nuclear reactor, stories about WWII Swedish diplomats, classified announcements and lists of gulag railroad stations.
A lot goes on, in Around the World With, a record swept away by that heady mix of Cold War paranoia and cold world fascination that birthed so much of the coldwave canon. So what does it sound like? It jitters, it shifts, but is really rather good. Lots of layers of delicate jagged rhythms, long wandering synthlines, voices chanting gravely, endless spliced segments of speech, sampled multi-lingual and multi-headed bits and bobs on the backdrop of a map of syntesised international intrigue that is as glossy as it is opaque. A strange choral photograph of a moment as it was imagined more than lived out, a record to be rediscovered whether you listen as a dancer, as a poet or as a historian. Sonically interesting, oddly political, and bleakly humorous, too.
Listen/buy vinyl
Heinrich Dressel – Mons Testaceum (Mannequin)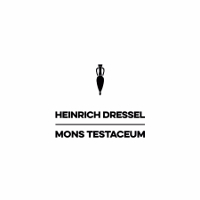 How best to sum up this album? In a word – monumental. To go much deeper, it's much like the Testaccio mound the record takes its name from. Made out of centuries of layers of broken amphorae: mysterious and strange yet fascinating and beloved, half-temple and half-rubbish dump; base and precious, natural and artificial; ancient and new, squalid and luxurious at the same time. And discographically monumental too, as Heinrich Dressel's record is one of the pillars of that sound by which a certain Roman scene – and his label MinimalRome – has defined itself over the past decade. It's a fusion of excessively epic minimal synth and Giallo-infused temperament, lightly peppered with the just the right dose of steel but also just the right dose of plastic.
The journey is a satisfying, exciting and even erotic one for those who decide to run with it. From the tensely suspended soundscape and vocoded ghosts of "Welcome to Mons Testaceum," to the Frozen Autumn-meets-Goblin horror-soaked dance of "Night Comes on the Broken Pots Forest," via the shiny futurism of "Fohat Digs Holes in the Amphora," and the artificially insectoid washes of "Ghastly Signals from the Night". If the more muscular nuances of Italian synth in whatever form make your heart beat, you should climb Mons Testaceum. Legowelt, who originally put this on a CD-r on his Strange Life Records back in 2007, can't be wrong. And neither can 18-odd centuries of civilisation.
Listen/buy vinyl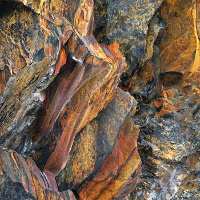 The archival ambient sceptre has to go to Orior this month, whose 1979-1983 tapes have been dug up and made to sound and look as ambrosial as they should by our friends Demdike Stare, who cite this obscure English project as an influence on their own work. Guided by a luscious, dense weave of post-punk and ambient, Strange Beauty is a collection of heterogeneous soundscapes, each soaring into a different sonic and emotional aspect of the early 1980s. While Orion's only previous release, a 1978 EP called Elevation is a delicious little morsel of a record, it did not prepare us for such a perceptive and richly textured lost catalogue.
On these tapes, Orior move between electrified chords over slo-mo sirens ("EOS") and neuro-robotic rattlings ("Earth Rhythm"), from eerily echoed piano pieces ("The Other Side") to ominous metallic drones ("From View"). But there's much more depths and more surprises: sparkles of Chinatown bells, the odd Kosmische-imbued synthesised comet, a deep mastery of jagged industrial textures. One track to pull you in might be "Dust Glow," where a heavy goth drumbeat sustains a rich layering of languid electric guitars, punctured here and there by dark synthlines and a neo-romantically urban saxophone. Strange Beauty lives up to its title, containing the dusty freshness of an ambient pearl and the murky half-light of a dark punk aesthetics – a rarefied, odd atmosphere that might just reveal itself as a long-term favourite.
Listen/buy vinyl
Konstruktivists – A Disassembly (Dark Entries)
While Dark Entries boss Josh Cheon has already announced his now traditional late Spring Italo "package" (and it's outstanding this year), the label is clearly not giving into the sunny season quite yet. Enter stage left the Konstruktivists, 'perverting our ears since 1980', as they themselves proudly declare. In truth this is British industrial aristocracy, and ear-perversion of a very thoughtful, intricate kind. The man behind the project is the harshly handsome Glenn Michael Wallis aka, amongst other things, N.K.D.V., who has a curriculum that includes Heute, Throbbing Gristle and Whitehouse as well as some nice solo work (when someone puts his Industrial Surrealist compilation on vinyl it'll be too late).
The Konstruktivits album (for this is the right spelling on this particular occasion) A Disassembly, originally published by Dobson and Hope's legendary Flowmotion magazine in 1983, is a dark humid cavern of a record. Hellishly ill, yet contained, very stern but rather contemplative too. An elegant seriousness carries the show: the lovely "Kalm" is quite the droney gem, more Colin Potter than Throbbing Gristle, "Beirut" has a fuzzy electric guitar perform a clangy Middle-Eastern impression reminiscent of a more masculine Muslimgauze, whilst "Karnal" treads the glorious but difficult line between an organic palette of sounds and a hazy luminosity from outer space. A Disassembly is a typical but particularly adult, expert and experimental British industrial record. If that doesn't sound like your thing, maybe March 2016 is the time when it can become it.
Listen/buy vinyl
Flora Pitrolo