Mikio Kaminakamura – Untitled Records 009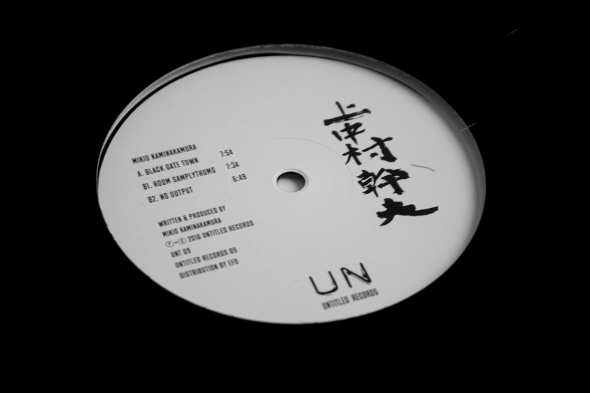 Untitled Records was run by a Berlin-based Japanese DJ, Fumiya Tanaka, from the mid to late '90s alongside his now-defunct label Torema. Showcasing freely-tinted, off-kilter work mainly from the Perlon affiliate's Karafuto moniker, its output felt like a counterpart to the floor-oriented minimalistic techno of Torema, which in turn took its cue from Steve Bicknell's Cosmic and Force Ink's staple Stewart Walker. Some 16 years after the last 10 inch, Untitled Records makes a return with an EP from a fellow Japanese newcomer, Mikio Kaminakamura. However, it doesn't seem to share the past ethos, compiling three solid minimal house tracks that ride the current wave of minimalist renaissance.
On first listening, it becomes clear that Kaminakamura's firsthand experience at Tanaka's Chaos night has taught him what's required on the dance floor and they shares a love of taut-sounding minimalism. On "Black Town Gate", the seasoned drummer demonstrates his knack for production in the way the various elements sit clearly in the mix and the track gains propulsion with every subtle development. While drawn to hazy atmospherics, mid-range percussion and hi-hats layered over snares, you're thrashed by elastic low-end slithering under them.
On the flipside, things get a bit more fidgety with the restless percussion of "Room Samplythums." Various sonic fragments are playfully scattered against the backdrop of robust kicks and swinging basslines, bringing to mind Fym's Telegraph-era productions. Kaminakamura punctuates the mix with short yet effective breaks by muting the kicks and energises their unifying momentum until the very end. Despite few overt arrangements, it's easy to imagine that it functions as a tool that bridges tracks nicely around the peak time in the club.
"No Output" is another example of his versatile production methods. It leaves a vast space for African voice snippets, alternating them with flanger-processed hi-hats, muffled hand drums and cracked stabs that offer numerous textures to savour. This new talent certainly marks an exciting comeback for Untitled Records, though whether the label will again lean to the left with an angular take on electronic music remains to be seen.
Yusaku Shigeyasu
Tracklisting:
A1. Black Gate Town
B1. Room Samplythums
B2. No Output