Umwelt rains down Destruction Libératrice
The French electro veteran has a record primed for Return To Disorder.
Although her label may have started with the somewhat surprising psychedelic fusion sounds of Children Of Leir, Helena Hauff's Return To Disorder has since struck a more familiar tone of grubby, deviant electro and techno from Morah, Moscow Death Disco and Le Chocolat Noirhau. Even if the style is consistent, the names involved have been largely cult choices in a reflection of the deep-digging content of Hauff's DJ sets. Umwelt, like many of his contemporaries in the die-hard, Bunker-influenced corners of the electro scene, has happily existed on the fringes since the late '90s, building up a strong workflow and presence based around his own labels New Flesh and Rave Or Die, where you might also find the likes of Drvg Cvltvre and Chris Moss Acid lurking.
With the odd release on Shipwrec confirming the French producer's status amongst European machine funk deviants, Umwelt is making one more rare trip outside of his own label sphere to deliver four tracks to Return To Disorder. The Destruction Libératrice EP is a loaded gun of dark, dystopian dancefloor pressure that should get long-standing Umwelt heads nodding approval while sparking satisfaction amongst devotees of Hauff's curatorial tastes. From gargantuan distorted 303 lines to spitting MPC drums, this is gutter-dwelling electro of the highest order, and you can get a taste for all four of the tracks concerned by way of the SoundCloud player below.
Return To Disorder will release Destruction Libératrice EP by Umwelt on April 5.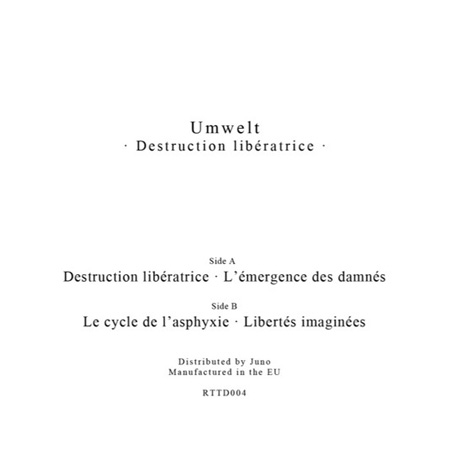 Tracklisting:
A1. Destruction Libératrice
A2. L'emergence Des Damnés
B1. Le Cycle De L'Asphyxie
B2. Libertés Imaginees
Return To Disorder on Juno