Djrum collides with Struction on Ilian Tape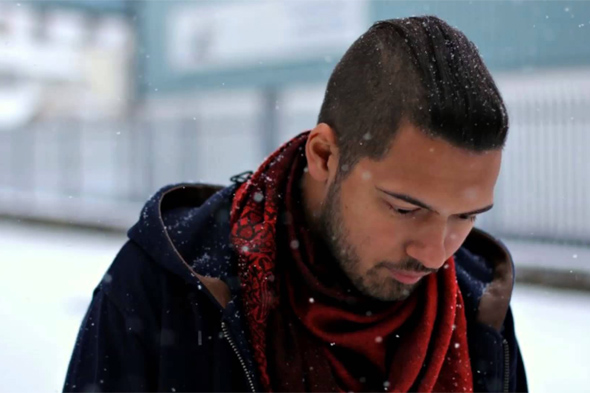 The London beatsmith makes his first outing of the year on a split disc with an unknown entity.
It's not that common to find Djrum stepping outside his 2nd Drop comfort zone. In his years of activity since first springing up in 2010 the multifarious bass practitioner has largely been associated with the label, releasing his Seven Lies album through them back in 2013. Having made his name in the immediate fallout from the dubstep flash point, the man otherwise known as Felix Manuel has gone on to display a keen instinct for new pathways out of the bass music mess without either kowtowing to trends or compromising on his own style.
It's fair to say that Ilian Tape represent one of the great examples of positive influence drawn from the UK scene in a more European techno oriented context, as the Zenker Brothers' label has taken on board some rugged rhythmical choppage in amongst their more instinctual 4/4 tendencies. Stenny, Andrea and the Zenkers themselves are all on a roll of late, firing off hooky club tracks that bump and rumble with broken stylings while still charging forth on techno's sense of urgency. That's not even mentioning Skee Mask's widely lauded Shred LP which landed earlier this year.
The next record on Ilian Tape brings Djrum back into focus with a split release that pits the London-based producer up against Struction. Quite who is behind Struction is not clear at this stage (at least according to the usual placemarkers of Discogs, SoundCloud etc). Not that it matters particularly, as the tracks more than speak for themselves. Three diverse yet equally exciting tracks meet on ITX07, flinging wisely mangled breakbeats around the sound spectrum in a range of contexts from tense industrial throwdowns to brooding, emotionally charged rollers. It wouldn't be a stretch to postulate that Struction may in fact be the work of Manuel himself, but we'll leave that to the comment section warriors to debate. For now, immerse yourself in the preview clip below ahead of the single's unconfirmed release date.
Ilian Tape will release ITX07 by Djrum vs. Struction soon.
Tracklisting:
A1. Djrum – Untitled 9
B1. Struction – Don't Blame
B2. Struction – Strukture