Dusted Down: Neotropic – 15 Levels of Magnification
Matt Anniss tracks down pioneering downtempo producer Riz Maslen to discuss her 1996 debut album, one of the standout releases on Ninja Tune's long dormant NTone offshoot.
Riz Maslen lets out a long laugh after I point out that two decades have passed since she released her debut album, 15 Levels of Magnification. "20 years… that's scary! It feels like yesterday," she says, before bursting into laughter again. "That was the best time of my life."
Back in 1996, Maslen was one of the brightest lights on NTone, a now largely forgotten Ninja Tune offshoot. Coldcut's Matt Black and Jon More had established NTone two years previously to act as an outlet for the experimental ambient, electronica and IDM material they felt wouldn't easily fit on the more beat-centric Ninja Tune.
In some ways, Maslen was a key signing for NTone, and one of the first to be recruited on the strength of a demo disc alone; previously, Black and More had been introduced to artists by their friend Mixmaster Morris, or sourced them from the thriving London ambient scene. Maslen would go on to blaze a trail for female producers in experimental electronic music, in the process becoming NTone's most prolific artist.
By the time she put pen to paper with the label in 1995, Maslen had already spent years working away at the fringes of London's electronic music scene, often uncredited. Raised in the Cotswolds, she formed her first band with her sister while still at school. She was also briefly in an experimental indie-pop duo with a man named Adam West (sadly not the actor of Batman fame). It gave her a thirst for the possibilities of 'non-traditional' music.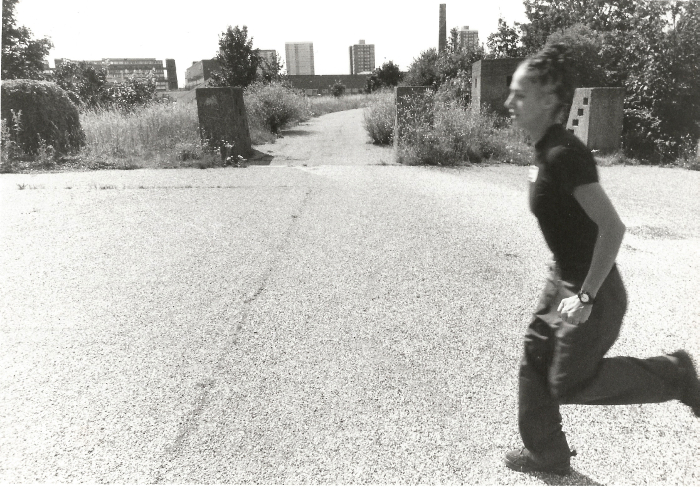 "He was a huge fan of The Cure and Cocteau Twins, so we did this thing with tape machines," Maslen reminisces of her work with West. "We'd use four tracks, layer up loads of elements, add effects to his guitar parts and my vocals, and create beats on a drum machine. It gave me a great introduction to doing music outside of the traditional methods I'd previously learned."
When her musical partner went off to University, Maslen decided to make the move to London and threw herself into the nascent rave scene. It wasn't long, though, before she was back in the studio. "I ended up working with this producer who had a studio at Dollis Hill, in the same building as 4 Hero and Future Sound of London," Maslen recalls. "Everyone was making music with samplers, but I had no idea what they did and how to use them."
She was naturally curious, and when The Future Sound Of London asked her to pop into their studio and deliver some vocals, she asked for a lesson in how to sample. "They used to get me to come in and do some really stupid things – make otherworldly noises, or sound like a seagull," Maslen says, chuckling. "They'd then take them away, add effects and manipulate them. I was so intrigued by what they were doing that I got them to show me the basics. The producer I was working with used to let me use his studio at night for free, so I spent the time learning the ropes and the ins and outs of the sampler."
Maslen was drawn further towards the world of sample-based electronic music when she began dating The Future Sound of London's Brian Dougans, a relationship that would eventually last six years. She appeared with Dougans and FSOL partner Brian Cobain on Top Of The Pops in 1992, providing the distinctive vocal parts for the duo's legendary breakthrough hit "Papua New Guinea".
"It was quite a fun thing to do," Maslen enthuses. "We spent most of the day going round the Eastenders set, getting out picture taken in front of Frank Butcher's motors and the Queen Vic. We thought that was more fun than doing Top Of The Pops. We certainly made great use of our five minutes of fame."
While Maslen would continue to pop into the Future Sound Of London studio to provide vocals, her musical dreams lay elsewhere. "I didn't want to be a singer in a band again, at that time anyway, so I got a bank loan and bought myself a sampler, an Atari with Cubase, and a quarter-inch tape machine," she says. "I used to do lots of experimental stuff with analogue gear, feeding things back into the computer through the little mixing desk I'd bought. I was learning all the time, and Brian also taught me a lot. He encouraged me to go and do my own thing. If it hadn't been for him, I don't know if I'd have ended up doing what I did."
Maslen's big break came in 1995, when OMW (Oxygen Music Works) signed an EP she'd produced of experimental, atmospheric ambient music. Credited to Small Fish With Spine, the Stickleback EP would provide a blueprint for her later productions as Neotropic. Heavy on atmospheric field recordings, paranoid sounds, FSOL-influenced beats and trippy spoken word snippets, it remains something of an overlooked gem.
Soon after, NTone came calling. "In the long term they were looking for an artist that they could work with and put out a number of releases by," she remembers. "It was quite unusual at the time to have a female artist on your roster. At that level, I think it was a good move by them, because it paved the way for other female artists to come along. At the time, women didn't have the same platform in electronic music as we do now."
Choosing to utilize the Neotropic name she'd previously used for a track on Different Drummer's Bastard Tracks compilation earlier in the year, Maslen's NTone debut appeared towards the tail end of '95. An expansive 12" entitled Tumbleweed, the EP variously touched on dreamy ambience, deep space beats, dusty trip-hop and dubbed-out electronica. While more cheery and musical expansive than her previous Small Fish With Spine release, it nevertheless contained some similar production traits – most notably her use of atmospheric field recordings and curious samples.
"The album was almost about the oppressiveness of surveillance in cities, and how you could escape it if you looked hard enough or knew where to go."
"I would go out with my DAT record and microphone a lot, record stuff, and then go home and lift bits out of these recordings," she says. "For the track "Regents Park" on Tumbleweed, and later 15 Levels of Magnification, I spent a whole afternoon walking around the park recording, then used some of that ambience and turned it into piece. I like that kind of idea, of bringing the outside world into the computer."
A further single, the bolder Laundrophonic EP – in which Maslen incorporated dub, drum and bass and intelligent techno influences – followed, before the new established NTone starlet re-focused her attention on the debut album she'd been working on for some time.
While her previous EPs had been a little cinematic in parts, 15 Levels Of Magnification was created to a widescreen vision – and, more specifically, two central themes. The first was Maslen's desire to create something that worked from start to finish.
"I was very into the idea of creating something that was a journey, rather than just a load of tracks in sequence," Maslen asserts. "That's how I like to listen to music: I like to go on a bit of a journey across the course of an album. That was definitely influenced by listening to Brian and Gary, and what they used to do. I wanted to tell a story within an audio piece." Her second-inspiration was, in retrospect, rather far-sighted. While much has been made in recent years of the pervasive nature of our surveillance society, Maslen was undoubtedly ahead of the game when she chose to highlight it on 15 Levels Of Magnification.
"Around that time, I was living in Gloucester Place, just round the corner from Baker Street, and began to notice the high number of CCTV cameras," she says, leading her to wonder if she could be tracked across an entire journey through London. "At the time there was a certain amount of paranoia about the increased use of surveillance cameras, and it was starting to feel like nothing was sacred any more. The album was almost about the oppressiveness of surveillance in cities, and how you could escape it if you looked hard enough or knew where to go."
As a soundtrack to contemporary city life, 15 Levels Of Magnification still resonates despite its vintage. While Maslen touched on a multitude of musical influences – bombastic drum and bass, trip-hop, film soundtracks, dub, IDM, ambient, jazz and electronica, for starters – these were mixed and blended with a wide variety of samples and field recordings to create a set that provides a perfect balance between claustrophobic paranoia and breezy beauty.
"That's very much part of my personality: light and shade," Maslen muses. "I don't like being on one side or another, and I hate it when I hear music that's formulaic. I never wanted to make music that has borders or boundaries. If it's both abrasive and beautiful – which was always a trait of Autechre, I think – then all the better."
In the years that followed the '96 release of 15 Levels Of Magnification, Maslen continued to deliver albums and singles that explored both intense darkness and shimmering beauty. It's still her debut full-length, though, that many listeners return to.
"I still love listening to the album, though I don't listen to it very often," she says. "I have friends who text me constantly saying that they're listening to it, and still get people emailing me to say that it's their favourite album. If I've touched two or three people and they love the album, then I've done my job."
She pauses for a moment of reflection. "I have very fond memories of my time with NTone and Ninja Tune, and they gave me great opportunities and experiences," she says. "I'll take those with me until the day I die. That's bloody brilliant!"
Interview by Matt Anniss
Black & White photography courtesy of Brian Dougans