TM404 goes headfirst into Acidub
Kontra-Musik will release the new album from Andreas Tilliander's Roland-focused alias.
Although it's been at least two years since the last TM404 material landed, Andreas Tilliander has been plenty active with his hardware-focused project. TM404's initial premise limited Tilliander to a spartan array of classic Roland machines, layering up configurations such as a pair of MC-202 sequencers, a pair of TB-303s and a TR-606 drum machine to create primal analogue techno with the icy Swedish finish that Tilliander and his peers are known for. Over the time the project has grown to be one of the most prominent in the plucky producer's arsenal, matching the output under his own name and his highly respected work as Mokira, and he has been actively gigging his merry band of machines across the world for many a live TM404 appearance. That undoubtedly explains why it feels as though it was only recently that the 12" on Skudge White appeared, but now the time has come for Tilliander to pull further ruminations from his boxes of tricks.
Kontra-Musik is TM404's natural home, and Acidub is an album that slots neatly into the chronology of both label and artist, but it's more than a simple repetition of a formula. Across eight tracks Tilliander guides his chosen vessels through a most immersive array of moods, weighing in heavy with that Scando-techno melancholy but adding an extra strong dose of dub to the broth. Where there was a stripped down and raw feel to the previous TM404 album, Acidub feels like a richer render of the places Tilliander can travel to with his tools. The good folk at Kontra-Musik have put together a whopping twenty minute preview of the record, which is more than enough time to reach your own state of nirvana in the heady conflux between acid and dub. Listen for yourself via the SoundCloud player below.
Kontra-Musik will release Acidub by TM404 on May 2.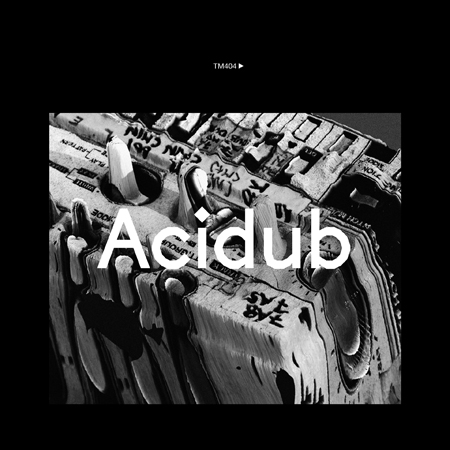 Tracklisting:
A1. Alinge
A2. Sapto
B1. Pade
B2. Mutron Mantra
C1. Treso
C2. MP4 Ende
D1. Don't Defend Mascot
D2. MC202 Quartet
Kontra-Musik on Juno
Header image courtesy of Elin Franzen