October and Borai expel Necessary Force
It was only a few months ago that we last heard from October and Borai with the Head 4 Phuture single on Brstl, but their shared studio work stretches back much further. They in fact first kicked off the label run by Idle Hands-affiliated crew with the Sticky Fingers / Left Out 12" back in 2011 before progressing on to releases for Apple Pips, Never Learnt and Simple. Both artists have been plenty busy with their own individual endeavours as well, with October fresh from releasing his debut album Black Body Radiation on Skudge White late last year while Borai recently issued the rowdy Anybody From London double-pack on Hotline. The Kelly Twins' Happy Skull represents another Bristol label that has firmly established its own unique identity in the hustle and bustle of that most musical city, housing missives from Creta Kano, Andreas Gehm, Marco Bernardi and plenty more.
It's safe to say that an electro theme runs through much of the Happy Skull output, no more evident than in the release that Rhythmic Theory delivered back at the start of 2014, and now October and Borai have followed suit with a two track 12" that fizzes with bold synth lines and rasping drum machine hits. It's still very much rooted in the kind of 4/4 throwdowns the pair are commonly known for, but there's equally a splash of lurid colour that fits in neatly with the other material on the label. You can listen to both in tracks in full via the SoundCloud player below ahead of the release date at the end of next month.
Happy Skull will release Necessary Force / Nine Tomorrows by October & Borai in March.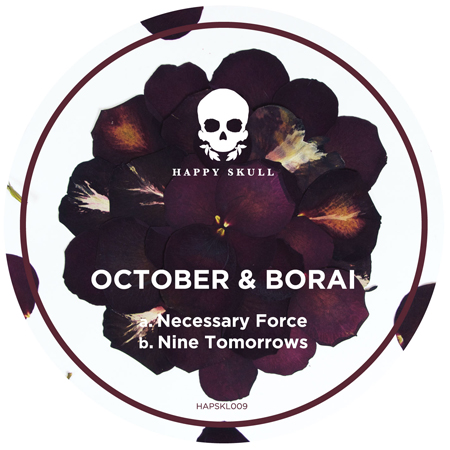 Tracklisting:
A. Necessary Force
B. Nine Tomorrows
Happy Skull on Juno