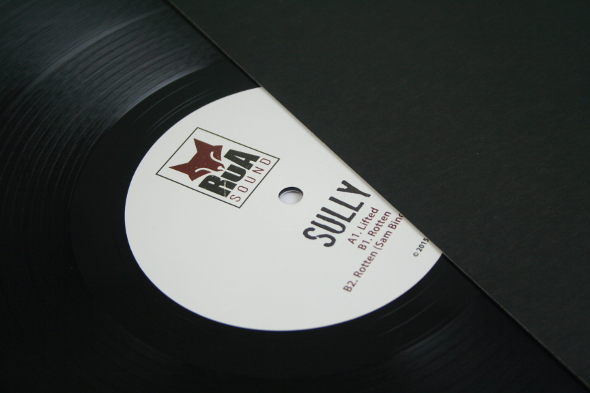 Heads down, no theatrics, just level-upping diligence. Now, barely ankle deep into the New Year, they've raised their tactics once again. Firstly, brand new label Rua Sound. Fresh out of Galway, Rua Sound is the brainchild of long time DubCulture members Welfare and Rob DC. Steadily corrupting the emerald isle with subs, dubs and rifle-like amen charges since the mid-2000s, Rua consolidates Rob and Welfare's work thus far and acts as a calling card to the rest of the bass loving world.
Full attention to detail has paid to Rua with tell-tail signs the label is being built to last; the foxy iconography, the fact they've launched with a limited run of vinyls as well as digital and, crucially, the sounds… Sounds like Sully. Body Count crew member, Keysound and Astrophonica affiliate and all-round gully connoisseur he knows his way around the 85/140/170 axis like you or I know our way around our fridge and can precision edit a break like you are I can knock up sandwich.
The UK producer's career started as a smouldering UKG burn in 2007 and developed into a dangerous house fire around 2011 with his debut album Carrier. 2014/15 saw him raise the heat to bush-burning levels of national emergency with his carefully sporadic, but consistently full-packed and generous, EPs on both the aforementioned Astrophonica and Keysound. Incorporating more of the classic jungle sound into his work (something that's always featured in his DJ sets), he's not just captured the current jungle zeitgeist but physically grabbed it by the short and curlies and thrown it around the room several times.
Both "Lifted" and "Rotten" add to his already well-fleshed repertoire. "Lifted" is straight out of the Good Looking playbook circa '95. Churchy chimes wrap themselves around rolling Omni Trio style breaks while a wee tease of a reggae vocal binds the breezy pads, synths, drums, and palpitating subs together. Spacious and unhurried, it's as stately and confident as it is timeless. "Rotten" takes us down a slightly darker path. A route well-travelled by Sully (as those who know "Blue" will attest), "Rotten" is an exercise in microscopic drum editing. Stop/starting, twisting, reversing and stuttering, there's a strong whiff of Source Direct's legendary mangled magic to the rolling amens that never repeat themselves. All the while a Blak Twang sample and stretched ghostly textures adds a human element and narrative to the track, ensuring its 3am status.
The final party in this equation needs no introduction whatsoever. Sam Binga's coal face grafting paid major dividends last year with his debut album Wasted Days, an album that showed us how far the currently nameless bass fusion could be taken with the right creativity and MCs. It's clear he's not letting up with his remix of "Rotton": Repurposing the halftime approach with a slow, sludgy dubby 4/4 (ala Amit's "Operator" last year), he leaves the amens to rattle (and indeed roll) in the background, chirping away incessantly for the raving crew while the rest of us chow down heartily on his toxic levels of bass/kick weight.
Dave Jenkins
Tracklisting:
A1. Lifted
B1. Rotten
B2. Rotten (Sam Binga remix)