Surgeon – From Farthest Known Objects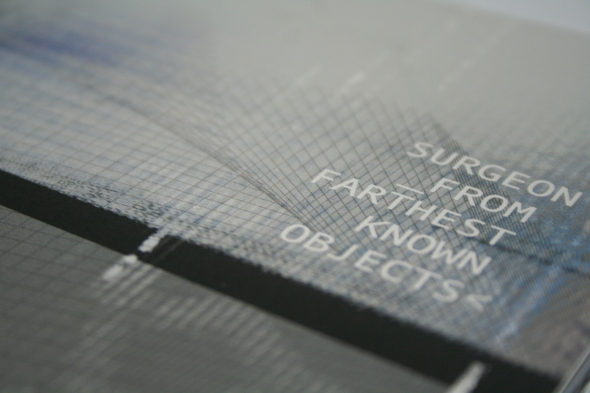 The last Surgeon album was 2011's Breaking the Frame. While its title and sound showed that at the time, the UK producer was steering away from traditional or conventional techno tropes, this follow-up, nearly five years later, seeks, on a superficial level, to tell a different story. From Farthest Known Objects purports to be directly linked to transmissions from far-flung galaxies that the artist came into contact with when he was jamming on hardware.
The bewildering track titles  – take your pick from the tongue twisting  "EGS-zs8-1,"  "BDF-3299" or this writer's personal favourite, the wonderfully impenetrable "A1703 zD6" –  were supposedly arrived at after Anthony Child consulted with astro-physicist Dr Andrew Read, a former musical collaborator. It's a wonderfully daft concept and sounds like Surgeon is having a laugh at those sci-fi obsessed auteurs who place greater value on the grand notion rather than offering a shred of originality. It will also do a lot to endear Anthony Child to those who might have thought him to be a bastion of rigid, po-faced techno seriousness.
That's not to suggest that From Farthest Known Objects is a barrel of laughs; right from the get-go the dense, glitchy rumble of "EGS-zs8-1" and the grinding, rolling "Z8_GND_5296" make for some of the most intense music that Child has recorded. It also feels like Child has gone in the opposite to the suggested concept and has cleaved and hacked his way through influences like minimalism, clicks and cuts, loopy techno and bass to retreat into a hidden, inner world.
"SXDF-NB1006-2" for example is a mean, low-slung take on vintage DBX, the analogue yelps bleeding over a harsh, reduced rhythm, while "GN-108036" pumps with all the fury and force of a Downwards release, tempered by Objekt's glitchy percussion. On "BDF-3299", a double-bass and jittery drums give way to nausea-inducing noisy tones, while the shifting frequencies on "A1703 ZD6" pack all the pulverising force of a black hole. Rather than communicate across galaxies and explore the stars, From Farthest Known Objects feels like Surgeon has created a work that is entirely inner-worldly.
Richard Brophy
Tracklisting:
A1. EGS-zs8-1
A2. z8_GND_5296
B1. SXDF-NB1006-2
B2. GN-108036
C1. BDF-3299
C2. ULAS J1120+0641
D1. A1703 zD6
D2. BDF-521