Mono Junk lines up two Dum 12″s
New music and a reissue will arrive on the Finnish producer's label in March.
Kimmo Rapatti is perhaps best known for his music as Mono Junk with the producer's output on his own Dum Records between 1992 and 2007 helping define a minimal sound of Finnish techno similarly pioneered by Mika Vainio's Sähkö Recordings. Following a brief hiatus, the Mono Junk name resurfaced on Canada's Forbidden Planet and Skudge White in 2014 which seems to have sparked a renewed interest in Rapatti's music with the aforementioned labels signing up the Fin up for another record each ahead of his most recent EP for Credit 00's Rat Life. Furthermore, last year Rapatti relaunched Dum with three 12″s from various monikers he's made music as including a reissue of Mono Junk's 1995 dub techno classic "Channel B".
News now arrives that Rapatti has hitched plans for two more records on Dum as we head into 2016, with the first, Deep In My Mind, delivering four productions in a collaboration with fellow countryman Tatu Metsätähti, aka Mesak, while the other plucks cuts from his early-to-mid-'90s fare on Thomas P. Heckmann's Trope Recordings and iconic West Coast label Plug Research. Mesak's solo output is best know for his records on Steffi's recently relaunched Klakson label whose most recent record on Klakson featured a Mono Junk remix, while the reissue material of this double drop, A-Sides, compiles Mono Junk and Rapatti tracks made between 1993 and 1995.
Dum Records will release Deep In My Mind by Mono Junk vs Mesak on February 29 and A-Sides by Mono Junk and Kim Rapatti on March 21.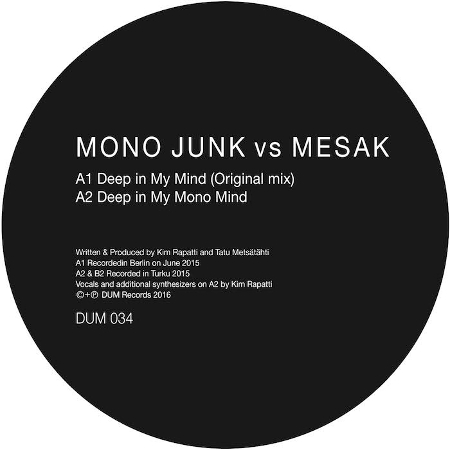 Tracklisting – Deep In My Mind
A1. Deep In My Mind
A2. Deep In My Mono Mind
B1. Deep In My Electro Mind
B2. SYSdrum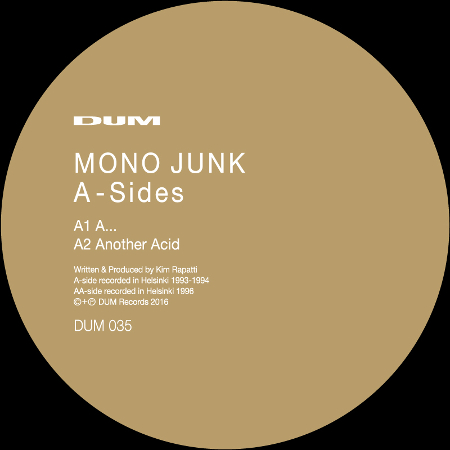 Tracklisting – A-sides
Mono Junk – A…
Mono Junk – Another Acid
Kim Rapatti – Untitled (Mood E.P. A1)
Kim Rapatti – Untitled (Mood E.P. A2)
Mono Junk on Juno