Dip In The Pool – On Retinae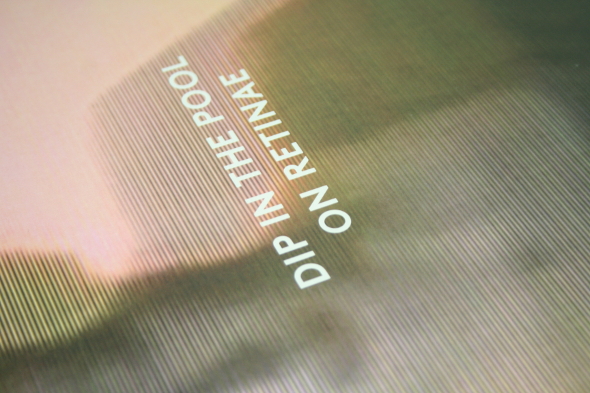 There's little doubt that Music From Memory has made a big impression since slipping out its' first release back in 2013. While there has been the odd brand new gem – the Gigi Masin, Young Marco and Jonny Nash collaboration as Gaussian Curve, most notably – the label's primary focus was to reissue the obscure and overlooked music that founders Abel Nagengast, Jamie Tiller and Tako Reyenega had collectively and individually discovered. While this remit leaves enough wriggle room for sideways moves – see the quirky lo-fi synth-soul of Napoleon Cherry, say, or the epic experimentalism of Michael Turtle's brilliant "Are You Psychic?" – the label is often at its best when exploring baggier, looser, dreamier and more loved-up pastures.
Their latest 12" is a classic example of this. It comes from Dip In The Pool, a Japanese outfit who have been delivering their own hazy, comforting, life-affirming blends of J-pop, ambient, new age and horizontal synth-pop for nigh on 30 years. While they're still active – their most recent album, Highwire Walker, was released in Japan last year – they're hardly known outside of their native country. As any Balearic digger will tell you, though, they've released some fine music over the years, with their trio of 1980s albums – Silence, 10 Palattes and Retinae – being high on the wants list of many discerning collectors. They also worked extensively with Saxophonettes man Yasuaki Shimizu, whose work as part of Mariah continues to attract attention following last year's must-have reissue of 1983's brilliant Utaka No Hibi full length.
In fact, Shimizu's snaking, exotic clarinet lines are one of the defining features of "On Retinae", the Dip In The Pool track that Music From Memory has chosen to re-release. It originally appeared on 1989's Retinae album, where the "West" and "East" versions – almost musically identical, save for the lyrics being delivered in English and Japanese – bookended the CD. Here, they've been re-mastered, but otherwise retain the wide-eyed sense of wonder and morning-fresh loveliness that marked out the duo's work during the period.
Really, though, it's the mix of loved-up musical elements – so befitting the period, when "Balearic beats" and the slightly misleading "ambient house" genres were gaining traction – that makes "On Retinae" such a beguiling record. The vocals are sweet, innocent and heartfelt, but delivered with a distinct weariness by band member Miyako Koda, while the chugging groove sounds like a downtempo precursor to dub-house. Wrapped around these two key elements you'll find distinctively Japanese-sounding, synthesized string stabs, cascading piano lines, glistening electronics and, of course, Shimizu's beguiling clarinet work. Together, they add up to something of rare beauty; a genuine Balearic pop gem worthy of re-appraisal.
Matt Anniss
Tracklisting:
A1. On Retinae (West Version)
B1. On Retinae (East Version)