Solo Senyawa 7″s on the way
Rully Shabara and Wukir Suryadi deliver the first releases in this format for Rabih Beaini's Morphine label.
Although Rully Shabara and Wukir Suryadi have been actively pushing the boundaries of Javanese music since 2010, it was their arrival on Morphine back in March that exposed Senyawa to a whole new audience. Their album Menjadi marked the onset of a programme of special album projects co-produced by Morphine founder Rabih Beaini, complemented by design curation from Tankiboys and some wonderful full colour artwork by French-born designer Nathalie Du Pasquier. Unique long players from Charles Cohen, Pauline Oliveros and Ione, and most recently Pierre Bastien have since followed in the series and demonstrated more than ever before Morphine's remit goes deep beyond techno.
A new year will see the return of Senyawa to Morphine, although not in the form we are accustomed to seeing them. Rabih Beaini has convinced Shabara and Suryadi to demonstrate their musical talents in an individual capacity on a pair of solo 7″s which represent the first releases in this format for Morphine. Suryadi's Woven Sounds consists of two full tracks whilst Shabara's Huruf Hidup features six briefer productions. Clips for both over at Rush Hour's site suggest they are an intriguing addendum to the Senyawa album.
Morphine will release Woven Sounds by Wukir Suryadi and Huruf Hidup by Rully Shabara in January.
Wukir Suryadi – Woven Sounds Tracklisting:
A1. Tenun
B1. Comb Sisir & Topi Toraja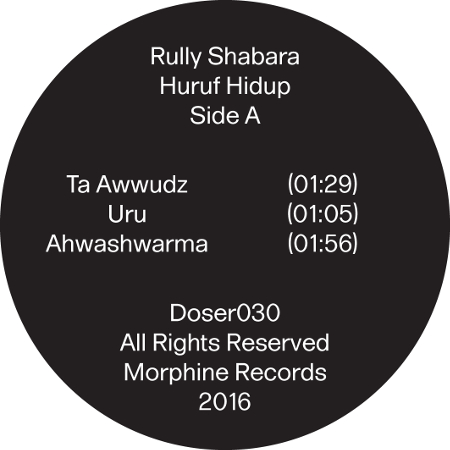 Rully Shabara – Huruf Hidup Tracklisting:
A1. Ta Awwudz
A2. Uru
A3. Ahwashwarma
B1. Lahuwahlahu
B2. Faring
B3. Kunna