Best of 2015: Top 12 albums
A list of personal favourites is presented as James Manning, Oli Warwick, and Tony Poland run through the best albums of 2015.
The waxing and waning relevance of the album in the field of electronic music is often a point for discussion, not least last year when we deemed fit to highlight 30 choice long players worthy of attention. As 2015 draws to a close the Juno Plus editorial team felt that a more concise selection was called for this time around, reflecting not so much a dearth of decent full-length releases as a core few that stood head and shoulders above the rest.
What also became apparent in drawing up a shortlist was the highly personal nature of each writer's choices, perhaps symptomatic of the broad range available in these bountiful times and the challenge for any one record to break through the chatter and lodge a place in our hearts. As such, we took on four records each, presented in no particular order, which took on a personal significance as we waded through the vast pool of music in 2015. Can you guess who chose what?
Nochexxx – Plot Defender (Type)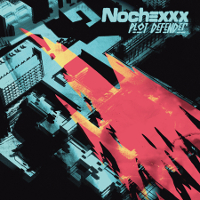 Sometimes an album blasts seemingly out of nowhere with a vicious intent and an identity that demands instant attention. Dave Henson is certainly no newcomer, with Plot Defender marking his third album as Nochexxx following years dishing out electronica as Ascoltare and forays into post-rock before that. Indeed his first appearance with "Ritalin Love" was a head-turning moment back in 2010, but the Nochexxx sound is one that seems willfully crafted to avoid excessive popularity in favour of a proudly independent stance with a grubby finish.
There is after all a reason that we suggested that aspects of Plot Defender, "would make the Dutch Bunker posse squirm uncomfortably in their seats," and indeed Henson's creations sit in that same profane sonic dungeon one psychedelic step left of the noisy techno fraternity. In many places techno seems low on the Nochexxx agenda in favour of unusual electro mutations and a textural bent that favours distortion without being bound by it. The primary characteristic of the album though is surely fun, however deranged and atonal it may be. It takes an acquired taste to appreciate the jolly side of such lopsided melodic hooks as can be found on the title track, but there really is an unhinged joviality in this music. While it's unlikely his style will ever see him shoot to worldwide fame, Henson has proven to be a hugely inventive force in the haggard, burnt-out circuit board of your least favourite synthesiser.
Hunee – Hunch Music (Rush Hour)
Everyone loves an album with a good story behind it right? Beyond the actual quality of the tracks, maybe this is why Hunch Music from Hunee resonated with so many people. It was a long time coming too, with the idea of a debut album from Hunee keeping us excited ever since whispers first emerged back in 2012. The Tide 12", a fine two-track single of infectious house music released back then, was apparently the precursor to Hun Choi's debut album. With neither album or indeed any more music surfacing, Hunee instead focused on developing the fine reputation he now has as a thrilling DJ.
It was then a welcome surprise when Hun Choi finally delivered his long-mooted debut album this year, and with it came the revelation of some deep soul searching between 2012 and 2015 as the Korean-German grappled with a creative crisis. Last year's arrival in Amsterdam and a blossoming friendship with city icon San Proper helped Choi find inner peace, and the music started to flow. Apparently recorded in a matter of months, Hunch Music was one of the most life-affirming long players this year that complemented his refined and unpredictable selecting skills. House music was the foundation of this album, but just like his DJing, Choi pulled for so much more with outstanding results.
Refracted – Through The Spirit Realm (Silent Season)
Refracted's debut album may have been steeped in concept but it was far from an arduous, even lofty listen. Through The Spirit Realm is a sonic journey into the depths of an enchanted 'jungle' the Spanish producer has created given the narrative of opening and closing tracks "Enter The Jungle" and "Exit The Jungle". Both may be ambient bookends for the album, but they do provide extra context for the music in between; pulsating sessions of mystic, bassline driven techno that Italians do best. There is, however, more on offer here than throbbing arpeggios and subtle changes in circular rhythms. It would be easy to simply compare Refracted to producers like Giorgio Gigli and Donato Dozzy, and indeed the influences are there, but the naturalistic nuance of the music is what sets Through The Sprit Realm apart from solely servicing the club.
It's a perfect fit for the environmentally-inspired Silent Season, the Canadian label who delivered another impressive year of output thanks to albums by ASC, Damaskin's Seraphim Rytm alias and the triple CD Wandering II Compilation. Since Refracted's surfaced two years ago (on Silent Season) he's launched his own Mind Express platform and had music appear on a selection of other smaller, hardcore labels, and this debut album will likely draw attention from those who may have missed his music in the past. The halfway mark of the LP, "The Ritual Begins", is where you'll feel the music at its deepest setting, and much like Neel's Phobos LP from last year, Through The Spirit Realm carries the listener into uncharted territories, and while Refracted's LP is understood to be based on terra firma (not gravitating the moons of Mars), it's supernatural in quality.
Jonathan Fitoussi & Clemens Hourriare – Five Steps (Versatile)
While it has always been known as a trustworthy destination for intriguing electronics outside of its dominant house-led remit, Gilb'r's Versatile Records has been on searing form this year. Projects such as The Explosion and Acid Arab have all added to the long-standing stamp of unusual quality that helps solidify the label's reputation as one of the finest Parisian institutions in operation in these times. Despite this, Five Steps still came as something of a surprise when it landed in the summer in a bubbling broth of Buchla-powered brilliance.
Jonathan Fitoussi and Clemens Hourriare, while esteemed in their respective fields, were hardly household names, and while modular synths have been ever more present in contemporary electronic music, Versatile didn't seem the logical place to find an album of dedicated experiments on a piece of hardware from the '70s. Naysayers may well be put off by the thought of a whole album made on modular and nothing else, but Five Steps serves as testament to the mythological reputation of the Buchla 200, as well as the stunning tonal qualities and unpredictable sequencing possibilities of modular synthesis in general. From quivering rhythmic excursions to reflective harmonious passages, the sounds Fitoussi and Hourriare managed to wring from their chosen steed are a delight for the mind, and yet this never comes at the expense of the musicality. Much like the work of pioneers such as Morton Subotnick and recent adopter Anthony Child, the divide between electronic and organic sounds in Five Steps is broken down in a most immediate and engaging of ways.
John T. Gast – Excerpts (Planet Mu)
While the concept of label anniversaries will always be a nice angle to frame 'content' for online publications such as ours, how many of them end up feeling fulfilling in retrospect? One label that seemed to get it just right this year was Planet Mu who celebrated their 20th anniversary. This is reflected in the fact John T. Gast is listed here alongside Jlin's album Dark Energy. Excerpts from Gast landed all the way back in February as one of the very first 2015 releases from Planet Mu, and it remained an album that was a pleasure to return to as the year progressed. Prior to this album, Gast had preferred to operate in the shadows with his most notable credit co-production duties on the Hype Williams album Black Is Beautiful. Aside from that, Gast's output had been a few excellent 12"s and self-released CDrs and digital albums.
The fact Planet Mu coaxed this reclusive producer into his most prominent release to date demonstrated the label remains unafraid to take chances despite their vintage, but really that's only part of the story. Like quite a few of the other albums featured on this list, Excerpts was chosen as it sounded like nothing else released this year, with Gast delivering an 11-track journey full of precision, ebb and flow. Indeed it felt all too suited to soundtrack some imaginary noirish independent thriller, with "Congress" delivering one of the year's finest examples of creeping house music.
Peder Mannerfelt – The Swedish Congo Record (Archives Intérieures)
This year has been a most controversial time for electronic music, with thoughts and opinions on topics like sexism and racism to plagiarism and Berlin dress codes splattering the walls and comment sections of the internet like thrown pies. While Peder Mannerfelt's The Swedish Congo Record may not be putting contemporary taboos and other anathema under the microscope, it was an unintentional critique on European colonialist history. Inspired by Armand Denis, a Belgian filmmaker said to be one of the first Europeans to capture sounds of central Congo, the initial idea behind the 24-track LP was to use the original 1950s recordings as a sample source, however Mannerfelt went the extra mile to recreate the album entirely with synthesisers and drum machines.
As Nic Tuohey pointed out in his review, the liner notes for The Swedish Congo Record concluded "that by simply sampling the album, it would be hypocritical and contribute to the same pattern of exploitation that the album is in fact criticising." Casting western imperialism to one side, the music presents 24 tribal-infused vignettes, with most clocking in at under two minutes. From the sequenced imitations of African drumming in the three "Royal Watusi" breaks, to denser rhythms in tracks like "Xylophone At Lubero" and "The Ceremonial Drums Of Chief Kokonyange", sounds vary greatly throughout the course of the album. Perhaps most intriguingly are the vocal throws heard in productions like "Omande" and "Elephant Feas" which are positively voodoo and hypnotic. The Swedish Congo Record is an album that will come at you from all angles, makes a statement, while being a perfect companion for the road.
Robert Aiki Aubrey Lowe & Ariel Kalma – We Know Each Other Somehow (RVNG Intl)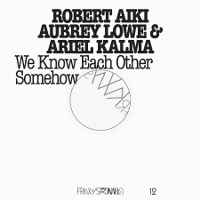 The way you absorb a piece of music can so often be coloured by the presentation, the context and other reference points that some artists will swerve dictatorial artwork or suggestive track titles so the music can speak for itself. In the case of We Know Each Other Somehow however it would be fruitless trying to avoid the gestation of the album in Ariel Kalma's home patch of rural Eastern Australia; the trickling brook and twittering birds that reside in sprawling opener "Magick Creek" tell you instantly that location plays a significant part in everything you hear.
Rvng. Intl have done a fine job with their inter-generational FRKWYS series over the years, but the decision to pair OM member Robert Aiki Aubrey Lowe with veteran ambient and world music explorer Ariel Kalma ranks among their most inspired choices to date. After they first met in San Francisco, Lowe ended up travelling down under to spend six weeks immersed in the creative process with Kalma, and the resulting album is as powerful and emotionally loaded as you could hope for an ambient album to be. From the undulations of modular synthesisers to Kalma's balmy saxophone tones, the chemistry between the pair is palpable, while the field recordings sit prominent in the mix to shape out the landscape of Main Arm as the third participant in the process. Just to ensure that the setting loomed large on the album, filmmakers Misha Hollenbach and Johann Rashid recorded non-linear documentary Sunshine Soup on 8mm during the recording process.
Boof – The Hydrangeas Whisper (Bubbletease/Running Back)
Let's take a moment and be thankful for Maurice Fulton; for his tendency to slip out amazing music unannounced via his own Bubbletease Communications label, and his relationship with Gerd Janson that ensures it sometimes reaches the physical format it deserves. Together these two elements resulted in one of the year's most distinct albums in the shape of The Hydrangeas Whisper from Fulton under his long running flower-fancying alias Boof. Released digitally without so much as a tweet's notice in late March, there was a thankful sense of inevitability when The Hydrangeas Whisper was later given the double vinyl treatment from Janson's Running Back label.
The Boof material has always featured some of Fulton's prettiest music, see 2011's "Joi Is Smiling" for a peerless example, yet The Hydrangeas Whisper saw the producer change tack. Fulton seemed intent on channelling all his various sounds across the duration of the album, and he suceeded in this approach magnificently. Indeed, the 10 tracks were presented as one continuous listen, leaving you strapped in for the ride as Fulton weaved through an array of laidback Balearica, outright disco heaven, heavily phased dub techno reminiscent of his Stress-era output and more. Add in some delightfully goofy track titles that allude to previous Fulton favourites and we were left with another classic album from the legendary producer.
Mike Cooper – Fratello Mare (Room40)
Mike Cooper is by no means a new name, the British guitarist he's been releasing his unique strain of folk rock, blues and free and improvisational jazz since 1969. His music does however occasionally crossover into a sphere of electronic music we journalists tag experimental which can be traced back to an obscure 2008 release by CX Records. That same year saw Cooper land on Lawrence English's Room40 for the first time, a label (for the world of electronic music at least) that his music is best known. Fratello Mare is a further extension of Cooper's fascination with naturalistic sounds captured during his travels around the Pacific, which he first documented on Room40 album White Shadows In The South Seas, indulgently reissued on vinyl this year by Lindsay Todd and Stuart Leath's Sacred Summits.
There's certainly an unsettling feeling to much of the music on Fratello Mare, be it through the unnatural twang and wah wah tremolo of Cooper's guitar to the enchanted Jurassic Park ambience and other supernatural, voodoo tones perfect for a horror story set in the swaps of Louisiana. The album's deeper passages like "A House In Bali", "A Cinnamon Peeler", "On Passing Bamboo" and "Street Beneath The Beach" will make you feel as if you're hopelessly trying to escape a primeval Amazon watched by blurred figures hidden in the undergrowth, while others like "Of Palm & Reef", "Fratello Mare" and "On Passing Bamboo" paint the picture of lying in a hammock on a beach intoxicated by the local berries you've foolishly been chewing on.
October – Black Body Radiation (Skudge White)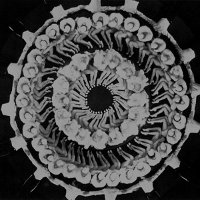 An album from Bristol-based techno producer October could have manifested in a multitude of different ways depending on when it landed in his career. That it has arrived more than ten years after he first stepped out on wax marks this release as a momentous event for artist and listeners alike. As Matt Anniss found out when he interviewed Julian Smith back in November, there had been times in the past when different iterations of the debut October album could have landed, only to be held back at the last minute. Building on a relationship with Skudge that reaches back to 2011, Black Body Radiation serves as an acute depiction of where Smith is at as an artist now while moving one step to the side of his established club guise.
Certainly there are tropes at work across the album that reflect current trends, not least the looming influence of EBM, industrial and coldwave that found favour with the rougher end of the outboard techno brigade, but in Smith's hands these signifiers take on a different energy. The drums leap and bound with an urgent energy that shirks fashionable distortion in favour of learned, thrill-inducing processing, and the melodic content comes in lurid shapes that contort and vie for attention without cluttering the mix. It's the deftness with which these elements are handled that makes Black Body Radiation such a stand-out record, all pressed metal and glistening muscle with the physicality of dance music but the engrossing narrative of a great rock album.
Smurphy – A Shapeless Pool of Lovely Pale Colours Suspended in the Darkness (Leaving)
With no previous coverage on Juno Plus, you might call A Shapeless Pool of Lovely Pale Colours Suspended in the Darkness a curveball inclusion in this albums list. Yet this debut from Mexican artist Smurphy proved to be the one long players revisited as the year rolled inexorably onwards. Released through MatthewDavid's Leaving Records, the album put Jessica Smurphy's artistry as a producer, singer and performer centre stage. Smurphy's one prior release was Geminiiniis, a mixtape issued by Mexico City collective NAAFI last year, and with no prior knowledge of her work it felt good to see how A Shapeless Pool of Lovely Pale Colours Suspended in the Darkness compared. Sonically sharing ideas, there is still a clear progression and expansion of sound palette discernible between that mixtape and this LP for Leaving.
Quality albums create a mood that you don't ever want to escape from, and A Shapeless Pool of Lovely Pale Colours Suspended in the Darkness achieves this superbly, leaving the listener eternally thankful for the loop functionality of mp3 players. The 11 tracks appear uniformly linked to one another, with sounds and textures transferring from one movement to the next as the music progresses. When it was announced, Smurphy revealed love was the motivating factor behind the recordings, suggesting the shifts in sound and mood throughout A Shapeless Pool reflect the emotions one feels when deeply in love. Perhaps this is why it felt like one of the most honest and rewarding releases this year. Whispers of a mooted vinyl edition from Leaving next year are most welcome.
Jlin – Dark Energy (Planet Mu)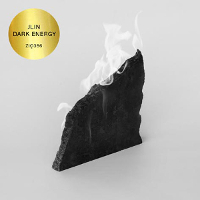 An undoubted highlight of this year transpired to be the emergence of Jlin, a 'future afrofootwork' artist from Gary, Indiana, a city once home to The Jackson Five. Jlin's music first surfaced on the Bangs & Works Vol.2: The Best Of Chicago Footwork compilation Planet Mu put out in 2011, which saw two of her tracks appear alongside others by RP Boo, Traxman, DJ Spinn and the late DJ Rashad. A solid four years later Jlin's arrival was announced proper with her debut album Dark Energy complemented by a highlight performance at Unsound 2015. Here it was an interesting exercise to contrast Jlin with fellow footwork performer RP Boo, with her debut live set coming across as a sharper and more futuristic take on his traditional style. The sheer physical force of her performance, remarked upon at the time in our review, remains as powerful now thinking back.
Along with choreographed SharQui-like dancing that accompanied her performance, it was tracks like "Unknown Tongues" and "Guantanamo" that resonated most, and this can also be said for the album. For other tracks easily describable as 'off the hook', look to "Ra" and "So High" and Jlin's take on cutting up vocals is what adds a unique nuance to her music. While her productions may not be as frenetically chopped as other footwork artists, Jlin does have a dynamism that's distinctly her own in addition to a structured style of beat-making that has a rigidity similar to slamming variations of Jersey house. Gnarly electronics and tribal elements combine with theatrical passages and rave in Dark Energy too, and heat like that can specifically be found on "Black Ballet", "Expand" and "Black Diamond".