Planet Delsin – Resisting Routine
James Manning travels to Amsterdam for local brew, fanzines and music talk at the home of Delsin founder Marsel van der Wielen, catching up with Conforce and Delta Funktionen along the way, with in-house resident Mattikk taking to Studio 80 to record an exclusive mix of forthcoming Delsin music featured below.
Toured around Amsterdam on the back of Marsel van der Wielen's bike is a pretty good way to see the Dutch capital. Our journey began at Delsin HQ where I accompanied Marsel and right-hand-man Thijs van de Wijngaert to the closest post office to send away a load of Delsin web store orders. From there, caught up in a mainstream flow of cyclists, I was taken past Amsterdam Centraal and peddled through the quieter, cherry blossom bloom of Westerpark tailed by a mini-two-seater you'd imagine Mr Bean driving. While the single techno landmark of our journey was former gasworks Westergasfabriek, a venue used on the off by the Awakenings festival.
It wasn't long after arriving at Marsel's place that beers, crisps, fanzines and old mailers made their way to the table, some of which featured reviews by a young Jochem Paap, aka Speedy J. Conversation criss-crossed from Mr Fingers albums and convoluted Pink Floyd and John Peel references to open letters of termination by Carl Craig's Retroactive Records, mail and t-shirts from The Black Dog and demo submissions to Warp, to Mad Mike's 'all-time top ten' and stories of Detroit techno pioneers making their way to Holland for the first time. Marsel was also the first Dutch DJ to play Berghain (with Steven Aroy Dee in Panorama Bar), did you know? And football fans, Marsel witnessed Clarence Seedorf and Patrick Kluivert make their Ajax debut, and was there when they won the 1995 Champions League final.
Marsel is a laid back, nonchalant kind of guy with a bubbly social demeanour. He adds sound effects to what he says and chuckles when he speaks, and has two cats that walk over whatever they want and hide in his giant wall of categorised records. After learning the Delsin story it becomes clear a great deal of the success Marsel has achieved stems from his early adoption of the internet, but also his pragmatic attitude to running a record label and overarching love for vintage Detroit, UK and European techno.
Alongside other Dutch institutions Bunker, Clone and Rush Hour, Delsin has shaped the way techno from the Netherlands, and abroad, is seen and heard today, which for Delsin initially began with local artists like Newworldaquarium, Aardvark and later on Steve Rachmad, through to the more recent electro, dub techno and UK-inspired productions of Delta Funktionen, A Made Up Sound and Conforce. "It's funny to see how everyone is going but I don't think anyone of us had a real big plan," Marsel says of his label, Clone and Rush Hour.
"Rush Hour were getting Theo Parrish and Moodymann over for their first gigs in Amsterdam in '98 and afterwards," Marsel tells me, and recounts a story "he remembers like it was yesterday" of Rush Hour boss Antal cycling up next to him to ask if he could distribute Delsin. Marsel would later apply technical design to Rush Hour's website – still truckin' today – and work part-time in mail order and admin at their physical shop. In the early days Rush Hour and Delsin even shared music, agreeing to divvy-up tracks Aardvark submitted on cassette to both labels for their respective Spoken and Nonspoken 12"s.
Beforehand, however, Marsel inaugurated Delsin in 1996 with his own ten-track Publik Draft cassette as Peel Seamus. "It was a strange first release because it was kind of a demo tape and I thought let's make more and I'll sell them through the internet, because during that time you used to have mailing lists," Marsel explains. "I had about 30-50 tapes made and I sent about ten to Eevo Lute and Warp – I even have the decline letter," Marsel says grinning, showing me the signed response from a giant box of keepsakes he brought down to show me. "I have two or three demo tapes upstairs of Danny Wolfers' music before his first vinyl release, maybe he doesn't have them any more so I need to look after them," he adds.
So how did Delsin 001 sell? I ask. "It was the freaks which bought it, but there wasn't any hype around it," Marsel tells me. "It was a start, especially with producing, I didn't know anything about mastering, I just made the music myself, put it on a DAT tape, and the vinyl releases were the same." Eevo Lute was a label that inspired Marsel in the '90s "because it was a Dutch label that was good listening techno," he says, and adds, "the strange thing was techno wasn't that big in the Netherlands in the early-'90s. In '96, '97 with Jeff Mills it got bigger, but before it was divided into the gabba scene and the mellow scene. So the mellow was the club house scene and gabba was the hardcore, and then techno kind of fell in between."
To this day Marsel doesn't really take his retired Peel Seamus pursuit that seriously, although in an old Clone mailer he shows me, his follow up Audience EP (providing Delsin with a first vinyl release) sits between Moodymann and Octave One 12"s, and reads: "Finally some new techno from the Lowlands, very good Carl Craig and Stasis influenced techno, Tip!!."
As the label grew, Delsin did attract a kind of hype, the kind Marsel compares to what L.I.E.S. and The Trilogy Tapes have experienced. "Every release was doing 900, 1000 copies," he remembers, adding, "I thought, 'hey this is fun, I'm selling stuff.'" After graduating university Marsel found work at "a huge consulting agency," that he says "probably wasn't the best choice when I could have worked with a start-up company, I had to wear a suit and stuff like that."
"I had full employment with a contract; I had a car, cell phone, laptop from work, and a pretty high salary. I remember my superannuation started, they made a date; when I was 65 I would have a certain amount of money, and I was like 'no, I'm not going to make it to that age with this work', and working 40 hours a week, three hours a day in a car, being at a customer's place at 9am in the morning…" As the label began to take shape and achieve moderate success, Marsel thought, "fuck the job… I'm just gonna try music as my main thing for one year." After three months, he felt, "I knew I didn't want a salary job any more, and the biggest thing was like: I need this freedom to do my own thing."
Like much of the music to come out of the Lowlands, Delsin's inspirations are steeped in the sounds of Detroit, and over the years motor city contributions have come from Rolando, John Beltran and Optic Nerve, while Dan Curtin also supplied a 12" under the name Plasm Nesonic. Continentally, the list of names to release albums on Delsin is impressive, with the likes of Morphosis, Claro Intelecto, Mike Dehnert and Giegling's Vril notching up long players, while high profile 12"s over the years have come from Shed, Sven Weisemann and Low Jack, to Herva and Gunnar Haslam – the list goes on.
Boris Bunnik, aka Conforce, and Niels Luinenburg, aka Delta Funktionen, are two artists that share a particularly close kinship with Delsin, and both are residents for the label's Planet Delsin parties. Delta Funktionen's second release on Delsin was the Silhouette 12" which still remains a diamond in the label's catalogue, and Marsel shares with me it was decided in three minutes whether Luinenburg's music would become a Delsin record or not. "I checked; am I hungover; am I still drunk; am I depressed; am I in love: I think I'm pretty sober."
"We first released the "Silhouette" track on Ann Aimee on a very limited pressing. It sold out within a day or two," Luinenburg tells me in a follow up email to my discussion with Marsel. "After a couple of weeks, Marsel received an email from Dettmann asking if there were any other copies available because he scratched his one," he continues. "There were no copies left, except one test pressing I still had, so of course I sent him my test pressing, and the whole thing got us thinking, 'what about a repress with a Dettmann remix?', I was up for it, and Dettmann was up for it."
Since that release Luinenburg's career has flourished with more records making their way to Delsin and its sub-label Ann Aimee, including his 2012 Traces LP. He was also employed to mix Resisting Routine, a compilation of tracks released across four Inertia samplers Delsin commissioned from the Fachwerk crew, Peter Van Hoesen, Skudge and Lucy to label affiliates like Sawlin, Redshape and Area Forty_One.
"With Delta it's nice because he went from pretty moody, inward techno to much more becoming a DJ, and now he has his own label," Marsel says of Luinenburg, adding, "with Conforce it was a little the opposite, DJing wasn't really his thing and he was like, 'I just want to produce and play live sets.'" Conforce has released three albums with Delsin, including this year's Presentism, delivering the label its fair share of electro-infused dub techno along the way. And like Delta Funktionen, Conforce also has musical gems encrusted in Delsin's crown. Both the Dystopian Elements EP and Escapism album were released in 2011 and can well be considered some of the best music he's put out to date.
"It's always fun to do albums with Marsel," Bunnik says, "it's a special process that I can't describe."  The opportunity to exercise artistic freedom is naturally what feels most important for Bunnik, and he says Escapism marks a specific period in his life. "They are personal documents, not for the sake of releasing an album, not for the sake of getting new bookings, purely for the sake of inspiration and personal satisfaction."
Keeping up with Bunnik post-2011 is quite the task with countless projects making their way to Clone, Echocord, Field and Frustrated Funk, among others, and Marsel has fond memories of working with Bunnik during those formative years. "It was a new challenge," he says, "Conforce, Quince and Redshape were a bit younger and it was really nice to get gigs for them and to get the music right."
In 2003 the Ann Aimee sub-label was created to release what Marsel calls "electronica," and early records came from Alex Cortex, Simon Walley's CiM project and Lucky & Easy. After a flurry of releases that ended in 2004, the label was put on hiatus until Ann Aimee relaunched in 2008, and following a visit to Berlin record store Space Hall Marsel remembers thinking, "there's so many labels… I'll just have all the music on Delsin, on one huge, whatever…" Ann Aimee then merged with Delsin following Sawlin's Niedertracht EP.

"People involved in the label were like, 'ah nah you can't stop it,'" Marsel continues. First and foremost it was Boris Tellegen, the graphic designer behind Ann Aimee's strong visual identity; a sleek, and at times derelict industrial aesthetic with attention given to jagged lines and patterns which has since been incorporated into the overall look of Delsin, the upcoming B12 record a perfect example (pictured above). "I didn't want to lose him making covers," Marsel adds of Tellegen, explaining the resurrected Ann Aimee is directed toward releasing "darker, dancefloor techno," and highlights of the series so far have come from Delta Funktionen and Sawlin, to Manchester-based producer James Kumo, Ukraine's Yan Cook, the Inertia samplers, Vril's Portal LP, and Mosca's change of tact in the A Thousand Year's Wait 12". Local Amsterdam pairing Graphic Surgery are another unit adding to Delsin's visual identity too.
Delsin also has its X-DSR reissue series which has brought to light some classics from the past, including Son-Sine's Upekah 12", a rare, almost forgotten slice of New Zealand dub techno that's as warm as a crackling fireplace. Keeping with dub techno, this time from Iceland and a little colder, the series also reissued Exos' My Home Is Sonic album this year, and before that put Claro Intelecto's debut record on Ai, while perhaps Marsel's most indulgent reissue was a split 12" that saw the label pair Luke Slater's The 7th Plain project with Mark 'MK' Kinchen's "The MKappella"
"That's me finding tracks for my own love. That makes the job easier now, I'm just putting out tracks I loved 20 years ago," Marsel explains of that particular release, however with Thijs van de Wijngaert in the room, Marsel jokingly warns, "Thijs doesn't allow me to do it too much because then we're a reissue label." Delsin has, however, developed a penchant for talent hunting, with artists like Bleak, Unbroken Dub, Low Jack and Vril enjoying increased exposure after being cherry picked for releases on Delsin. Regarding Vril, Marsel shares, "I had an EP by him on Giegling, then I heard a track on a Marcel Dettmann mix CD, and then I thought, 'hey, this is really nice, this is really ravey techno, but in a good way', it's similar to how Shed makes his music, it's not really complex but it's done in a good way. And then I sent an email his way."
As the afternoon sun pours in to Marsel's lounge, his cats receive a rare telling off as our conversation moves to Delsin events. "I hate those really ridiculous DJ fees, so it's not my thing and it's not gonna be my thing," he says. "At one time I was really looking at the event part of things but I really get grumpy if there's only 150 people with a 600 euro loss, because it's not really my passion."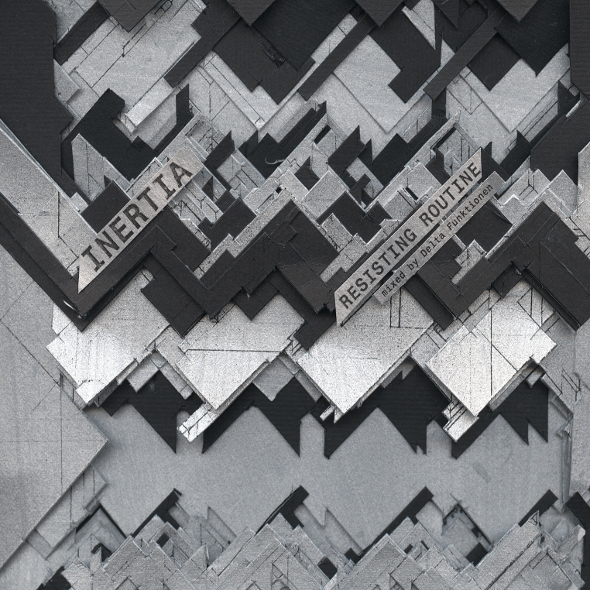 The label, though, is something Marsel says he could never stop, however there was a time where he felt it might be time wind things down. "In 2005, 2006, I was pretty done with music, for me personally it stopped, I felt like there was nothing new coming in anymore."
"Mo Wax started in '94, Metalheadz was around that time, and I was always changing, and then Moodymann and Theo Parrish came in '97 and I was like, wow this is really a bit different again, and that really got me into disco and old jazz, but then it kind of declined or something…" Marsel continues, "I put out the Strike album and it only sold three or four hundred in the first few months and I was like 'this is great music…' I mean in 2005 I only did two releases which was like a record. At one stage it was like: 'argh gotta stop this label, fuck it, only sold so many records of this beautiful music… fuck you all.'"
I ask if the popularity of minimal that so many lament had anything to do with this. "Yeah, and also getting older," Marsel responds. "I stopped buying records two or three years ago but then I was really into the new beats sounds, the Hessle Audio, Hemlock, Nonplus thing," he says. "I moved into the 'dubstep' sound which I really liked, but then that moved kinda towards the general dance, techno, house sound, and I was like, 'no, don't do this!'"
"Then Shed was doing his own productions, and then Berghain started the year before, I don't know the reason why techno became popular again, but old school techno came back in, and with guys like Redshape and Quince at that time, luckily it was a new start." While Delsin can still very much be classed as a house and techno label, it does venture outside of those confines, "Like the Herva double pack," Marsel suggests. "That only sold 200 copies, you know, that doesn't make you financially happy, but on the creative side it's really nice," Marsel says. "I really liked the Herva album, it didn't sell so well, but he went on to do a Nick Höppner remix on Ostgut Ton, and got an album offer from Planet Mu, so that's what I like as well."
"When I was younger I wanted to be the Blue Note of techno, just go on and on, 200 releases," Marsel explains, whereas now he also likes to compare what he's doing to a book publisher. "With books the company is less important, you just have a logo, whereas a label it's a bit more important, but actually I wanted to be less important and less dependent on being a dancefloor techno label," he says. "I always look to bigger book publishing companies for inspiration as they put out big sellers and with that they can finance the poem bundles."
Elaborating on the concept, with the limited coloured vinyl editions of their webshop, Marsel explains: "you first put out a hard cover which is a bit more expensive and then you put out the paper back, and two years later you put out the mid-price pocket edition," adding: "in the end you want them all available, limited only by cover or vinyl colour, but not the music itself."
"Sometimes I think it might sound silly, but because I have studied, and I'm pretty good at organising (I understand) there are a lot of aspects involved; you have to communicate with music producers, but you also need to know what the customers, what people want to hear, want to buy, but you need to keep all the administration and all that stuff in check." Marsel wheels over to his computer and shows me a spreadsheet, "I made a workflow management thing," he says, "for a lot of people this is probably so complex, but it's not really rocket science is it, putting out a record."
"I want to make it a bit broader," he adds, "some people want house and techno to stay the same, not too adventurous, so I try and do both of those things: I try and be a steady supplier of good quality music."
James Manning
Delsin on Juno
Catch Delsin x Semantica at Studio 80, this Friday, October 16th.