Beau Wanzer – Randomness and Happy Accidents
Richard Brophy tracks down Beau Wanzer and learns of the Chicago producer's understated approach to making and releasing music.
It took a while for this interview to happen. Over the course of nearly two months and numerous emails, caught between time zones and heavy work schedules, communication with Beau Wanzer was sporadic. Yet like the Chicago-based artist's own ascent, we eventually got there. This singular artist has been recording music since the late '90s, yet his work only started to get released in 2008.
In part, his arrival, no matter how late or delayed, is the result of the attention that America's underground electronic music community has received abroad. Indebted to punk's DIY aesthetic as much as it is to techno's ability to exist independently of the mainstream music industry, it has provided the platform for an artist who may not have ever put out any of his recordings.
To date, Wanzer has released on L.I.E.S, Nation, Cititrax and The Corner, labels that, while not all similar sonically, share a similar mindset to his own BW imprint – although he is keen to stress throughout our correspondence that it isn't another label. Indeed, as is the case with many subjects, from the internet to his the creative process, Wanzer offers an unusual perspective.
This writer's first experience of Wanzer was in 2009, when he and Traxx debuted the Mutant Beat Dance project on vinyl with In A Daze (pictured left). Featuring Eric D Clark's slightly camp vocals underpinned by a jacking Chicago house rhythm, it bears little resemblance to his 2014 solo debut album Untitled. Presenting a radically different side to Wanzer's production, this album was a brooding, menacing work. The grooves crawl along, interspersed only by spooky shrieks and howls (Wanzer's own vocals), the militaristic stomp and breaking glass samples of "23132" and the more mellow electronics of "Headspace".
These releases shine a spotlight on the range of Wanzer's work, which is the norm rather than the exception in his catalogue. He has released tortured new wave as Streetwalker with Elon Katz, angular techno with Shawn O'Sullivan under the Civil Duty guise – including their recent debut album. Then there's another abrasive long player, also labelled Untitled, recorded together with Corporate Park and forthcoming on BW.
Working on his own, recent Wanzer activity includes the excellent Untitled EP, which fuses electro, abstract noise and rudimentary rhythm tracks whilst Mannequin have granted his superb EBM-themed remix of "Disconnect Myself" by US band //TENSE// from 2013 a much needed vinyl release.
"Finding a balance is important. Putting limitations on a particular sound so it falls within a specific genre seems a bit boring. It's important to just do what you are feeling and leave it to the listener to determine what it is. Regardless, it's all subjective to the listener," he says of his music. Nonetheless, on his latest Untitled release on BW, "Beefhearts" channels electro for inspiration. He says that electro acts like Luke Eargoggle, Glass Domain and Le Syndicat Electronique are some of his favourite artists and "had a significant role in the music I make." He does not seem to have been influenced by Detroit techno.
"I listened to a lot of UR and Interdimensional Transmissions. I really love all of Gerald Donald's projects, but for me, Le Car was one of the biggest influences to come out of Detroit," he says.
To fully understand Wanzer, it's important to understand his past; he says that back in the '90s he wasn't a 'full goth', but he "wore a lot of black band t-shirts/leather jacket, knee high combat boots, and the occasional collar. I'd say my hair was your typical '90s flat butt cut and obviously dyed black,".
Around this time, while his high school friends were tripping the light fantastic at raves, Wanzer was into bands like Christian Death, A Moon Lay Hidden Beneath The Cloud, Sleep Chamber, Klinik, Lycia and "quite a bit of the Cold Meat Industry label – industrial music played a huge role on some of the stuff I do."
He also points out, however, that he was always "into and influenced by a lot of different music…I was just a music nerd, I still am". Therefore, it was no great stretch that he got into techno, even though it took a while for it to happen.
"Most of my friends in high school were going to raves, but I wasn't that interested in it until later. It wasn't hard or cold enough for me, not like most of the industrial stuff I was listening to at the time," Wanzer says.
"It's not that it didn't 'do anything for me', it just didn't interest me as much as other things at that time. I think as time passes, tastes change and you hear things differently." Wanzer reflects on his introduction to techno, "or at least what I thought was techno," citing labels such as Ant-Zen, Hymen, Escape 3 Organisation, and Hands. "These were considered more 'rhythmic industrial'. In particular the track "Tentack One" by Imminent Starvation, that track tore my face off when I first heard it."
By the late '90s, Wanzer had started to make music himself. He says that he has always enjoyed tinkering with machines and had no fixed plan to release a record. Wanzer adds that he was content to circulate the material that he did record among his close friends.
"I just enjoyed the process of recording and fucking around, hooking up different things and seeing what happens. It's relaxing. I didn't ever think about releasing anything or if people would have been interested. I'd mostly just give my friends CDrs and play tracks for them," he says.
Given that his first releases only started to appear in 2008 and his Untitled album comprises material recorded between 2000 and 2008, does this mean that he is sitting on a huge bank of unreleased music?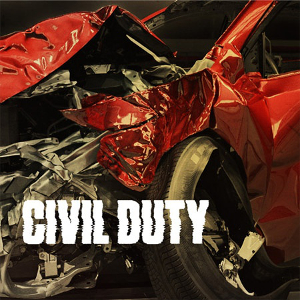 "I wouldn't say that I'm prolific, there are many other artists who release and record much more than me. I just like to screw around. I try to record daily, but not with the intent of releasing it, more for my own pleasure. I'm in no rush to put anything out," he explains. "I've been recording music for about 17 years now, so I do have quite a bit of material. I don't know whether or not I'll release it," Wanzers says, somewhat elusively.
It's not like there is any shortage of Wanzer releases at the moment. Apart from his own solo work there's the recent Civil Duty album and the upcoming LP with Corporate Park. Does he prefer to work on his own or with another artist?
"I enjoy both. When recording solo material, I tend to experiment a bit more and have no preconceived ideas, I just roll with it basically. When recording with others there is usually a loose idea of what we are going to do, but it doesn't necessary happen exactly how it's planned, which is good."
Collaborations are almost always with friends or people Wanzer has gotten to know over time. "I like working with others because it also helps me finish tracks," he explains. Despite having a diverse catalogue, Wanzer claims that he never sets out to make a specific sound.
"It's more what I'm feeling. I don't work on music with the intention that it will be something that falls within a specific context. I don't even think about it. I get home from work, make dinner, watch something stupid, and bang out a track. If I'm on my own I'll record something, listen to it a couple times until I'm bored and throw it in a box."
Determining when a track is finished proves hard for Wanzer, however. "This is why I almost never multitrack when I record. I'd spend too much time tweaking, adding/etc. I'd rather record the track in one take- if it works it works, if not I'll move on to something else."
Apart from this random approach, Wanzer feels that his modest studio set-up boost his creativity rather than putting limitations on it.
"Limiting myself helps with the creative process. Usually, I pick a couple of machines, record four to five tracks, break everything down and repeat the process with different machines and effects. I don't like using the same set up over and over again – I prefer to switch things up so it feels fresh." He admits things don't always sync up, but feels such mistakes can work too. "I think there is at least one thing wrong with every piece of equipment I own, but I can make it work for me. Randomness and 'happy accidents' are the foundation of my music," he explains.
These methods are audible on releases like the recent Untitled single, where random screeches and lo-fi kicks are hurled into the mix with discordant riffs and sledgehammer electro drums. It has the feeling of a producer who has enough confidence and talent to hit the stop button after one take.
In this regard, Wanzer's music and approach reminds this writer of the raw, unpredictable techno sound of labels like Bunker and Panzerkreuz. It's no coincidence that he describes himself a 'huge fan' of these imprints as well as labels like Kommando 6, and Stilleben, or that Wanzer encountered Guy Tavares' operation in the flesh soon after he started making music.
"I remember seeing the first Bunker Records US tour in 2002 at the Fireside Bowl here in Chicago. It definitely left an impression on me and got me more interested in the music that was coming out of the Netherlands," he recalls.
It was at another US show for Dutch artists Novamen and DJ Overdose that Wanzer got to know a pre-L.I.E.S Ron Morelli in 2006, but probably still the most formative experience was getting to know Nation founder Traxx.
"It wasn't until I met Melvin (Traxx) that things began to take hold, in terms of releasing anything," he believes. "I met him in 2001 while working at this record store called Weekend Records and Soap. It was run by Jim Marlon Magas and his wife Bridgette Wilson. Melvin would come into the shop and we'd geek out on music. It wasn't until later that we started to collaborate as Mutant Beat Dance."
It's true that over the past few years the musical environment has become far more conducive to an artist like Wanzer, but it didn't happen overnight and the convergence of conventional techno and other influences that shape the US artist's sound like noise, industrial and new wave was a gradual process.
"It's just a bit more popular now and more people are interested and are doing it. I don't really know if I'm a part of anything and I don't really think about it," Wanzer says, quickly adding that without a number of key labels he would still be toiling away without any releases to his name.
"I'm very grateful to labels like Nation and L.I.E.S for releasing my music and for giving me the opportunity to get it out there and heard by others. I probably would have never released anything if it wasn't for the support and push from Traxx and Ron Morelli," he believes.
Wanzer feels that it was stores and DJs that helped to get his music recognised with a wider audience and is less convinced about the power of the internet to promote his work.
"The internet has played a small part. It is more of a way to listen to something passively and determine whether or not to purchase it. The cycle of new music moves at a pace that I can't keep up with," he says.
Despite becoming well-known in Europe, Beau says that his music remains very much a niche interest at home.
"What I do is still very much under the radar in terms of a larger audience. I'll never make a living off the music I make (especially in the U.S) and I'm perfectly satisfied playing in front of 40 people for free in a mouldy basement."
One of the possible explanations for why the underground remains so fragmented in the US is due to the country's vast size. Few places in Europe are more than a few hours away by car, plane or train, but Wanzer agrees that America's size serves to accentuate the tiny nature of its underground electronic scene.
"Geographically, the US is very much isolated, with the two major cities on either ends of the coasts. There are pockets of amazing underground scenes all over the US, so it's hard to gauge, but overall I'd say it's definitely a small scene. The term 'underground' has different connotations today than it did when I was growing up, but there are always going to be kids putting on shows in their houses, basements, that's just what you do in the States."
Perhaps this geographical isolation inculcates a greater sense of independence among US labels, but Wanzer believes that all of the labels he has released on "share a similar mindset: the love of music they stand behind and believe in. In some ways they all share a 'punk' mentality, more or less."
Wanzer also feels that the musical convergence of recent years notwithstanding, electronic music shares many of the same attributes as punk, including a cyclical nature.
"Dance music has always had a punk mentality and that's what drew me to it. Like most music, it starts off with experimenting and learning (or not learning) as you go and eventually gets watered down after it becomes a commodity and loses its initial charm. It has to fall apart, rebuild, and return to what made it special initially," he believes. "It's good for younger generations to freak out and do whatever they want. Push the old men out of their comfort zones, take over, and fuck shit up. It keeps it interesting."
Apart from his collaborations, Wanzer is also keeping it interesting with untitled releases on a label that merely bears the 'BW' stamp. Is this his own label and does it provide him with the independence to put out music as he pleases?
"It's important to do what feels right for a particular moment, having independence does give you a bit more control or no control at all. I have no intention of starting a label, it's more an avenue for me to release my own stuff/collaborations," he explains. "Basically, just putting it out there, no press, no label hype… just word of mouth and seeing if people take interest."
While he freely admits there are no clear plans about further BW activity, Wanzer is unequivocal about how the scene in his hometown of Chicago has blossomed.
"I can't speak for other cities, but I think Chicago has changed a lot in the recent years. There is an influx of younger people getting into electronic music and putting on events. It's very exciting," he says, in contrast to the recent past.
"It seemed a bit stagnant for a while, but in the past five years there has been a resurgence. Unlike other major cities, the Chicago underground still feels very isolated in terms of a national interest. The scene is small but very supportive of one another and there is a strong sense of community."
Wanzer references the role Smart Bar plays in hosting better-known acts, but it's the underground parties in warehouses and basement spaces are the ones he frequents the most. "Chicago has this certain energy that is hard to explain and it's that energy that has kept me here for the past 15 years. It's my home and the people who live here mean the world to me," he states passionately. With that, he signs off and returns to his machines, ready to knock out more future classics.
Interview by Richard Brophy
Beau Wanzer on Juno
Header image by Ilaria Pace
Streetwalker live image courtesy of Zincink
All other images courtesy of Maria Tee Zee