Obalski – According to Obalski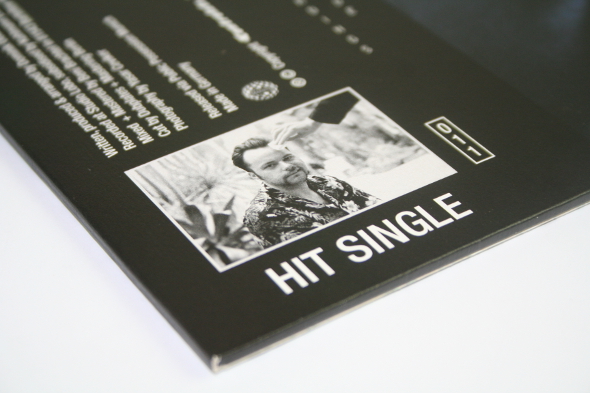 Having made his debut appearance on Public Possession last year, the mysterious figure known as Obalski returns for a second outing at a time when their label of choice is well established as a bastion of unpredictable delights alongside more dancefloor friendly fare. The last outing, the Introducing Obalski 12", was a ranging affair that stretched across five tracks and featured a philosophical Chevy Chase popping up with some spiritual advice in amongst delicate ambient melodies and off kilter rhythmic weirdness. With no other activity since, and no prior form, just what has changed in the world of Obalski since that first surreal experience?
With the opening strains of "Can I Borrow Your Towel?" it seems that this will be another esoteric listening experience with less interest in the dancefloor and more emphasis placed on the spiritual qualities of electronic music. The dazzling chimes that start the track actually lead something of a false pretense, as this initial flurry of activity simmers down to a more gentle arrangement of pads and mechanical bongo work, content to drift into a long form piece that allows harmonious elements to drift in and out of the mix with ease. It's a simple approach that has been tackled many times before, but it's delivered impeccably. The intention to create a relaxing, almost exotica-influenced atmosphere is clear, but within the mix there is still space for a wry dash of humour. Could that be Mr. Chase himself making a second appearance talking about Zen philosophy and pastry products in amongst the lilting synthesisers? It certainly sounds plausible.
On the first EP there was of course space given over to heavier, beat driven concerns (albeit in short, madly syncopated forms), and so here the prime B side cut "Bumblebee" nudges through a thicket of found sounds to lay down a sturdy kick drum, suggesting a more focused jam for the leftfield spinners to get busy with. The track does indeed evolve with a mix-friendly patience, but it's still heading in a direction that can yield surprises. In this case, a soothing refrain of flute-esque elegance provides an unexpected delicacy to a track which sounded on course for a more rugged outcome. With the addition of the metallic chiming notes on top, a decidedly emotive track is formed that calls to mind a pastoral, al fresco dance experience rather than something to be bombarded with in a dark and smoky club.
"30 Dollars For Yourself" sneaks itself on to the end of the record to provide one bonus flavour somewhere in between the two primary tracks, effervescently sunny and playful but with a little of that rhythmic sensibility guiding it along for a couple of pleasant, palate cleansing minutes. If one thing seems apparent with this record, it's that in both this short track and the longer pieces a greater sense of focus has been reached by the one they call Obalski.
The first record was tricky to get a proper handle on as the ideas flew around in quite a manic manner, but here it sounds as though the artist has settled down into a more controlled studio practice and so the conception of the music feels smoother in some way. That's not to say the wild elements have been rubbed out, far from it, but rather that those elements make more sense in their use this time around. It's a strong second move for Obalski, let's see what the third will bring.
Oli Warwick 
Tracklisting: 
A1. Can I Borrow Your Towel?
B1. Bumblebee
B2. 20 Dollars For Yourself