Black Rain & Shapednoise – Apophis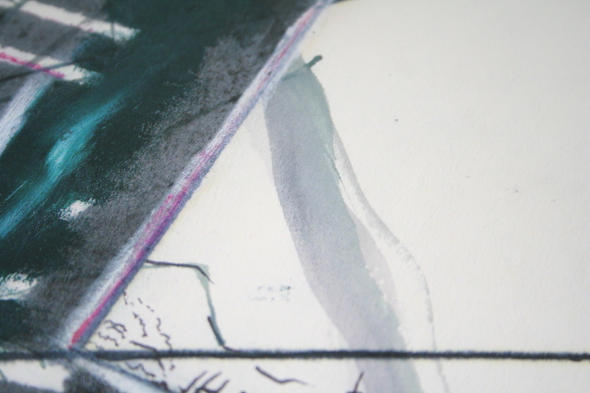 There's something undeniably fascinating about different generations of underground musicians collaborating, and we've certainly seen our fair share of late. There are the obvious ones; the force to be reckoned with that is Carter Tutti Void, bass frequency specialists Pinch and Sherwood and, of course; how could we not mention Surgeon & Starlight. Now we're presented with a joint endeavour from New York City no-wave legend Stuart Argabright and sonic terrorist Nino 'Shapednoise' Pedone on the latter's newly inaugurated imprint Cosmo Rhythmatic. Unlike Pedone's other label Repitch, which he runs with fellow Italians Ascion and D. Carbone and is known for tough, functional techno for dancefloors, Cosmo Rhythmatic is said to be devoted to more outer limits sound experiments. This was seen on the first release by French avant-garde producer Franck Vigroux and this new offering treads the same musical territory.
Proceedings begin with "Metal Home" featuring Argabright's guitar feedback drone gently fading in and out of the mix in unison with Pedone's blasts of overdriven noise. The occasional frosty exhale of a demon and spooky, glistening keyboard passages provide appropriate atmosphere. "Autonomous Lethality" proves consistent not just in terms of morose track titles but equally in terms of musicality; and it has (for the most part) Shapednoise all over it. It's stuttered, bouncing, possibly arpeggiated (definitely analogue) source modulating and resonating, slowly but violently, until the track finally erupts in delightful mayhem. It's blatantly rude sub bass tramples on top of an equally impolite gabber style beat that Lenny Dee would stand up and notice.
"Interceptor" is first presented in the form of a "Miles Ramen Reshape" from Demdike Stare's Miles Whittaker. It's always interesting, upon first listen, to hear a remix before the original. And given this context, Whittaker appears to have used the stems for a production that is cohesive yet equally eccentric in its own right. Whittaker never fails to impress, providing us with more of his unique and bastardised take on techno. The original sees Shapednoise take most control over proceedings with his now signature aesthetic; gated washes of violent white noise and pulverising blasts of sub bass frequency that kick you in the ears. A heavily delayed and broken kick drum collapsing upon itself is what provides momentum. The sounds of scrap metal being dragged across a factory floor, with the occasional mood lighting of sombre DX7 keys, are possibly the input from Argabright in this instance, but it's more than sufficient.
There is no denying that these two artists share a similar yet different aesthetic which has proven to be an interesting collaboration in this instance. Could we possibly see another meeting of these two impressive minds? Where the classic execution of industrial music aesthetic merges with a new, technology driven school of thought? Such collaborations in the past have proved to be either relatively long standing or simply a flash in the pan. However if the aforementioned examples are anything to go by, hopefully this will be yet another long and fruitful one and I'm very much interested in hearing the next chapter.
Nic Tuohey
Tracklisting:
A1. Metal Home
A2. Autonomous Lethality
B1. Interceptor (Miles Ramen Reshape)
B2. Interceptor